10 Best Honeymoon Destinations In Kenya
Looking for where to spend quality time with your spouse?. Look no further because Kenya got you sorted. Below are the 10 Best Honeymoon Destinations In Kenya. From beautiful coastal white sand beaches in Mombasa, National Parks and Reserves such as Masai Mara where you get to witness one of the wonders of the world (the great migration), gorgeous resorts, to urban national parks, and so much more. Below are the
1.Mombasa.
On top of the list of the 10 best Honeymoon Destinations In Kenya is Mombasa.  Mombasa is a coastal city in southern kenya along the indian ocean, it was the first capital of the British East Africa. Mombasa is the second largest city in kenya, (second to only nairobi) and the most popular tourist destination in the country.
Mombasa is a beautiful island destination popular for its gorgeous beaches, luxury resorts,colorful culture and warm African hospitality.
Beaches in Mombasa include: Bamburi beach, Wamu beach,Diani beach,Mamba village,Chale island,Lamu beach and so much more. With Diani as the biggest beach, here you find white sand and clear waters suitable for swimming, beach volleyball, beach parties even wedding receptions.
Most beaches have onsite restaurants offering the best local and international cuisine especially fresh seafood directly from the ocean. You should try it out.
Luxury accomodations in Mombasa varies from beach hotels, Airbnb, self catering luxury apartments and so much more. Hotels like the PrideInn Paradise Beach Resort and Spa, Voyager Beach Resort, Severin Sea Lodge, PrideInn Flamingo Beach Resort and Spa, Muthu Nyali Beach Hotel and Spa, Serena Beach Resort and Spa, Sarova Whitesands Beach Resort and Spa, Travellers Beach Hotel and Club, Kenya Bay Beach, Bamburi Beach Hotels, Severin Sea Lodge and so many others.
These accommodation facilities provide the utmost honeymoon ambiance such as beach view rooms, beautiful coastal weather and modern amenities such as swimming pools and jacuzzi, internet s24/7 room service, laundry and dry cleaning not to mention the onsite restaurants preparing all your delicious african and international cuisine fresh as you order it.
Activities to engage in while visiting Mombasa are numerous, from boat cruising which is sometimes done on a communal yacht or you can rent a private yacht for you and your partner to enjoy your privacy, swimming, snarkling, night life, cultural tours around mombasa as this city is remarkable for its cultural richness,(blue and white city) with remarkable arab ancient infrastructure making it ideal for the honeymooners to have a drive through or walk through the city.
In Mombasa you will also find the Mamba Village east africa's largest crocodile farm, this is a must see during your honeymoon safari to mombasa. Nguuni Nature Sanctuary is also located in mombasa and her you get to see animals like giraffes, outriches, on a picnic setting and also guides are available to lead you through and answer all your questions.
How to get to mombasa.
Moi International Airport is located in Mombasa and it receives both international and domestic flights, you only have to book and travel swiftly in luxury.
There is a train station and a railway that goes from mombasa to other counties in kenya, this is more affordable for our budget minded people. although you have to book at least a day in advance to be able to use the train.
The road connectivity of Mombasa is to the capital kenya and other counties is quite good as well, it is approximately 8 hours road drive from nairobi to mombasa by road. the coast is also connected to other african countries such as west african through the trans african highway 8. Hurry up and grab your honeymoon safari to Mombasa, the blue and white city.
2. Maasai/ Masai Mara National Reserve.
Not only one of the 10 Best Honeymoon Destinations In Kenya, Masai Mara National Reserve holds a prestigious place in African Safaris. Also known as The Mara, this a large National Reserve in Kenya, it is  associated/connected to Serengeti National Park in Tanzania.
Blessed with physical nature, Masai Mara National Reserve should not be ignored when talking about the 10 Best Honeymoon Destinations In Kenya as it harbours quite a number of species such as lions, leopards, cheetahs, zebras, giraffes, african dog and african bush elephants plus so much more.
This is one of the few places in East Africa where you can find all the big five in a single location.(elephant,lion,buffalo,rhinos and leopard).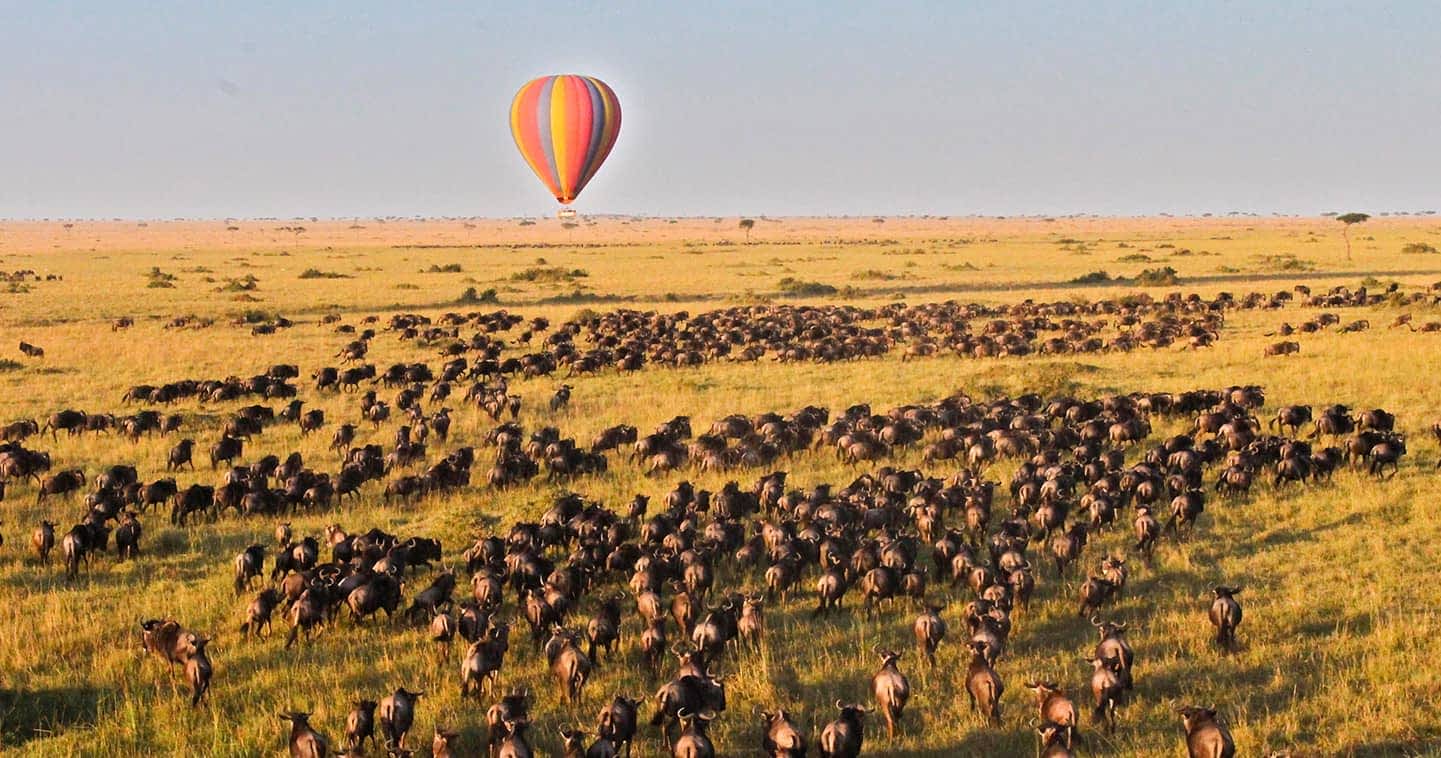 When you choose Masai Mara as your honeymoon destination, chances are that you may get to witness the great migration. Each year over 2 million wildebeest, zebra and other herbivores trek from the southern part of Serengeti National Park in Tanzania to Masai Mara for lush greener pasture.
This natural phenomenon and one of the seven wonders of the world timing is dependant on mostly two factors i.e, the environmental and the animals themselves. So, it should be known that the biggest migration in the world follows the rains.
The herds of animals travel about 800 km from Serengeti to Masai Mara in a clockwise manner, in which most of the time()cycle) is spent in Serengeti although they spend several months in the Masai plains as well navigating for greener pastures, richer minerals and so much more.
When the animals are crossing to the other parts side, they face a threat of cats such as cheetahs, leopards and alos lions, hynas and so many other predators waiting for them on the other side once they cross, not forgetting the approximate of 3000 crocodiles that are found in Mara River while crossing to the other side.
It should be noted that the best chances of witnessing the great migration is from july to october so id this is your interest when visiting masai mara, that's the right time to visit. The great migration can be watched from an aerial view/angle in a hot air balloon, this provides the best and most memorable experience as as all is more clear from above.
Masai Mara is culturally rich as well, you and your spouse will get to engage in the different Maasai cultural activities such as masai traditional dances, get to enjoy the traditional Maasai food/cuisine and also engage in other activities such as game drives, nature walks etc.
Where t stay during your honeymoon to Maasai Mara shouldn't be something to worry about, lots of accommodation facilities which consists of tremendously high class with modern amenities and facilities giving you the utmost value for your money and a comfortable stay during your honeymoon. famous lodges such as fairmont Masai Mara safari club, angama mara.
, and sarova mara game camp,prideinn mara camps to mention but a few. these hotels have swimming pools, onsite restaurants serving both local and international cuisine plus high end bars, you order it, they prepare it.
Maasai mara can be accessed via road, although it is a long drive from the capital Nairobi to the National Reserve, it is possible due to the road connectivity. There is a flight option as well from any airport in the country direct to the national reserve via an airstrip Musiara Airstrip located on the Southernmost region of the park serving governors camp,moran camp,little governors camp, and neptune mara rianta camp.
3.Nairobi, The Capital City of Kenya.
Nairobi is famous for being the only capital city that harbours a national park. There is no way it wont make the list of the 10 Best Honeymoon Destinations In Kenya. One of the finest cities in Africa with skyscrapers elevating every single day, Nairobi is an amazing choice for a honeymoon for any couple.
With several international hotel franchises like The Sheraton Hotels East Africa, Intercontinental Hotels,Sarovar Hotels,Radisson Blu Hotels, Ibis Styles, Hilton International Hotel Chain, Crowne Plaza Hotels by IHG, Best Western Plus Hotels, Golden Tulip by Louvre Hotels,Jacaranda, The Zanzibar Collection and so may others.
These are Five-star hotels providing top notch services, facilities and amenities that are of the world standards inclusive of onsite restaurants and bars serving both local and international cuisine be it chinese, indian, italian or any other foods and beverages. Onsite gyms, spa and sauna, massage parlours, swimming pools and jacuzzi, WIFI, 24 hour security and room service, airport pickups and dropoffs, concierge services and so much more, what better way to enjoy your honeymoon than enjoy in a honeymoon suits in one of these world class five star hotels in Nairobi City with the city view. And also enjoy the city rooftop bars of Nairobi.
You can as well visit The Nairobi National Museum found in the center of this beautiful city, get to tour around as you learn about the history of the city and country at large. Speaking of Kenyan Museums, you can also explore The Karen Blixen Museum still found in Nairobi, visit the famous national achieve (this is the commonest place used as a meeting point within the city center).
Visit the Nairobi National Park " the world's" only wildlife capital". In this National Park you find animals such as lions,leopard,cheetah, hyena and so many others said to be about 39 in number. Other mammals species are approximately 100, found in Nairobi National Park such as buffaloes, black rhino, baboon,eland,gazelle,hartebeest, hippopotamus,impala, giraffe,wildest and the waterbuck to mention but a few.
While at it, enjoy game drives, guided nature walks, picnics and so much more, imagine being in the wild yet in the capital city, simply amazing!.
Apart from visiting the nairobi national park during your honeymoon, you can as well check out the various animal and nature centers like the Giraffe Center, Sheldrick Wildlife Trust, Karura Forest, Karen Blixen Coffee Garden, Samburu National Reserve, The David Sheldrick Wildlife Trust, The Nairobi Mamba Village, The Nairobi Snake Park, Silole Sanctuary, The Nairobi Educational Center(animal orphanage) and many others. Here you find animals in a controlled environment, well taken care of. Guides are available, and you will get an opportunity to feed giraffes at the giraffe center and also feed and hold snakes (non-poisonous ones) when you visit the snake center.
During your honeymoon safari to Nairobi, you can go shopping (souvenirs) at the nairobi center market for items such as jewellery,clothes, electronics, shoes, hand bags especially for ladies both local and from the international scene. Visit the Langata Grocers Market, Blue Market (maasai market) where you will find the most genuine leather products like shoes, bags, african prints, wallets,diaries, african pots and pans,crafts and sculptures and so much more made by local artisans.
Do not forget to enjoy the Kenyan cuisine, i mean what is a honeymoon in Nairobi without trying the famous nyama choma(roasted meat mostly goat and beef), ugali, gotheri (maize and beans), smokie, matura, mayai pasua and so many other street foods, so delicious.
Transportation within the city during the tour can't be an issue because there are several public transport means like buses(matatu) going to every corner of the city for those you who are explorers. There are also private pickup services using google maps to pick you up and drop you to your destination, companies such as uber, bolt, shilu ana have now dominated the market with fast/safe driving skills as well as knowledge of all routes in the city.
Nairobi is accessible by road, train and air. There are buses entering and exiting the country on a daily basis from Nairobi to other parts of the east african community and the Kenyatta International Airport is also right in the heart of the city for the flight preferring honeymooners.
4.Lake Nakuru National Park 
On the list of the 10 Best Honeymoon Destinations In Kenya is Nakuru. nakuru county is not far from the capital nairobi, it is approximated to be about a 3 hours drive from there to capital, and there is an airport with both local and international airports for the flight lovers as well as daily train enrouting between the capital and nakuru.
Here you will encounter attractions such lake nakuru national park, whose beauty is mainly a beautiful bird species (flamingos) the main reason for this particular lake having a good number of these birds is because it is a highly saline lake with lots alkaline which supports the growth of green algae which food for the flamingos. the lake harbours these beautiful birds give the lake a beautiful pink atmosphere hence the nickname " the pink lake". In order to preserve the bird species, boat cruises and rides are prohibited on lake nakuru, you can stand besides the lake enjoy the pink view, and the cool breeze from the lake.
Lake Nakuru National Park consists of beautiful savannah vegetation and it  also harbours over 50 mammal species such as lions, cape buffaloes,hyenas, impalas, colobus monkeys, african wild dog,zebras, eland and waterbucks and so many others. nakuru national park has also risen to fame for the high number of leopards sighted during trips and also the Rothschild's giraffe, a very rare one.
Activities in Lake Nakuru National Park include nature walks,camping, picnicing on this beautiful lake  bird watching as there are over 500 bird species at lake nakuru national park, game view and drives, these can either be done in the morning or evening. it is not preferred to have a game drive in the afternoon as most animals are hiding (taking shade from the sun).
Accommodation facilities at lake nakuru national park forexample camping is also remarkable at lake nakuru national park because they have seven operational camping sites spread through the northern and southern parts of  the park. The camps are Mbweha camp, Lakira, Makalia camp, Rhinos camp site, Lakira camp, Nakuru tented camp, Enjoro campsite. These camps will provide a couple an amazing sky view, cool weather in the night, beautiful scenic views of the concentrated flamingos and sometimes the animals if they happen to be in a viewable distance. Romantic and simply beautiful experience for you during your honeymoon.
Lake Nakuru National Park also has luxurious hotels and lodges for those who prefer modernity to camping. modern facilities and amenities such as swimming pools, onsite restaurants and bars serving local, continental, italian, english and so many other meals, of course on order and so much more to ensure your comfortable and memorable stay during your honeymoon.
These hotels include lake nakuru sopa lodge, lake nakuru lodge, the cliff-lake nakuru national park, hotel waterbuck, hotel luna, penial hotels nakuru and so many others. So, visit kenya#visit nakuru national park.
5.Watamu Marine National And  Reserve
If you are a marine lover then Watamu Marine National Park And Reserve should be on the top of your bucket list for the 10 Best Honeymoon Destinations In Kenya.
Watamu marine national park and reserve is a UNESCO protected Biosphere reserve known all over the world for its natural beauty habituating rich marine life i.e, corals, unique fish species, whale sharks, manta rays and also three species of sea turtles and so much more.
The coral reef is is consistent of 150 species of hard and soft coral reefs that are a habitat to over 500 species of fish which are about 1,000 species if combined with other species from the surrounding areas. To mention but a few of the marine life you are likely to encounter on your honeymoon to watamu marine national park and reserve are barracuda, green turtles,hawksbill turtle, manta rays, octopus, olive ridley turtles, and the whale sharks and so much more.
Activities to be done at this park vary from water experience activities such as spot diving, snorkeling from the reef to the coral site, turtle watch, visit Gedi town ruin, fishing and also a guided tour can also be carried out on a comfortable glass bottomed boat to the mida Creek Mangrove forest which can be explored by either using a canoe or on foot down the boardwalks.
Bird watching is also popular here and it can be done in different spotting areas like Dakath Woodland, Whale island, Mida Creek, and Sabaki river mouth and birds likely to be seen include the White brown cocoul, lizard buzzard, Osprey, golden palm weavers, Bright yellow canaries, Common bulbul and the seabirds include the sandpipers, plovers, terns etc., and migratory birds like the Orioles, Warblers, Flycatchers and so many others. so if you are a marine and birth enthusiast, come experience the beauty of marine in combination with wildlife such as birds.
How to get to Watamu: There are 2 options, either by flight from any of the inbound airports (JKI) inclusive to the Malindi Airport at the coast(45-50 minutes flight from Nairobi) or via road which is about 8-9 hours drive from the capital of nairobi.
NOTE: The best time to visit  Watamu is during the dry season when the waters are clear and sunbathing ids at its peak. This is from July to October and for those of you who love diving, its best to visit from October to April while the Turtles Nestle is from April to July.
6.Amboseli National Park.
Amboseli National Park is located in southern part of Kenya and it is famous for the large herds of elephants and beautiful scenic views of Mountain Kilimanjaro across the border in Tanzania.
This is the second most famous national park after masai mara. Formally known as Masai Amboseli Game Reserve. Gazetted in 1974 as a game reserve, Amboseli National Park was gazetted with the main of protecting the unique ecosystem that is found in the area. Amboseli National Park was later declared a UNESCO heritage site and its being managed by Kenya Wildlife Services.
The park has over 5 different elephant habitats that range from the dried-up end of Lake Amboseli to the savannah grassland. The park also has over 400 species of birds that includes 47 raptor species.
Attractions in Amboseli National Park include Amboseli Lake which supports the wildlife with water throughout the year, observation hills which provide the best animal viewing points in the park as it is located in the central part of the park, mountain kilimanjaro is also part of the attractions here although you wouldn't actively hike/climb it, you can have a beautiful view from the Amboseli National Park. Also it is only from here that you can get the best pictures of Mountain Kilimanjaro.
Amboseli National Park also has over 500 bird species with majority of them being migratory like the secretary birds, steel-blue whydah, weaver, sacred ibis etc. Animal species in Amboseli National Park has over 80 mammal species with 4 out of the five big five of africa missing only the rhinos, animals here include cheetahs, lions, leopards, wildebeest, hyenas and remarkably the place with the highest number of elephant herds in Africa.
Activities to such as game drives, game views, can be done at anytime of the day since the animals are residents here, although it is preferred to have game drives during morning and evening hours, hikes,cultural tours, hot air balloon flights can also be a romantic activity to engage in, and nature walks are also recommended when visiting Amboseli National Park for your honeymoon.
7.Aberdare National Park.
This destination is most famous for the fact that Princess Elizabeth II was here when she found out that she would be queen after the demise of her father at treetops lodge. Making the lodge and park popular among tourists especially the british.
While visiting this park, one can engage in a game drive or game view, nature walks as the park has several mountain peaks, and so much more. Attractions such as the black leopard, large herds of rhinos, beautiful scenic rainfall vegetation, lions, forest elephants, bushbuck, waterbucks and so many other animals you shouldn't miss during your honeymoon.
The most famous lodge here being the treetop lodge, there is a number of honeymoon worthy facilities such as the ark tree lodge, aberdare country club, with modern facilities and beautiful forest views.
Other Beautiful Destinations In Kenya.
Uhuru gardens
Kiboko view
The great rift valley
Samburu national reserve
Diani beach
Lamu island
Also read.
Hits: 5