Serene Bliss at Arcadia Lodges, Kabale
Serene Bliss at Arcadia Lodges, Kabale. Set amidst the lush, rolling hills of Kabale in southwestern Uganda, Lake Bunyonyi Arcadia Lodges stands as a hidden gem of tranquility. My journey to this enchanting lakeside retreat was nothing short of a revelation. From the moment I arrived at this haven of nature's wonders, I was captivated by the breathtaking beauty of Lake Bunyonyi and the warm hospitality of the Arcadia Lodges.
Hill top View of Lake Bunyonyi
In this blog, I will share the unforgettable moments, stunning landscapes, and delightful experiences that make Lake Bunyonyi Arcadia Lodges a destination worthy of every traveler's bucket list. So, let's embark on this adventure together as I take you through my unforgettable stay in this little piece of paradise.
Stepping onto the lodge's grounds, I was immediately struck by the serenity that enveloped the entire area. The lodge's rustic architecture seamlessly blended with the natural surroundings, making it clear that every detail was carefully designed to complement the breathtaking beauty of Lake Bunyonyi. It was as if the lodge itself was part of the landscape, a harmonious addition to this mesmerizing corner of Uganda. With such a captivating introduction, my anticipation for what lay ahead grew with every step.
A Remarkable Experience at Lake Bunyonyi Arcadia Lodge
Lake Bunyonyi is undoubtedly a scenic paradise, and my experience at Lake Bunyonyi Arcadia Lodges allowed me to immerse myself fully in this breathtaking natural wonder. From the moment I arrived, I was greeted by the captivating beauty of the lake and its surrounding hills. The lodge's location takes full advantage of this natural wonder, offering panoramic views from every angle. I spent hours simply gazing at the tranquil waters and lush islands, feeling like I had stepped into a real-life painting. The ever-changing colors of the lake, depending on the time of day, created a mesmerizing visual spectacle that I will remember forever.
The reception at Lake Bunyonyi Acardia lodge
My taste buds were in for a delightful adventure during my stay at Lake Bunyonyi Arcadia Lodges. The food was nothing short of amazing. The lodge's restaurant crafted a menu that showcased the flavors of Uganda, from hearty traditional dishes to international favorites. Each meal was a culinary journey, and the use of fresh, locally sourced ingredients made every bite a burst of flavor. Whether it was enjoying a traditional Ugandan feast or savoring a gourmet international dish, the dining experience was a highlight of my stay. The culinary team's creativity and attention to detail added a touch of luxury to the overall experience.
A unique feature of Lake Bunyonyi Arcadia Lodges that truly enhanced my experience was the direct view of Lake Bunyonyi from every viewpoint in all the rooms. Waking up to the sight of the calm lake just outside my window was an absolute dream. Whether I was sipping morning coffee on the balcony or relaxing in the cozy interiors, the ever-present view of the lake created a sense of connection with the natural surroundings.
The rooms were designed with comfort and nature in mind, offering a harmonious blend of modern amenities and a genuine connection to the landscape. It was like living within a postcard, and this constant connection to the lake added an unforgettable dimension to my stay.
Perhaps one of the most remarkable aspects of my experience at Lake Bunyonyi Arcadia Lodges was the exceptional customer service. The staff went above and beyond to make me feel welcome and attended to my every need. Their warm and genuine hospitality created an atmosphere of comfort and relaxation. Whether I needed assistance with planning excursions, dining preferences, or any other request, the staff was always eager to assist with a smile. This level of customer service left a lasting impression on me and significantly enhanced the overall experience, making it not just a stay but a truly memorable journey.
Discovering Lake Bunyonyi Arcadia Lodge's Accommodations
The heart of any memorable travel experience lies in the accommodations, and Lake Bunyonyi Arcadia Lodge has truly mastered the art of blending luxury with the charm of nature. This lakeside paradise offers three distinct types of cottages, each with its unique character and appeal. While I primarily stayed in the timber room, I had the pleasure of a brief tour through the other cottage categories, discovering not only their diversity but also the delightful and distinctive touches that made each one special.
Timber Cottages
The timber cottages at Lake Bunyonyi Arcadia Lodge are the epitome of opulence and luxury. From the moment I stepped inside one of these cottages, I was enveloped in an atmosphere of pure indulgence. The spacious room was a testament to impeccable craftsmanship and attention to detail, with every element thoughtfully arranged to provide an extraordinary stay. The furnishings exuded elegance, and the cozy ambiance created an immediate sense of relaxation.
Timber Cottage
What truly set these cottages apart, however, was the availability of a Jacuzzi in some of the rooms. This addition was nothing short of a game-changer. After a day of exploring the stunning landscapes of Lake Bunyonyi, sinking into the warm waters of the Jacuzzi while gazing out at the tranquil lake was a luxury beyond compare.
The combination of modern comfort and the pristine beauty of the natural surroundings created a profound sense of pampering and privilege. It was a fusion of indulgence and nature, making every moment spent in the timber cottages an unforgettable experience that left me feeling like a true connoisseur of luxury.
Brick Cottages
The brick cottages emerged as a delightful surprise during my stay at Lake Bunyonyi Arcadia Lodge. Stepping into one of these cottages was akin to receiving a warm embrace from a dear friend. The moment I crossed the threshold, I was immediately enveloped in a sense of comfort and belonging. The ambiance of the room was inviting, with each detail thoughtfully curated to create a cozy retreat. The rustic charm of the cottage was evident in its design, providing a genuine sense of immersion in the natural beauty of lake Bunyonyi.
Brick Cottage
However, what truly distinguished the brick cottages were the thoughtful inclusions that enhanced the overall experience. The addition of room heaters, often seen as a minor detail, became a defining feature during the cool, crisp nights. These unassuming heaters had the remarkable ability to transform my room into a snug haven where I could escape the chill and enjoy the utmost warmth and coziness. The presence of these heaters provided an essential layer of comfort, ensuring that my nights were not only restful but also a reminder of how a small detail can make a significant difference.
It was the perfect blend of affordability and comfort, allowing me to bask in the rustic allure of Lake Bunyonyi while staying toasty and content throughout my stay.
Grass Thatched Cottages
The grass thatched cottages offer an enchanting retreat that leaves an indelible mark on your Lake Bunyonyi adventure. Stepping into one of these cottages is like stepping into a storybook, a place where rustic elegance takes center stage. The first thing that captures the imagination is the thatched roof. It was not just a roof,  it is a work of art. The intricate design of the thatch lined with bark cloth exudes a unique charm, creating a sense of stepping into a fairytale cottage from a bygone era.
As you looked up, you cannot help but be mesmerized by the craftsmanship and the connection it provides to the natural world. The room itself is a blend of classic and modern, with thoughtfully incorporated amenities that make the stay as comfortable as it is visually captivating.
Grass Thatched Cottage
One of the highlights of the stay could be the way the cottage seamlessly blends with its surroundings. Large windows and a private balcony that allows you to immerse yourself in the natural beauty of Lake Bunyonyi. As you gaze out at the tranquil waters, you will feel as if you were in a dream, where the boundary between the cottage and the landscape faded away. It is a perfect union of nature and comfort, and you get to relish every moment of it.
The grass thatched cottages at Lake Bunyonyi Arcadia Lodge transport truly transport you to a world where rustic elegance and natural beauty coexist in perfect harmony. It is a stay that will awakened your sense of wonder and leave you with a lasting appreciation for the timeless allure of nature.
The lodge's attention to detail didn't stop at traditional accommodations; it extended to creating memorable experiences. On certain evenings, I was delighted to participate in bonfire gatherings under the starry African sky. These bonfire nights were about more than just sitting by the fire; they were about sharing stories, laughter, and building a sense of community with fellow guests. It was an enchanting addition that created a sense of connection and made every evening truly memorable.
In a nutshell, my stay at Lake Bunyonyi Arcadia Lodge was more than just about accommodations; it was about crafting a personalized experience that catered to my desires and exceeded my expectations. It's a place where each detail is carefully considered, where every corner holds a surprise, and where your preferences become the guiding compass of your journey.
Pricing of the Accommodations
Let's delve into the pricing, ensuring you make the most of your peaceful retreat.
For solo travelers, single rooms at Arcadia Lodges are available at $190 for a full board package, which includes three sumptuous meals a day. If you prefer a lighter option, the half board rate comes in at $170, providing you with breakfast and dinner. For those who prefer a more flexible start to their day, the bed and breakfast package offers a cozy single room at $150.
Couples and friends, on the other hand, can revel in the comfort of double rooms at $300 with full board, $260 with half board, or $220 for bed and breakfast. Twin rooms follow the same pricing structure, providing you with the choice to enjoy a delectable selection of meals or opt for a simpler morning experience.
Lake Bunyonyi Acardia Lodge also caters to families with its charming family cottages. A full board stay for your family costs $600, while the half board option comes in at $520. For those who prefer a more flexible meal plan, the bed and breakfast package is available at $440. With these enticing options, Arcadia Lodges ensures that every guest's preferences and budgets are thoughtfully catered to, making your stay in Kabale truly memorable.
Exploring Lake Bunyonyi Arcadia Lodge's Activities
After settling into the tranquil embrace of Lake Bunyonyi Arcadia Lodge, it was time to embark on a day filled with exciting activities. The lodge had an array of options to choose from, making it a perfect playground for adventure seekers like me. With eager anticipation, I set off to explore the natural wonders of this stunning region.
Quad Biking: Unleashing My Adventurous Spirit
First on the list was quad biking, an exhilarating experience that allowed me to channel my inner thrill-seeker. For $50 an hour, I hopped onto a sturdy all-terrain vehicle, ready to conquer the rugged trails that surround Lake Bunyonyi. As I revved up the engine, the wind in my hair and the freedom of the open trail were invigorating. The quad biking adventure provided an adrenaline rush while also showcasing the area's diverse landscape, from dense forests to open meadows.
Quad Biking
Boat Cruise: Discovering Lake Bunyonyi's Isles
For a more serene but equally captivating adventure, I opted for a boat cruise. At $100 an hour, this experience was an opportunity to get up close and personal with Lake Bunyonyi's numerous islands. The boat glided gently across the calm waters, and with each passing moment, I was treated to breathtaking views of lush vegetation, unique birdlife, and the tranquil ambiance of the lake. It was a true escape into nature's embrace, offering moments of tranquility and reflection.
Boat ride on Lake Bunyonyi
What made this boat cruise truly remarkable, however, was the unexpected depth it offered. As we explored the islands, our guide shared the haunting story of "Punishment Island." This small, desolate island served as a dark reminder of the region's history. In times gone by, unmarried young girls who became pregnant out of wedlock were abandoned on this island, left to fend for themselves, often with tragic consequences.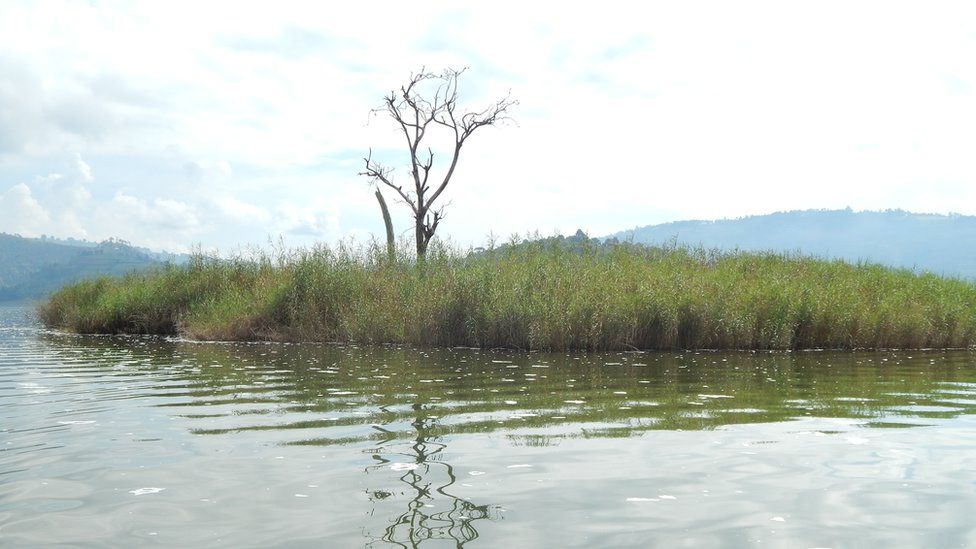 Punishment Island
Learning about this piece of history was a sobering experience. It added a layer of cultural and historical significance to our journey, reminding us of the complexities that can be hidden behind the sheer natural beauty of a place. This moment of reflection and storytelling made the boat cruise not only a visual feast but also an emotional and thought-provoking adventure.
Bicycle Riding: An Affordable Yet Fulfilling Journey
In the afternoon, I decided to take a leisurely bike ride around the lodge's surroundings. For just $10, it was an affordable way to explore the area at my own pace. The lodge provided well-maintained bicycles, and I pedaled along the scenic trails, enjoying the fresh air and the freedom to stop and admire the picturesque views whenever I pleased. It was a reminder of how simple pleasures can be just as rewarding as more high-octane adventures.
Bicycle  Riding
Hiking and Nature Walks: A Journey into the Heart of Uganda
As the day drew to a close, I couldn't resist the allure of the nearby mountains and caves. I enlisted the expertise of a local guide, paying around 50,000 Ugandan shillings, and set off on a guided hike. The path took us through the heart of the region, revealing the stunning biodiversity and unique rock formations. The guide shared stories of the area's history and traditions, adding depth to the experience. Reaching the caves, I was met with a sense of awe as I explored these ancient geological wonders. It was a journey that not only connected me with nature but also with the rich culture and heritage of the local communities.
 Amenities That Elevate Your Stay
My journey at Lake Bunyonyi Arcadia Lodge was not only defined by the captivating accommodations and exciting activities but also by the well-curated amenities that enhanced the overall experience. The lodge went to great lengths to ensure that guests had everything they needed to make their stay comfortable and memorable.
Dining Delights
Lake Bunyonyi Arcadia Lodge boasts a restaurant that is a culinary haven in itself. The menu is a tantalizing journey through both Ugandan and international cuisine. From traditional Ugandan dishes bursting with local flavors to gourmet international specialties, every meal was a treat for the taste buds. The use of fresh, locally sourced ingredients added an extra layer of authenticity to the dining experience. Whether I was savoring a hearty local feast or indulging in global flavors, the culinary journey was a highlight of my stay.
Dining Area
Wi-Fi Connectivity
While Lake Bunyonyi offers an escape from the hustle and bustle of everyday life, the lodge recognizes the importance of staying connected. The availability of Wi-Fi in common areas allowed me to share my beautiful moments with loved ones and catch up on emails, all while surrounded by the serene beauty of the lake. This harmonious blend of modern connectivity and natural surroundings made my stay seamlessly enjoyable.
Conference Facilities
Lake Bunyonyi Arcadia Lodge is not only a destination for leisure travelers but also caters to business needs. With conference facilities available, the lodge provides a unique setting for meetings, conferences, or corporate events. The serene environment and picturesque views serve as an inspiring backdrop for productive business gatherings, offering a blend of work and leisure.
Open Balconies with Lake Views
Lake Bunyonyi Arcadia Lodge offers open balconies of its rooms, providing the perfect setting for guests to savor the serene beauty of the lake. These private outdoor spaces serve as tranquil spots for relaxation, whether it's a quiet morning spent watching the sun rise over the water or an evening of stargazing by the tranquil shores. These open balconies offer a unique connection to nature and the picturesque vistas of Lake Bunyonyi, making it an ideal space for unwinding and taking in the breathtaking surroundings.
Bar and Mini Cafe
At Lake Bunyonyi Arcadia Lodge, the bar and mini cafe serve as a delightful retreat within the lodge's premises. The bar offers a selection of beverages to suit every taste, making it an inviting place to unwind. Whether you're sipping on a refreshing cocktail while taking in the panoramic views of Lake Bunyonyi or enjoying a cozy evening by the bar's fireplace, this space offers the ideal setting to conclude your day of adventures.
Cafe and Bar with a Fire place
The mini cafe, nestled within the lodge, is a cozy corner for casual gatherings and relaxation. It's the perfect spot to enjoy a cup of coffee, tea, or a light snack. Whether you're catching up with fellow travelers or simply seeking a peaceful moment, the bar and mini cafe provide a serene atmosphere to make memories and savor the lodge's enchanting ambiance.
24-Hour Concierge Services
The 24-hour concierge services at Lake Bunyonyi Arcadia Lodge provide a dedicated and round-the-clock team of professionals ready to cater to your every need. Beyond standard check-in and check-out assistance, the concierge offers personalized support, whether you require information about the lodge's amenities, special requests, or guidance on local attractions. Their expertise extends to planning your daily activities, coordinating transportation, arranging reservations, and ensuring that your stay is seamless. With a wealth of local knowledge, the concierge can also offer insights into the best times to explore the natural beauty of the area, making your experience as stress-free and enjoyable as possible.
Guided Tours and Excursions
Lake Bunyonyi Arcadia Lodge takes pride in offering a diverse selection of guided tours and excursions led by knowledgeable local guides who are passionate about sharing the wonders of the region. These tours provide opportunities to immerse yourself in the breathtaking landscapes and vibrant culture surrounding Lake Bunyonyi. Whether you're interested in birdwatching, hiking, or cultural experiences, the tours can be tailored to your interests. From hidden viewpoints to charming villages and cultural encounters, the tours reveal the hidden gems of the area.
For island exploration, guided boat tours offer insights into the islands' history and cultural significance, including visits to the renowned Punishment Island. These guided adventures are more than outdoor activities; they are journeys of discovery, forging a deeper connection with the land, the people, and the natural beauty of Lake Bunyonyi's enchanting surroundings.
Secure Parking
Lake Bunyonyi Arcadia Lodge offers secure parking facilities, providing road-tripping guests with a sense of security and convenience. Knowing that your vehicle is safely parked within the lodge's premises allows you to explore the picturesque region with peace of mind. Whether you've arrived in your own vehicle or rented one for your adventure, the availability of secure parking ensures that your transportation remains well-protected. This amenity goes a long way in enhancing the overall travel experience, allowing you to embark on your daily excursions or return to the lodge after a day of exploration with confidence and ease.
Accessing Lake Bunyonyi Arcadia Lodge
To reach Lake Bunyonyi Arcadia Lodge, you have the option of traveling either by road or by air. Here are the details for both modes of transportation:
By Road
From Entebbe International Airport
The journey by road from Entebbe International Airport, the country's largest airport near Kampala, is approximately 10-12 hours, depending on traffic and road conditions. The route typically involves driving southwest through Kampala, then heading towards Mbarara. From Mbarara, you'll continue southwest through Kabale, the nearest major town to Lake Bunyonyi.
From Kigali International Airport (Rwanda)
If you're arriving at Kigali International Airport in Rwanda, Lake Bunyonyi is approximately a 4-5 hour drive. You'll head north from Kigali to Katuna border crossing and then proceed to Kabale. The lodge is a short distance from Kabale town.
By Air
Kajjansi Airstrip
You can take a domestic flight from Entebbe International Airport to Kajjansi Airstrip near Kampala. Several local airlines operate flights to and from Kajjansi. From Kajjansi, you can arrange for a charter flight to the nearby Kabale Airstrip, which is the closest airport to Lake Bunyonyi. The lodge may offer airport transfer services for the final leg of your journey.
Keep in mind that road travel may take longer due to the road conditions, and the journey can be quite scenic, allowing you to experience Uganda's countryside. On the other hand, air travel offers a faster option but may require some additional logistical planning.
It's advisable to check with the lodge for specific travel recommendations and assistance, especially if you're arriving by air. Additionally, make sure to consider local road conditions and any travel advisories before your journey.
Arcadia Unveiled: Lake Mburo's Wilderness to Numba's Urban Charm
As the sun sets over the enchanting waters of Lake Bunyonyi, our journey through the idyllic realms of Arcadia Lodges draws to a close. However, the tale of serenity and hospitality continues to unfold with the unveiling of Arcadia Lodge's other peaceful retreat at Lake Mburo National Park. Here, amidst the untamed landscapes and breathtaking vistas, a symphony of nature and luxury harmonize to create an unparalleled escape.
But the Arcadia experience isn't confined to the embrace of Uganda's national parks alone. In the heart of the bustling town of Kabale, Arcadia Lodges extends its embrace to urban adventurers with Numba Boutique Hotel. This chic sanctuary redefines city living, offering a fusion of sophistication and contemporary comfort.
As our exploration of Arcadia Lodges concludes, whether it's the tranquil haven by Lake Bunyonyi, the wild serenity of Lake Mburo, or the urban pulse at Numba Boutique Hotel, one constant prevails, the unwavering commitment to crafting moments of bliss and enchantment in every corner of Uganda's diverse landscapes. Join us in this journey where Arcadia Lodges weaves tales of comfort, luxury, and natural beauty into the very fabric of your unforgettable adventures.
Frequently Asked Questions
How far is Lake Bunyonyi Arcadia Lodge from Entebbe International Airport?
It's approximately a 10-12 hour drive.
What are the accommodation options available at the lodge?
Lake Bunyonyi Arcadia Lodge offers brick, grass thatched, and timber cottages.
Is Wi-Fi available at the lodge?
Yes, Wi-Fi is available in common areas.
Do they offer guided tours and excursions?
Yes, the lodge provides guided tours for exploring the local area.
 Is there secure parking for guests with vehicles?
Yes, the lodge offers secure parking facilities.
Hits: 93