Great South Africa's Balloon Safari Journey
Embarking on a Great South Africa's Balloon Safari Journey in one of the country's top 2 hot air balloon safaris is like stepping into a dream where you become one with the skies, drifting gracefully over some of the country's most enchanting landscapes.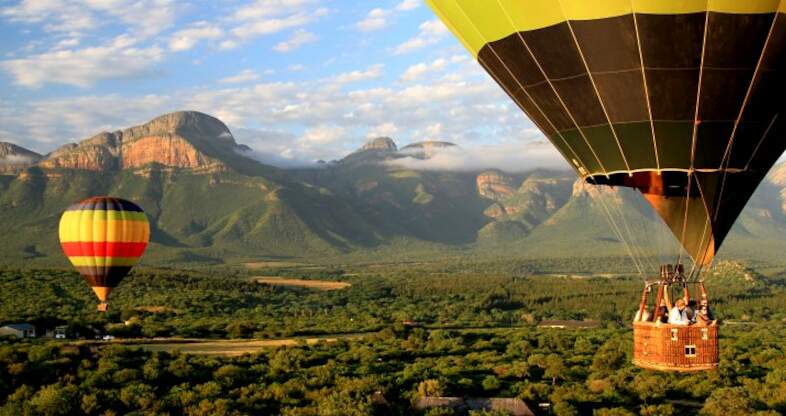 Two destinations, in particular, stand out as the crown jewels of hot air balloon adventures in South Africa: Magaliesberg and Drakensberg. These regions offer a surreal and elevated perspective of the country's natural beauty, where you can witness stunning landscapes, rugged mountains, and a rich tapestry of wildlife from high above. Join us as we take a closer look at the top 2 hot air balloon safaris in South Africa and discover why they are not just journeys but unforgettable experiences that will etch themselves into your travel memories forever.
As we delve deeper into our exploration of these captivating destinations, we will uncover the unique features and experiences that make Magaliesberg and Drakensberg hot air balloon safaris truly exceptional. From the thrill of ascending into the early morning skies to the peaceful moments when you become part of the landscape, we will guide you through the magic of each location.
Whether you're a seasoned traveler or a dreamer planning your first hot air balloon adventure, this blog will serve as your window into the world of soaring over South Africa's most picturesque landscapes. So, buckle up for an extraordinary journey, and let your imagination take flight as we embark on an exploration of the top 2  hot air balloon safaris in South Africa.
Magaliesberg: A Serene Escape
In Magaliesberg, your hot air balloon adventure promises a serene escape into the heart of South Africa's natural beauty. This ancient mountain range, known for its tranquil landscapes, meandering rivers, and ancient rock formations, provides an idyllic backdrop for your flight. As you ascend into the early morning skies, you'll be greeted by the gentle undulations of the land below, creating a sense of timelessness and peace.
The region's diverse wildlife, including birds and antelope, often grace the landscape with their presence, adding to the magic of your journey. Magaliesberg's hot air balloon safaris are characterized by their tranquil beauty and the opportunity to become one with the serene surroundings. It's an experience that encapsulates the essence of peace and serenity, making it an ideal choice for those seeking a gentle and immersive adventure.
Drakensberg: Majestic Peaks and Dramatic Landscapes
Drakensberg offers a hot air balloon safari amidst dramatic and awe-inspiring landscapes. This iconic mountain range boasts towering peaks, cascading waterfalls, and expansive wilderness that create a breathtaking panorama as you gently glide above. Drakensberg's unique topography provides an exhilarating sense of grandeur and adventure. As you ascend, you will witness the rugged terrain and lush valleys that define this region, along with the chance to spot native wildlife from the vantage point of your balloon.
Drakensberg's hot air balloon safaris are known for their dramatic vistas and the thrill of soaring above some of South Africa's most iconic natural wonders. It's an experience that combines the excitement of exploration with the sheer beauty of the landscape, making it an unforgettable choice for those seeking a high-flying adventure.
Navigating the Journey: Reaching South Africa's Premier Hot Air Balloon Safari Destinations
To reach the enchanting balloon safari destinations of Magaliesberg and Drakensberg, your journey begins by landing in Johannesburg or Durban. If you're arriving internationally, O.R. Tambo International Airport in Johannesburg serves as the main gateway, while King Shaka International Airport in Durban provides access to Drakensberg. From there, renting a car or arranging shuttle services offers convenience and flexibility.
The road trip to these picturesque regions offers glimpses of South Africa's diverse landscapes, making the journey an integral part of your adventure. Whether you're starting from Johannesburg or Durban, your hot air balloon safari awaits, promising awe-inspiring experiences amidst these stunning natural settings.
Prices of Hot air balloon safaris in South Africa
Choosing the perfect time for your hot air balloon safari in South Africa's top 2 destinations adds an exciting layer to your adventure. In Magaliesberg, the spring and autumn months (March to May and September to November) paint the landscape with vibrant colors and offer pleasantly mild temperatures. It's a season of rebirth, where blooming flora and serene breezes enhance your flight.
On the other hand, Drakensberg's hot air balloon safaris shine brightest during the crisp, dry winters from June to August. These months provide crystal-clear skies and dramatic vistas of the rugged mountains. While the mornings may be a touch chilly, the thrill of soaring above this majestic landscape warms the heart. It's important to note that both locations offer year-round opportunities for adventure, ensuring that whenever you choose to take flight, the South African skies will welcome you with awe-inspiring beauty.
Prices of Hot air balloon safaris in South Africa
When it comes to hot air balloon safaris, pricing can play a pivotal role in your decision-making process. In enchanting Magaliesberg, you can expect prices ranging from R2,290 to R3,295 per person in 2023, offering a variety of options to suit your budget and preferences. Meanwhile, soaring over the majestic Drakensberg comes at a cost of R3,200 per adult and R1,750 per child. While prices may vary slightly, what remains consistent is the incredible value you'll receive for these experiences.
These rates not only include your unforgettable balloon ride but also often encompass pre-flight refreshments, a sumptuous breakfast, and the expertise of skilled guides who ensure your adventure is nothing short of magical. So, whether you're exploring the serene landscapes of Magaliesberg or witnessing the dramatic vistas of Drakensberg, these prices are your ticket to a soaring adventure that promises to leave you with lifelong memories.
Other activities to do in South Africa
South Africa, a land of immense diversity, beckons travelers with a wide array of captivating activities to enrich their journeys. Here, we delve deeper into six major experiences that are sure to leave an indelible mark on your South African adventure:
Safari Delights
A journey to South Africa is incomplete without an exhilarating safari experience. Venture into the iconic Kruger National Park, where you'll embark on game drives that bring you face to face with the legendary Big Five – lions, elephants, buffaloes, leopards, and rhinos. The park's vast expanse teems with remarkable wildlife, from graceful giraffes to playful zebras, creating unforgettable moments of connection with nature.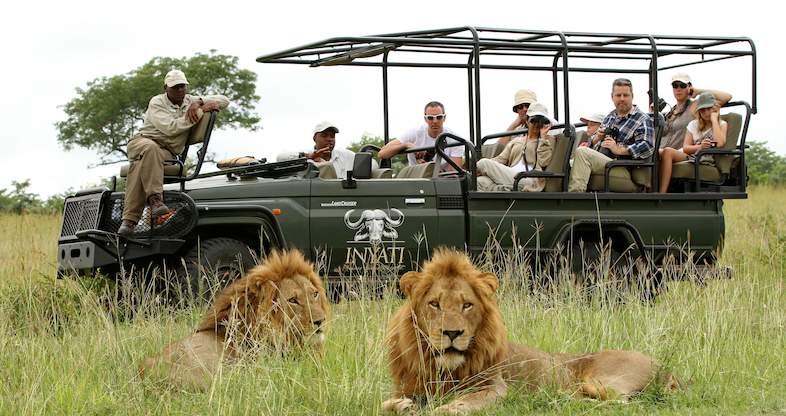 Winery Wanderings
South Africa's Cape Winelands are a vinophile's paradise. Explore the enchanting vineyards of Stellenbosch and Franschhoek, where you'll be treated to world-class wines and culinary delights. Wine tasting here is a sensory journey, where each sip tells a story of terroir and craftsmanship, while gourmet cuisine elevates your taste buds to new heights.
Cape Town's Charm
The Mother City, Cape Town, is a captivating blend of natural beauty and cultural vibrancy. Ascend the iconic Table Mountain, a UNESCO World Heritage site, for panoramic views of the city and the surrounding ocean. Delve into history at Robben Island, where Nelson Mandela was imprisoned, and meet charming penguins at Boulders Beach. The bustling V&A Waterfront offers shopping, dining, and live entertainment.
Garden Route Adventure
The Garden Route, a breathtaking coastal drive, is a haven for adventure seekers. Hike through Tsitsikamma national park where lush forests meet the sea, offering an array of scenic trails. If you're feeling adventurous, take the plunge at Bloukrans Bridge, home to one of the world's highest bungee jumps. Alternatively, savor moments of tranquility on the pristine beaches that dot this picturesque route.
 Whale Watching
Hermanus, nestled along the coast, is celebrated as the whale-watching capital of the world. Here, you can witness the awe-inspiring southern right whales as they migrate along the shoreline. Join a boat tour for an up-close encounter with these gentle giants, and be mesmerized by their majestic breaches and soothing ocean songs.
Admire Feathered Wonders
South Africa is a birdwatcher's paradise, home to over 800 bird species. Don't miss the chance to explore the diverse avian life in Hluhluwe-iMfolozi Park, renowned for its resident and migratory birds. Keep your binoculars ready to spot the striking lilac-breasted roller, majestic African fish eagle, and vibrant malachite kingfisher amid the lush greenery.
Explore Ancient Caves
Delve into the ancient mysteries of South Africa by exploring the remarkable Cradle of Humankind. This UNESCO World Heritage site boasts a network of limestone caves that have revealed some of the world's most significant fossil discoveries, shedding light on our human ancestry. Take a guided tour into these subterranean wonders, where you'll marvel at the stalactites and stalagmites while retracing the footsteps of our distant ancestors.
Breathe in Mountain Beauty
South Africa boasts an array of majestic mountain ranges, and the Eastern Cape's Drakensberg Mountains are a true gem. Known as the 'Barrier of Spears,' these peaks offer hiking and trekking opportunities amid awe-inspiring scenery. Explore the lush valleys, hike to the iconic Amphitheatre, and soak in the serenity of cascading waterfalls.
Cultural Odyssey: Immerse Yourself in South Africa's Vibrant Tapestry
South Africa beckons travelers with an array of cultural experiences that range from deep immersions to delightful encounters. Delve into the heart of tradition by visiting a Zulu village in KwaZulu-Natal, where you'll actively participate in traditional dance performances, witness age-old customs, and engage with welcoming residents. Alternatively, explore the colorful neighborhoods of Cape Town, like Bo-Kaap, where you can savor local cuisine, shop for handmade crafts, and strike up friendly conversations with locals eager to share their stories. These encounters offer diverse perspectives into South Africa's rich cultural tapestry, ensuring that your journey is as enriching as it is memorable.
Animals to see in South Africa
Lion
These majestic big cats roam the savannas and grasslands of South Africa's renowned national parks and game reserves. To witness lions in their natural habitat, head to Kruger National Park, Addo Elephant National Park, or Kgalagadi Transfrontier Park. Guided safari drives offer the best chances of spotting these apex predators as they go about their daily routines.
African Elephant 
Known for their sheer size and gentle demeanor, African elephants are often seen in South Africa's diverse wildlife sanctuaries. Explore Kruger National Park, Addo Elephant National Park, or Tembe Elephant Park for unforgettable encounters with these magnificent creatures. Watch them gracefully meander through the bush, sometimes even cooling off in waterholes.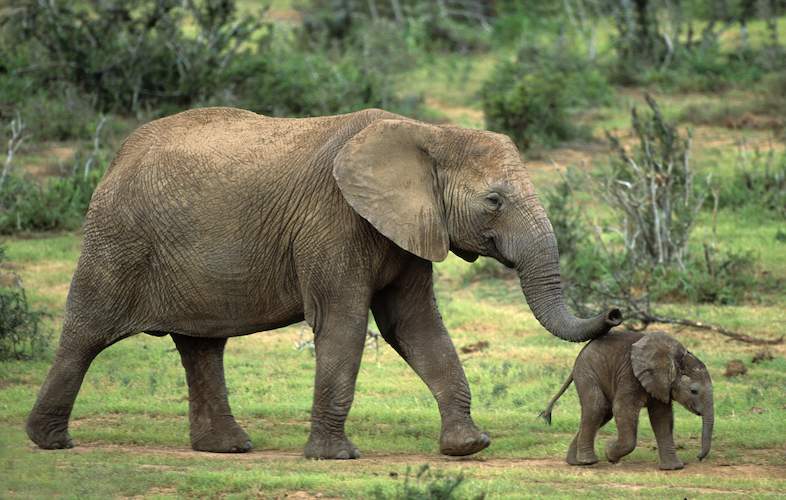 Cheetah
The world's fastest land mammal, cheetahs can be observed in South Africa's private game reserves, including Phinda Private Game Reserve and Samara Private Game Reserve. These reserves offer expert-guided game drives, where you might catch a glimpse of these sleek and agile predators in action, often hunting with astonishing speed.
African Buffalo
Often called the "Black Death" due to their formidable presence and strength, African buffalo can be spotted in a variety of South African parks, such as Kruger National Park and Hluhluwe-iMfolozi Park. These giants often gather in herds, making for impressive and dramatic wildlife sightings.
Rhino
South Africa is home to both white and black rhinoceros species. While poaching has posed a significant threat to their populations, you can still see these incredible creatures in conservation-focused reserves like Hluhluwe-iMfolozi Park and Phinda Private Game Reserve. These parks play a crucial role in protecting these endangered animals.
African Wild Dog
The African wild dog, often hailed as one of Africa's most endangered predators, is a captivating species found in select South African wilderness areas. To witness these strikingly patterned canids in their natural habitat, venture to places like Kruger National Park, Madikwe Game Reserve, and Hluhluwe-iMfolozi Park. Known for their highly social nature and cooperative hunting behavior, wild dog sightings are a thrilling spectacle.
Their large, expressive ears and dappled coats make them unmistakable, and observing their communal dynamics offers a fascinating glimpse into the intricacies of pack life. However, due to their endangered status, these sightings are a rare privilege, highlighting the importance of continued conservation efforts to protect these charismatic predators and their ecosystems.
Aardvark
Also known as the "ant bear" or "earth pig". The aardvark, with its unique appearance and nocturnal habits, is a fascinating creature found in South Africa's semi-arid regions. Seek out locations like the Kgalagadi Transfrontier Park for a chance to spot this solitary and enigmatic mammal during night drives.ve creature during a night safari in various South African reserves, including Tswalu Kalahari Reserve.
Pangolin
South Africa is home to the elusive and critically endangered pangolin, often called the 'scaly anteater.' To catch a glimpse of this rarely seen creature, consider visiting Kruger park, Tswalu Kalahari Reserve or other conservation-focused reserves that actively protect pangolins. Their distinctive appearance and conservation status make pangolin sightings a true rarity and privilege.
African Penguin
South Africa boasts the distinction of hosting one of the world's few mainland breeding colonies of African penguins. Visit Boulders Beach near Simon's Town or Stony Point in Betty's Bay to observe these endearing birds waddling on the sandy shores and swimming gracefully in the ocean. These penguins, also known as jackass penguins for their distinctive braying calls, provide delightful photo opportunities as they go about their daily routines, from nesting in burrows to engaging in communal swims.
Watching these charming creatures, with their tuxedo-like plumage, is not only a heartwarming experience but also a testament to successful conservation efforts to protect their habitat and ensure their survival in the wild.
Accommodations in South Africa
Safari Lodges in South Africa
When it comes to experiencing the raw and untamed beauty of South Africa, few accommodations compare to the allure of safari lodges. Tucked away in private game reserves and national parks, these lodges offer a front-row seat to the mesmerizing wildlife spectacles that define the country. Wake up to the symphony of the African bush and embark on game drives to spot the Big Five in their natural habitat. The lodges range from rustic elegance to lavish luxury, ensuring there's an option for every traveler.
Imagine sipping your morning coffee while gazing at elephants wandering past or watching the sun dip below the horizon as lions begin their nightly prowls. South Africa's safari lodges are a true gateway to the soul of the wilderness, where adventure and comfort harmoniously coexist.
Beachfront Resorts and Villas
For those seeking sun-soaked shores, South Africa's beachfront accommodations are nothing short of paradise. The country's extensive coastline, hugging the Indian and Atlantic Oceans, is graced with a plethora of luxury beachfront resorts and private villas. Whether you're unwinding on the sandy stretches of Durban's coastline or soaking in the rugged beauty of the Western Cape, you'll find exquisite options.
These accommodations provide easy access to the sea, making them perfect for water enthusiasts, whether you're into surfing, snorkeling, or simply basking in the sun. With world-class amenities, top-notch dining, and breathtaking ocean views, South Africa's beachfront accommodations redefine the meaning of coastal luxury, ensuring that your coastal getaway is one to remember.
Boutique Guesthouses and Bed & Breakfasts
For travelers who prefer an intimate and personalized experience, South Africa's boutique guesthouses and bed & breakfasts offer a warm and charming atmosphere. These hidden gems are sprinkled across quaint towns and vibrant cities, providing a unique perspective on local life and culture. Hosted by friendly locals, you'll receive insider tips and warm hospitality.
With individually decorated rooms and delectable homemade breakfasts, these accommodations create a home away from home, inviting you to immerse yourself in the heart of South Africa's communities and neighborhoods.
Wine Estates and Vineyard Retreats:
South Africa is celebrated for its world-class wineries and vineyard landscapes. To truly savor the country's wine culture, consider staying at a wine estate or vineyard retreat. Nestled among the rolling vine-covered hills, these accommodations offer wine tastings, cellar tours, and unparalleled tranquility. Indulge in the finest vintages, savor gourmet cuisine, and enjoy the stunning views of the winelands that surround you. South Africa's wine estate accommodations are a haven for wine connoisseurs and anyone seeking a serene escape amidst the vineyards.
Quaint Cottages and Mountain Retreats
If you're drawn to the scenic wonders of South Africa's mountains and countryside, you'll find a wealth of quaint cottages and mountain retreats. From the Drakensberg Mountains to the picturesque Western Cape, these accommodations provide a cozy and peaceful respite in nature. Whether you're hiking through forested hills, enjoying mountain vistas, or simply relaxing by a crackling fireplace, these retreats offer a chance to disconnect from the hustle of everyday life and reconnect with the natural world.
In South Africa, the options for accommodations are as diverse as the landscapes themselves. Whether you're seeking the adventure of the wild, the serenity of the beach, the warmth of local communities, the luxury of wine country, or the tranquility of the mountains, South Africa's accommodations are designed to ensure your stay is nothing short of exceptional.
Hits: 3