13 Top Best Reasons To Visit South Africa
The 13 top best reasons to visit South Africa will satisfy your love for luxurious living, cultural diversity and breath-taking scenery. It is a very beautiful country on the southern most tip of the African continent and it is marked by several distinct ecosystems. The country is a biodiversity hotspot, with unique biomes, plant and animal life. With over 60 million people, South Africa is the world's 23rd most populated country.
 The Western Cape offers beaches, lush wine lands around Stellenbosch and Paarl, craggy cliffs at the Cape of Good Hope, forest and lagoons along the Garden Route, and the city of Cape Town, beneath flat-topped Table Mount. Many may be attracted to country because of all of these factors. The top 13 best reasons to visit South Africa include;
1. The Big 5 Haven in Africa
South Africa is one of the few places in Africa  where one is  able to track off all of the Big 5 (elephant, buffalo, rhino, lion and leopard) in one day arguably one of the best reasons to visit South Africa.
The country is one of the world's finest Big 5 safari destinations and this gives credit and thanks to its outstanding conservation areas and national parks such as: Madikwe Game Reserve, Phinda Game Reserve, Pilanesberg National Park, Addo Elephant National park. Kruger National Park is the largest game reserve in South Africa.
Located in the northeast covering nearly 20,000 km² and boasts an incredible array of species. It is one of the most established game reserves in the world and provides the opportunity to truly engage yourself in the wild bushveld. The park has  its private game reserves like Sabi Sands, Thorny bush, Londolozi, Mala Mala, Lion Sands and Dulini.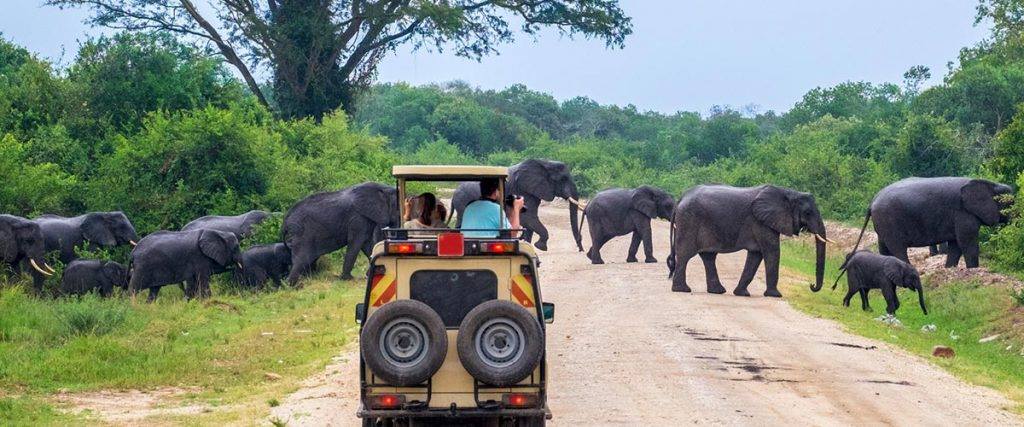 2. Historic state of South Africa
South Africa has a historical Cradle of Humankind, where the 2.3-million-year-old fossil nicknamed Mrs. Ples was found and some of the oldest hominin fossils.
For a taste of more recent history, the KwaZulu-Natal Battlefields where life of the world of 1875, when bravery, victory and defeat played out in the bloody battles between British soldiers, Boer commandos and Zulu warriors.
 South Africa's remarkable modern history is perhaps best illustrated in a visit to Robben Island, where Nelson Mandela spent 18 years of his incarceration alongside other political prisoners for their cause to liberate their country.
Cape Town is our oldest city, the Constantia win elands date back over 300 years and San Bushmen can teach you more about their desert lifestyle that remained largely unchanged for thousands of years and this makes cape town the oldest city and a special visit to the country. Cultural travelers thoroughly enjoy the country's plethora of ideas, customs and social behaviors of the South African people.
3. World-renowned wine regions in South Africa
South Africa is one of the the oldest countries producing world known wines like Constantia, cap Classique, Klein Constantia, boschkloof wines among others. 30 minutes' drive out of Cape Town and you'll be amongst some outstanding vineyards. Known for the dark and bold red Pinotage, the country has been producing wine for over 350 years.
4. Conducive climatic changes in South Africa
South Africa is blessed with a generally temperate climate, meaning sensational summers and mild winters. Enjoying great weather is vital for a memorable vacation and for many travelers. For example Durban, Ballito and the beaches of the KwaZulu-Natal Coast average over 300 days of sunshine throughout the year.
5. Welcoming and friendly society in South Africa
South Africans love to meet new people and passionately enjoy living with them as their own family members.  This make the country a melting pot of many fascinating cultures forming one nation, so you will hear several distinct accents in our English, notice many different faces, and taste a rich fusion of flavors in our cuisine.
From the bushveld to the Little Karoo, South Africa has a long tradition of dorpie (small-town) hospitality, found in country pubs, inns, restaurants, guesthouses and safari lodges nationwide. With the door shut against the cold, a fire in the grate and Karoo lamb on the menu, winter is the perfect time to enjoy platteland (countryside) cosines.
You have a chance to learn traditional Malay curries while in Johannesburg and a visit Nelson Mandela's house and walk in the footsteps of our history in Soweto.
6. Beaches in South Africa
Cape Town has the best urban beaches in the world, from fashionable Camps Bay which are close to the city Centre to Boulders Beach, with its comical colony of endangered African penguins which waddle about. All the way along South Africa's Garden Route and KwaZulu-Natal's Indian Ocean coastline.
There are even tropical coral reefs and excellent diving and snorkeling spots to discover when visiting South Africa.
7. Sun City Resort in South Africa
This Sun City resort is sometimes known as the Las Vegas of Africa, Sun City offers a number of leisure activities and services including; casinos, golf courses, concerts and shopping. For those thrill seekers out there, it's also home to the world famous Valley of Waves waterpark.
8. The FNB stadium in South Africa
The FNB stadium also called Soccer City between Johannesburg and Soweto, this amazing stadium was established during the 1980's, the FNB soccer stadium was modernized in preparation for the 2010 soccer world cup in 2009, making it the largest stadium on the African continent and this alone attracts many to share and treasure African mighty to soccer love.
It's situated about 8 km south-west of Johannesburg's CBD and about 9 km north-east of Soweto city center, the stadium is now commonly known as Soccer City. It hosted the opening and closing ceremonies of the 2010 soccer world cup, including the finals between Holland and Spain.
9. Big Cat rescue centers in South Africa
The Born Free Foundation operates two sanctuaries in South Africa. They care for lions and leopards that have been rescued from captivity, as well as offering education about animal conservation.  South Africa big cat sanctuaries are currently home to 12 lions and four leopards.
These provide a new home and a new start for the big cats rescued from a lifetime of suffering in zoos, circuses or kept as pets. For many of these it may be the first time they have felt grass under their paws or had the freedom to run around.
10. Festival events in South Africa
South Africa has many festivals and these include; the 10-day Knysna Oyster Festival on the Garden Route. Taking place from late June to early July, it features seafood extravaganzas, a forest marathon, live music and kids' entertainment.
 On a more cultural note, Makhanda (Grahams town) in the Eastern Cape simultaneously hosts the National Arts Festival one of the world's largest arts jamborees. Conveniently, it's close to Addo Elephant National Park and the nearby private game reserves. Autumn and winter highlights include Afrika Burn in the Tankwa Karoo and Knysna's Pink Loerie Mardi Gras.
 There's also the 90km/56mi-long Comrades Marathon in KwaZulu-Natal and the Franschhoek Bastille Day in the Wine lands.
11. Nelson Mandela Bridge at Johannesburg in South Africa
Named in honor of South Africa's world famous first democratically elected president, the Bridge is 284 meters long, 42 meters high at its northern pylon and 27 meters high at its southern pylon. The purpose of building it was to link the two main business areas of Johannesburg, namely Braamfontein and Newton spanning the railway emplacement between them.
12. Whale watching in South Africa
Hermanus, on the Western Cape, is recognized as one the world's best whale watching destinations. Wander along the cliff path and you may not even need to board a boat to spot them.
 The best time for watching the southern right whale along the Cape south coast is between June to November, with peak calving season in July and August. The curious humpback whale can be seen between May to December, moving up along the coast from Hermanus to St Lucia in KwaZulu-Natal.
13. One of the Natural Wonders of the World
The Victoria Falls is the world's largest waterfall and is easily reached by a short flight from Johannesburg. It's known locally as Mosi-oa-Tunya – "The smoke which thunders"
The Victoria Falls have been billed as the Greatest Falling Curtain of Water on this Planet, making it one of the Seven Natural Wonders of the World and is considered to be the largest waterfall in the world.
Victoria Falls are not the widest waterfall or the highest waterfall but with all dimensions taken into account, including almost the largest flow rate, they are considered to be the biggest curtain of falling water in the world. While it is neither the highest nor the widest waterfall in the world, the Falls are classified the world's  largest, based on its combined width of 1,708 meters (5,604 ft.) and height of 108 meters (354 ft.), resulting in the world's largest sheet of falling water.
Other than the top 13 best reasons to visit South Africa, there is so much beauty waiting for you to create beautiful memories when you are ready to visit.
When To Visit South Africa
Feel free to visit the country any time of the year. You should however first know that unlike other African countries who experience just two seasons (The wet and Dry seasons), South Africa experiences four different seasons which are; Winter, Summer, Spring and Autumn.
Its winters can be pleasant during day time but are extremely cold at night. I advise you to visit between May and September because the sun is in abundance, the wildlife species are available for viewing together with their offspring. And the roads are not slippery hence easy movements.
How To Get To South Africa
South Africa can be accessed either by road or air transportation depending on where you are coming from. 
By Air
This is the major mode of transportation used by people who are coming to South Africa. So whichever part of the world you may be coming from, South Africa has over 40 airports like; Tambo International Airport, Cape Town International Airport, George Airport and Port Elizabeth International Airport among so many others.
The main airport is Johannesburg International Airport which is accessible by several airlines coming from different countries and continents. It is managed by the South African Airways.
 By Road
There are several entry points to South Africa by land which are located on the boarder with her neighbors. Examples include; 
Namibia to South Africa; This is approximately 967 kilometers

Botswana to South Africa; It is 1,969 kilometers

Eswatini to South Africa, it is 430 kilometers
There are so many others. Due to the advanced road network system in South Africa, movements are possible at any time of the day or night.
Where To Stay /Accommodation In South Africa
South Africa has a wide range of amazing places to stay in for its visitors. The different hotels, lodges, motels and inns offer three different types of accommodation which includes; Luxury, Mid-range and Budget accommodation.
Luxury Accommodation in South Africa
This is a lavish and very expensive type of accommodation which targets guests who are willing to spend extravagantly without any limitations. Examples include;
RiverBend Lodge; It is a very beautiful 5 star hotel with luxurious suites, private patios and it offers top notch dining experiences for all its guests.

Impodimo Game Lodge; It is a 5 star hotel found on a game reserve. It has plunge pools, exquisite lodging and the most friendly members of staff.

Madikwe Safari Lodge; It is an elegant place which offers free meals to its guests. It has plunge pools, balconies with spectacular views and actually offers 2 game drives for its guests.
Mid-Range Accommodation in South Africa
This targets clients who are willing to spend but sparingly. Examples include;
Pezulu Tree House Lodge; It is a beautiful and affordable place with tree top rooms and balconies. It has a beautiful out door rock pool from which you can swim and relax.

Myoli Beach Lodge; This lovely place is surrounded by trees. It has 14 bedrooms and each bedroom has its own bathroom. It can accommodate 30 people which makes it ideal for those who love traveling in large numbers or groups.

Khandizwe Kruger Villa; It is a simple but beautiful place with room which can be shared. It has 4 bedrooms and it can accommodate 8 people at most.
Budget Accommodation in South Africa
This is the most affordable and cheapest type of accommodation compared to all others. Examples include;
Clico Boutique Hotel; It is a nice hotel with a Dutch theme. They have spacious modern rooms with a restaurant, pool and garden.

Ammazulu African Palace; It is a really nice hotel with colorful rooms, private balconies and its theme is the traditional KwaZulu-Natal culture.

Witsieshoek Mountain Lodge; It is a simple lodge with a breath-taking mountain view. The place is also simple with  fresh air, a restaurant and pub.
Due to technological advancement you can now make your hotel bookings, financial transactions (payments) and even any necessary changes about your stay online without having to first travel to those respective places. This is convenient and time saving.
Regardless of the accommodation of your preference, please endeavor to make your hotel bookings not les than a month before your trip. This is strictly for proper and timely planning purposes.
This blog answers questions like;
top 10 tourist attractions in south africa
unique places to visit in south africa
is south africa a good country to live in
best time to visit south africa
things to do in south africa
My Conclusion about South Africa
South Africa is a one stop center for several kinds of people with diverse interests. 0ther than the top 13 best reasons to visit South Africa, if you love nature, good food, rich African culture, great sceneries, lovely people, lavish living and lifestyles alongside so many other activities, it is the best place for you and your loved ones. Ditch your busy schedule and come have as much fun as humanly possible.
You are most welcome to see this great country in the company of professional touring experts like the Kubwa Five Safaris crew which will make your visit 10 times more fun.
Hits: 3