Top 5 Best Safari Lodges In Volcanoes National Park in Rwanda
The top 5 best safari lodges in Volcanoes National Park provide guests with a wide range of accommodation choices, including luxury, mid-range and budget lodges. The some of the best safari lodges and safari resorts in Africa
The luxury safari lodges are those at the high end of the price spectrum, mid-range safari lodges are in the middle of the price range, and then budget safari lodges are on a more modest budget. The luxury accommodations in Rwanda are some of the most luxurious safari lodges in Africa
This blog claims that the best safari lodges provide guests with a wide variety of cultural experiences in addition to the standard game drive.
Rwanda is widely regarded as one of the finest destinations in the world for gorilla tracking and viewing. Volcanoes National Park, which is located in Rwanda and is one of the country's national parks, is where mountain gorillas can be found. Rwanda is one of African countries which offers best safari in the world.
The gorilla trekking is the primary attraction of Volcanoes National Park. Other trips that are offered include golden monkey trekking, climbs up Mount Karisimbi or Mount Bisoke, visits to the Dian Fossey Grave cava, and tours of the Iby'Iwacu Cultural Village.
If you do choose to go to this amazing national park, you should get ready to have the time of your life while you are there. In Volcanoes National Park, the  top 5 safari lodges are listed below for your convenience.
Best 5 Luxury Safari Lodges In Volcanoes National Park
1. Bisate Lodge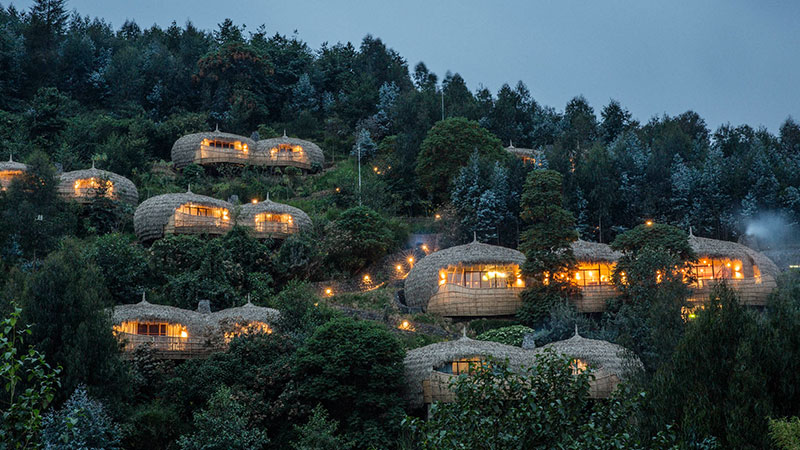 In June of 2017, Bisate Lodge first opened its doors to guests. The newest camp owned and operated by Wilderness, Bisate Lodge, can be found in the middle of the forest and has breathtaking views of three notable volcanoes: Bisoke, Karisimbi, and Mikeono. This lodge is a good alternative for people in need of exquisite lodgings in a breathtaking environment because it provides convenient access to Volcanoes National Park as well as the park headquarters, where excursions such as gorilla trekking and other adventures may be arranged.
Next to Volcanoes National Park in western Rwanda is where you'll find this lodge. It's perched on the natural slopes of the volcano that once dominated the area.
The Bisate Lodge is a great place to stay as a base for exploring the park and going on gorilla treks. It is situated close to Kinigi, which is where the park headquarters are found.
The site that is now occupied by the lodge was originally used for farming, and the members of the Bisate team have put in a lot of effort to reforest the region with native flora, maintain the natural beauty of the forest, and provide a safe haven for a great variety of bird species. Luxurious and one-of-a-kind housing is provided by the lodge in the form of six individual domes in addition to a shared eating and lounging area.
Bisate's six forest villas are absolutely remarkable. The architecture of Rwanda's historic royal palace served as inspiration for the design of the suites at Bisate, which are in the shape of domes and covered with thatch and bamboo thickets. Even while it has an outside that is characteristically "Rwandan," the interior is clean and contemporary. It features striking tones of gray and green to reflect its position in the middle of the mountains, and it is decorated with contemporary art.
Trekking with one of the ten gorilla families that have been habituated within Volcano National Park is the primary attraction in Bisate. The lodge provides a range of treks around the property, which are especially good for individuals who are interested in birds and the ongoing forestry efforts on the property. In addition, there are trips to the lava tunnels in the Musanze Caves and the cultural town of Iby'wacu, as well as opportunities to see the endangered golden monkey.
2. One & Only Gorilla's Nest Lodge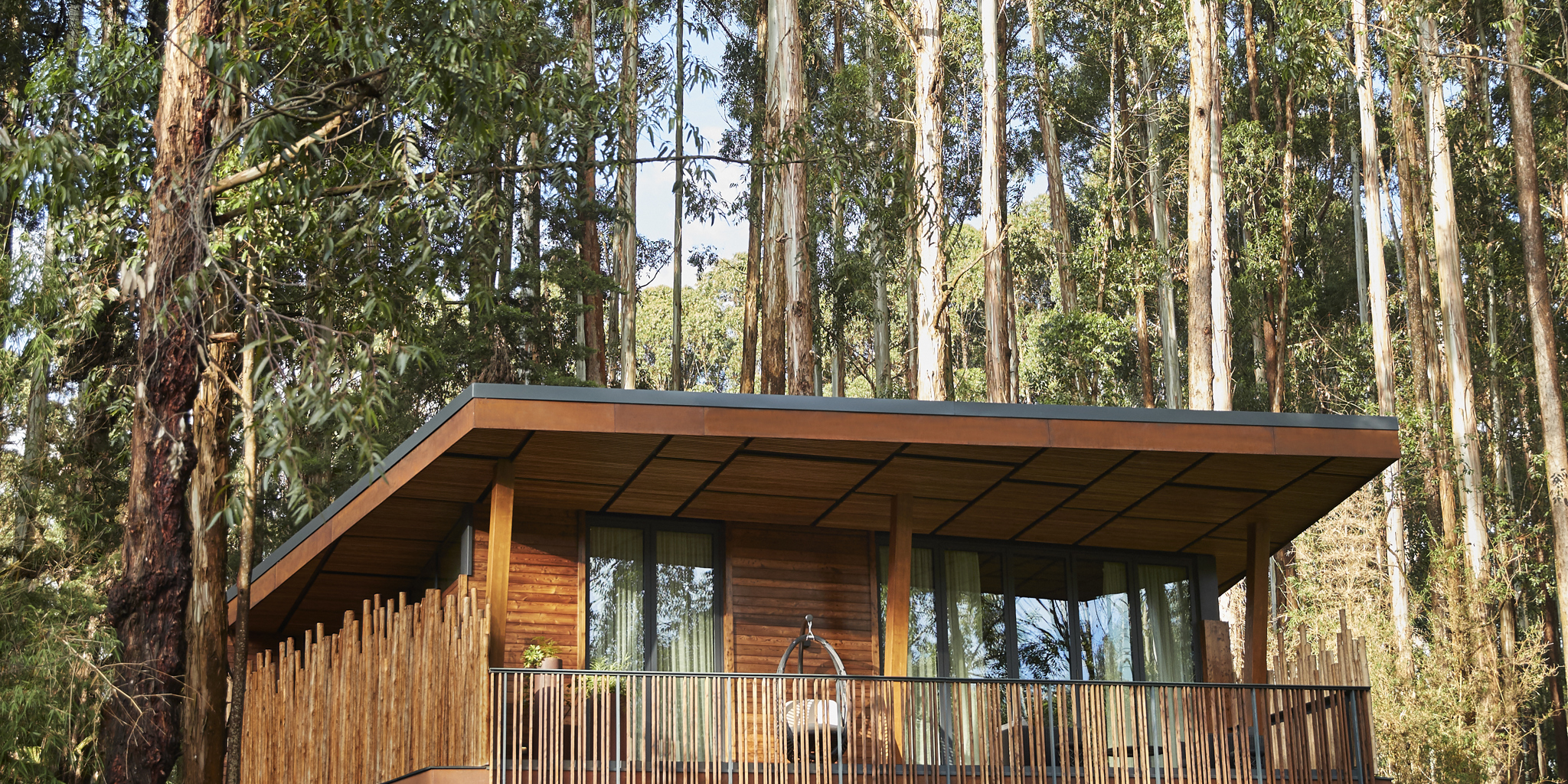 Surrounded by swaying eucalyptus trees, One & Only Gorilla's Nest stimulates the wild spirit of adventure. A spot where you can meet the gorgeous mountain gorillas of Rwanda and reflect on your own life at the same time.
The fragrant flora and wildlife are immediately apparent upon arrival. Somewhere in the volcanic mountains of Rwanda is a secret garden where roses and eucalyptus trees flourish all year long thanks to the country's consistently warm and moist climate. Each plant and tree has been handpicked to foster abundant wildlife and is used in everything from your welcome drink to your meal to the logs you burn in the fireplace. Your backdrop, sanctuary, and source of delicious food all rolled into one ideal ecosystem that is always expanding.
Amidst the tall eucalyptus trees and volcanic landscape, guests can relax in one of the many freestanding lodges or apartments that float above the grounds. Enjoy the forest's beckoning from the comfort of your private retreat, outfitted with binoculars, novels, and Imigongo artwork.
Enjoy a once-in-a-lifetime experience with the rare and spectacular mountain gorillas in their natural habitat at One&Only Gorilla's Nest, which is located in the foothills of the breathtaking Volcanoes National Park.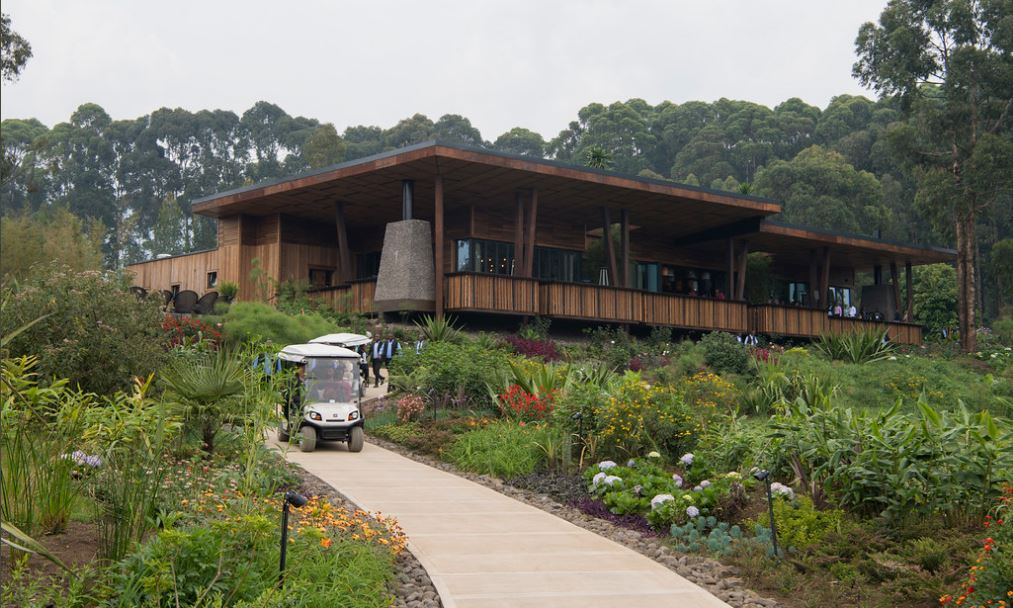 You'll get a sense of Rwanda's natural rhythms through the food, as dishes are prepared and influenced by seasonal local ingredients. You may relax in the knowledge that you won't be able to predict what you'll be eating next, but that whatever it is, you'll definitely love it.
3. Five Volcanoes Boutique Hotel
Offering a restaurant, a pool, and gorgeous gardens for relaxation, the Five Volcanoes Boutique Hotel is a great option for visitors seeking high-quality lodging at an inexpensive price. It's a great option for individuals seeking more economical housing in the park, as it's close to the park headquarters and has decent rooms.
Situated in Kinigi, on the borders of Volcanoes National Park, is this intimate hotel. The hotel is conveniently situated in a town near the park's headquarters and main entrance.
On the grounds, beside the warm and pleasant pool, you'll find 13 stone chalets and one deluxe cottage. The lodge's main building features a bar, dining area, and lounge that are all available to guests at any time. The magnificent gardens have a pool, massage hut, sauna, and steam room, perfect for anyone seeking total relaxation.
The traditionally designed stone cottages in Rwanda provide private bathrooms, patios, and breathtaking views of the volcanoes in the area. The rooms are basic in appearance, but provide all you need for a restful night's sleep after a day of adventuring!
Nearly all visitors (over the age of 15) take advantage of the lodge's proximity to the park's boundaries in order to go on mountain gorilla tracking expeditions in Rwanda. The lodge also offers canoe tours, mountain biking, and hikes to observe golden monkeys in a bamboo jungle for an extra fee. Guests can choose their own adventures and activities on the spot, or they can take advantage of the lodge's amenities and take it easy all day if they like.
After the gorilla trek, guests are able to relax in their rooms, freshen up with a shower, and prepare for departure. Just before you go, you will enjoy a wonderful lunch.
4. Singita Kwitonda Lodge
Singita Kwitonda Lodge's unparalleled position places life-changing gorilla trekking adventures within easy reach, since it is situated on the boundaries of Rwanda's Volcanoes National Park, home to more than a third of the world's remaining mountain gorillas.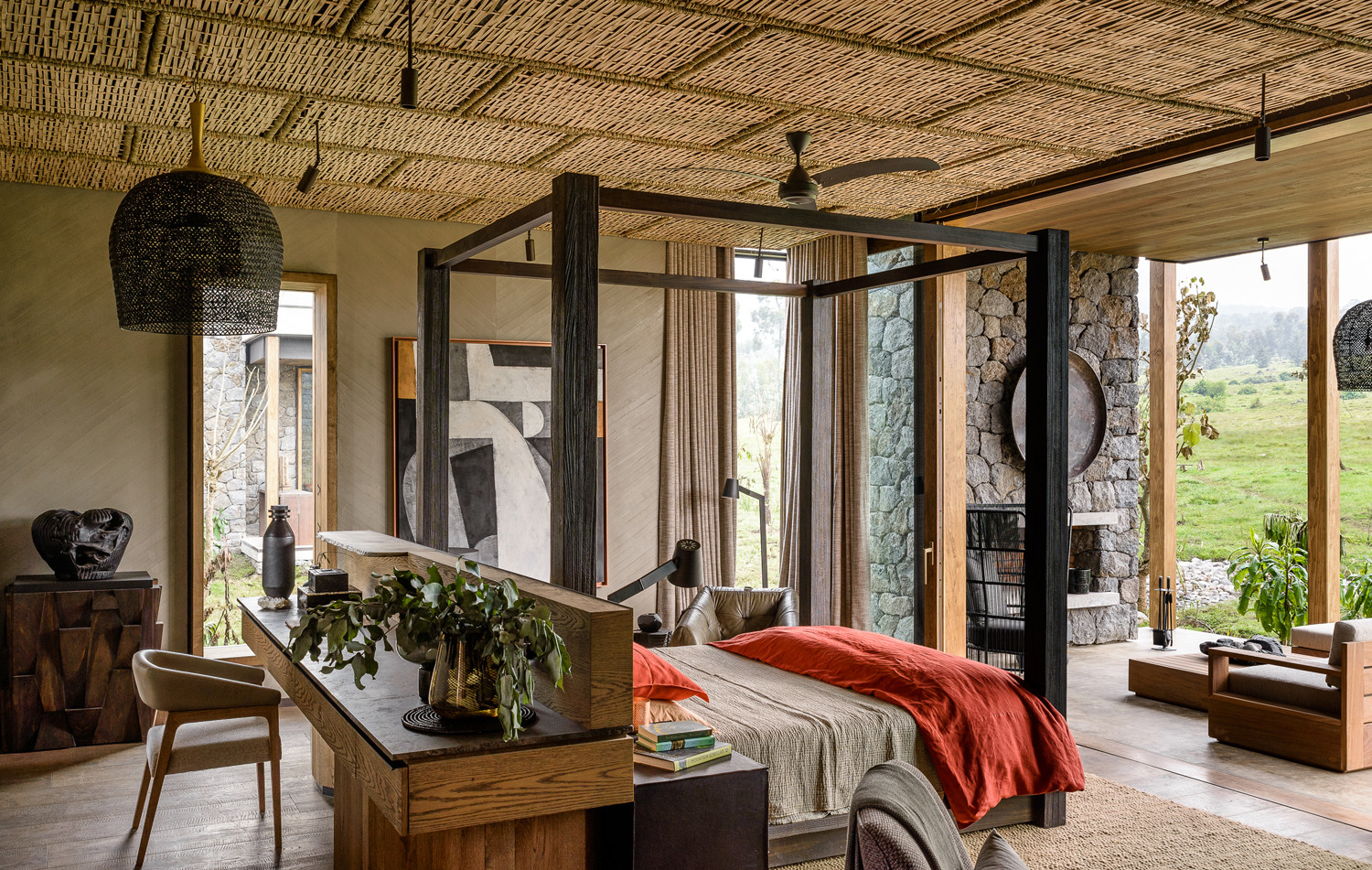 The eight lavish rooms each include their own heated plunge pool, spa treatment area, indoor and outdoor fireplaces, and expansive timber-framed windows that let in the breathtaking landscape and volcanic views outside.
5.  Sabyinyo Silverback Lodge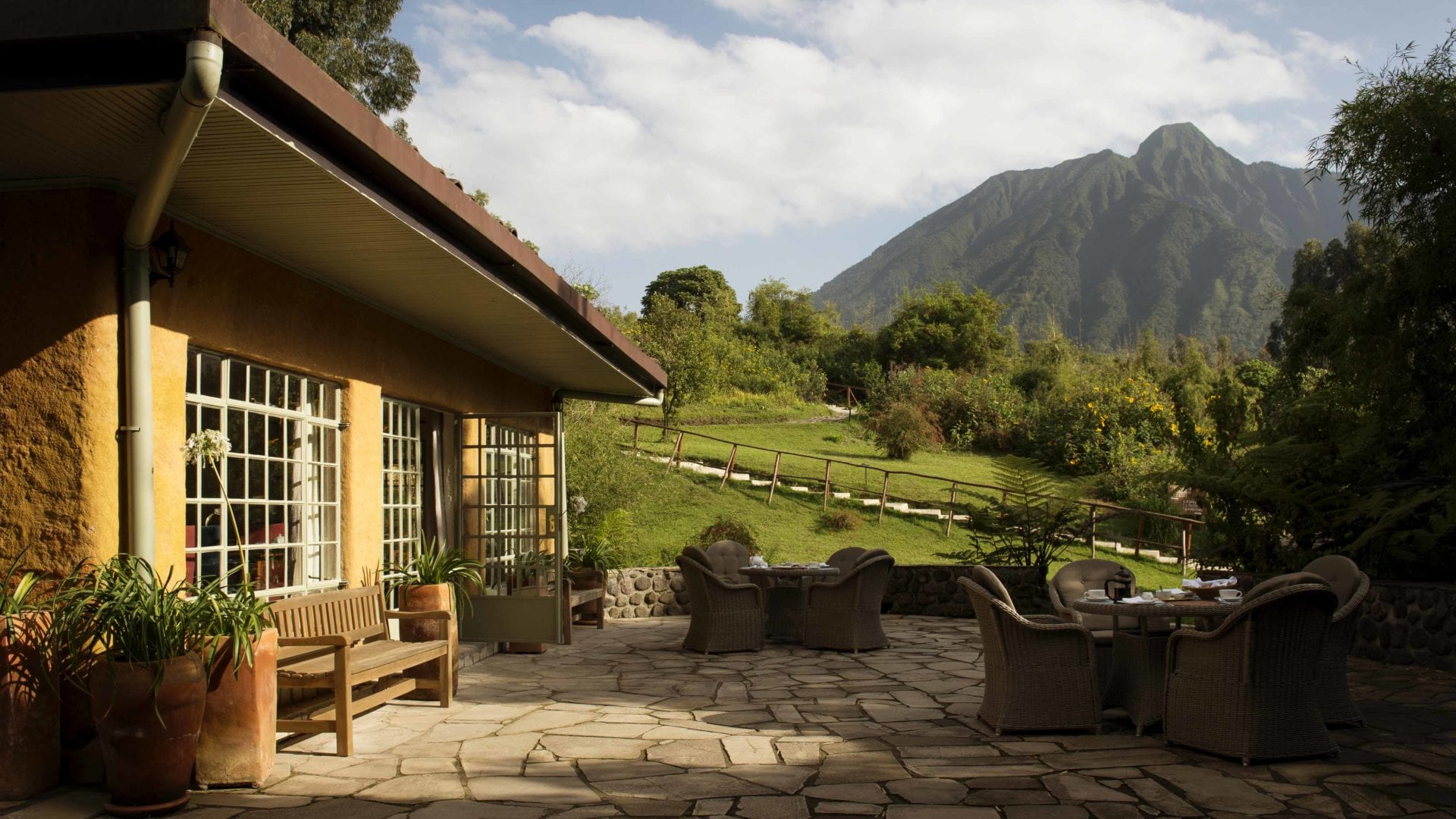 As the first lodge in the country to be owned by the local community, Sabyinyo Silverback Lodge is a pioneer in Rwanda's hotel industry. The lodge was constructed by the Governors' Camp Collection and is managed by the Sabyinyo Community Livelihood Association (Sacola), a Community Trust that uses lodge rentals and community fees to fund socioeconomic and conservation initiatives in the communities surrounding the National Park.
Guests of the resort can easily access the headquarters of Volcanoes National Park, from which they can begin their trip to observe the gorillas. Sabyinyo sits at the base of the Virunga Mountains, a series of 15,000-foot volcanoes that spans Rwanda, Uganda, and the Democratic Republic of the Congo.
It offers stunning views of the volcanoes and surrounding countryside. The guest cottages and main lodge building have been exquisitely built, providing the ideal base from which to explore this unique and fascinating corner of Africa.
The lodge features eight cottages, two each of the regular, suite, and family styles. The main lodge structure features a lounge, eating area, library, game room, space dedicated to responsible tourism and community awareness, gift shop, and front desk. There are three massive fireplaces in the sitting area to keep guests toasty on chillier evenings. In addition, there are two decks with platforms that look out over the spectacular panoramas of the Virunga mountains.
Terracotta tile roofing in Rwanda. They are all quite large, with a sitting area, a fireplace, and a private sheltered veranda. As the evenings cool, the fireplace serves as both a heat source and a source of running hot water.
Sabyinyo Lodge, in addition to hosting gorilla trekking expeditions, it boasts the largest selection of activities available near Volcanoes National Park. Guided hikes in the Nyange community, trips to the iby'iwacy village, the Buhanga sacred woodlands, the musanze market, and more are all on the list, as are mountain bike tours, bird watching walks, and mountain ascents.
6. Tiloreza Volcanoess Hotel
Tiloreza Volcanoes Ecolodge offers unforgettable experiences in a natural setting. Close to Volcanoes National Park is where you'll find this luxurious lodge. Nearby attractions include Dian Fossey Gorilla Fund International, located about 1.9 miles away. The distance to the heart of Kinigi's city center is only 5.2 km. There is a luxury hotel located 1.8 kilometers from the Karisoke Research Center.
It takes about two hours to get from Kigali International Airport to the Tiloreza Volcanoes Ecolodge.
The hotel features an in-house masseur, a complete bar, an outdoor pool, guided bicycle tours, and service that is second to none. If you're looking for some luxury on your trip to Musanze to view the gorillas or the other wildlife, this is the place to stay. Exclusively priced yet still warm and inviting.
Lodge owners and staff share the conviction that guests' ease of travel is of vital importance. This is why they are so dedicated to providing you with pleasant and helpful service. There is a wide range of accommodations from modest rooms to VIP cottages.
The innkeepers are always thinking of novel ways to make your stay here a more exciting one. One example is that they provide the newest bicycles in Rwanda so that you may enjoy some of the continent's finest rides. At the moment, they offer bike rentals to tour groups and individuals like Kubwa Five Safaris. From first-rate bicycle tours to an authentic cultural immersion, Tiloreza Volcanoes Ecolodge has it all.
The amazing mountain gorillas of Volcanoes National Park may be visited with their help, as they collaborate with the greatest tour operators in the business.
7. The Bishop's House
The Bishop's House is located in Musanze, Rwanda's Northern Province, near Volcanoes National Park, which is home to Mountain Gorillas and Golden Monkeys. The resort is approximately 25 minutes (17 kilometers) from the park and its numerous animals. The house's location in Musanze's wealthy, quiet neighborhoods makes it ideal for tourists visiting the Volcanoes National Park, Musanze Caves, and other tourist attractions in the area.
The colonial architecture and nine lavishly designed rooms of the Bishop's House set it apart from others. All rooms are furnished with large, antique handcrafted four-poster beds on a wooden floor that envelopes the occupant in warmth and grandeur. En-suite bathrooms feature hot showers and bathrobes that are warm and soft to the touch.
The resort is surrounded by vegetation, fauna, and natural sights and sounds, making it the ideal place to unwind and enjoy Rwanda's peace. All rooms feature massive, historic four-poster beds on wooden floors, as well as hot baths and soft bathrobes.
The Bishop's House has DSTV, Wi-Fi, mini-bars, and tea and coffee making facilities.
8. Mountain Gorilla View Lodge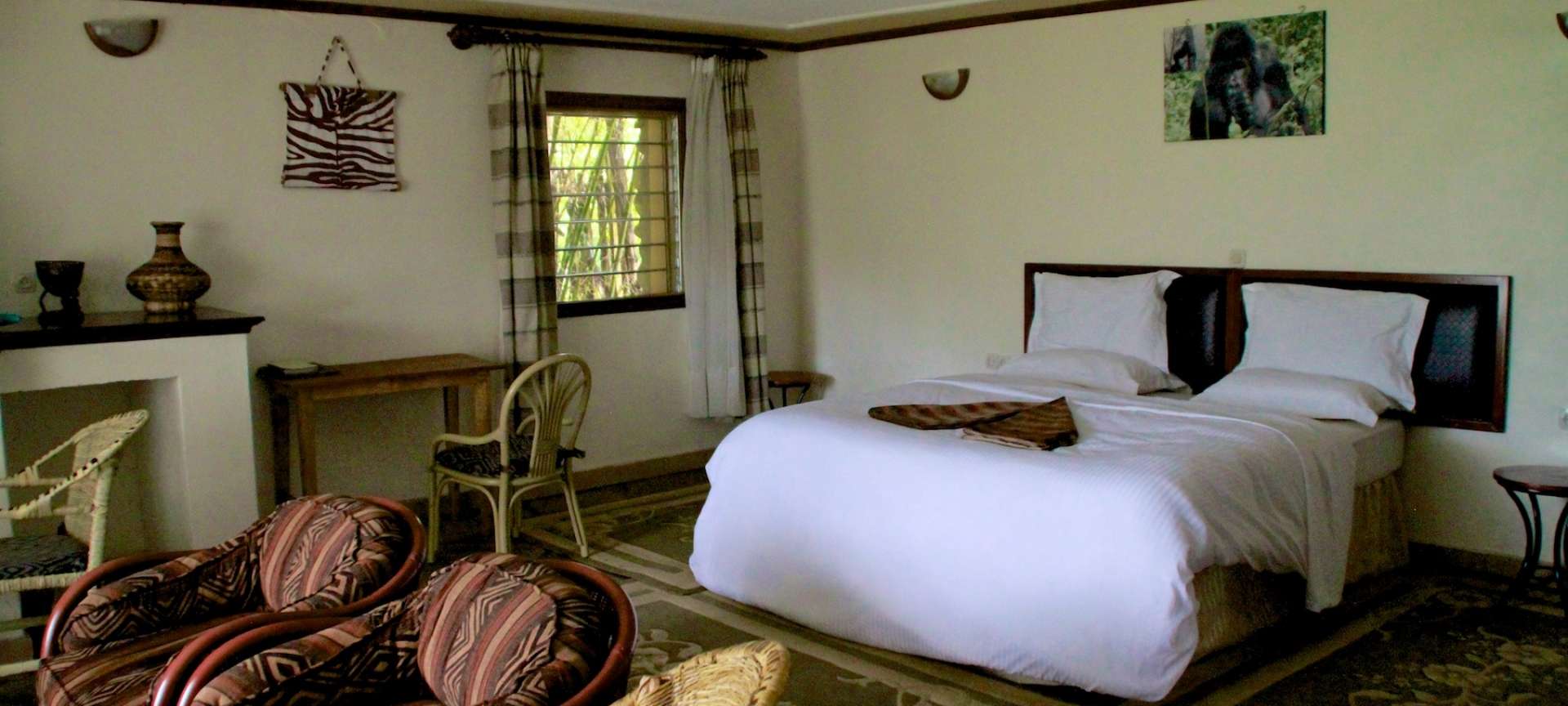 Mountain Gorilla View Lodge is a well-liked option for people who are interested in gorilla trekking because it is located in a genuine wilderness and offers expansive views of Rwanda's volcano highlands. Additionally, the lodge is only one kilometer away from Volcano National Park.
The Mountain Gorilla View Lodge is located in an area that is home to a rich and varied biodiversity of plants, trees, and birds, some of which are endangered, such as the Grey Crowned Crane (Balearica regulorum).
The inn operates with an ecotourism philosophy, putting an emphasis on the protection of natural resources and the development of the neighborhood. Your days at the Mountain Gorilla View Lodge will be some of the most memorable of your life thanks to the Intore, who are local dancers performing traditional dances.
Mid-range Safari Lodges In Volcanoes National Park
9.Virunga Lodge

The Virunga Lodge lies on a ridge overlooking the Virunga Volcanoes and Bulera and Ruhondo Lakes. It's an hour's drive to the park headquarters, a fantastic location for seeing the countryside and local towns and gorilla trekking.
The lodge's ridge features eight bandas. The main lodge's lobby, dining room, and Dian Fossey map room are very inviting in the evening.
Virunga has eleven Rwandan-style 'bandas' (stone-built with tile roofing). The bandas, named after surrounding lakes, each offer a fireplace and an own patio with mountain and lake views.
10. Davinci Gorilla Lodge
Da Vinci Gorilla Lodge is one of the finest safari lodges in northern Rwanda, providing comfortable accommodation to visitors to Volcanoes National Park.
Da Vinci Gorilla Lodge is perfectly located in Kinigi, Musanze, and provides an excellent base for those interested in gorilla tracking and exploratory tours within Volcanoes National Park. Come and experience the opulence of well-designed natural rooms, an exceptional restaurant and lounge, and excellent hospitality service – all of which are designed to meet your every desire and need.
The lodge is an ideal starting point for those interested in gorilla trekking, hiking the volcanoes, biking tours, and exploring the Volcanoes National Park area. It is only a 20-minute drive from the lodge to the park headquarters, where the gorilla trek begins.
11. Garden Place Hotel
Guests of the Garden Place Hotel will enjoy its spacious rooms and modern amenities, making it ideal for both business and pleasure trips.  The hotel offers a unique blend of convenience, friendliness, and individualized service. Views of the volcanic mountains may be seen from the hotel's opulent guest rooms.
For those looking for a comfortable base from which to explore the Virunga Mountains in Northern Rwanda in search of mountain gorillas, the Garden Place Hotel is an ideal option.
Hits: 309