Best 11 Reasons  to visit Rwanda in East
Best 11 Reasons to visit Rwanda in East Africa, it is one of the most interesting country to be visited. Gorilla trekking is the most popular tourist attraction
Rwanda is an excellent destination for mountain hiking, game drives, biking, nature walks and cultural tours in East Africa. The cultural practices of different indigenous people were passed on from one generation to another through cultural ceremonies, language, stories, dressing style and a kingdom that has now been put to an end.
 Here are best 11 reasons to visit Rwanda.
The Kings Palace in Nyanza
This monumental palace is found in Nyanza – about 88 kilometers away from Kigali. During the colonialism Rwanda had one king as cultural head. The Kings often had to deal with the challenge of pleasing the Tutsi and Hutus.
Later the Kingdom was abolished entirely with the last king exiled and a modern palace was constructed for King Mutara III by the Belgium government in 1931. Mutara was the last ruling king before Kingdoms were put to an end. His successor never had powerthrough his regime  and was exiled in the United States. Then the palace was turned into a museum by the Rwandan government.
To trek some of the Thousand Hills
Rwanda offers some of the  interesting treks for example Nyungwe Forest has an extensive network of trails covering over 130km that take between two hours to four days. In the Volcanoes National Park, head for Mount Bisoke with its beautiful crater lake at the summit or try the two-day trek of Mount Karisimbi, Rwanda's highest peak at 4507m. You will be able to experience the cold and the altitude while at the mountain.
For kicking the sand on Lake Kivu's shore
Rwanda is a landlocked country and this is why a beach is the shore of Lake Kivu. The sixth largest lake in Africa, it stretches 90km along the border with the Democractic Republic of Congo, with beautiful reflections of hills covered with patchworks of vivid green crops and terracotta-coloured earth. The perfect town on the lake is Karongi, from where boats can take you to Napoleon Island to see the fruit bats up to Rubavu for water sports and cool beach bars.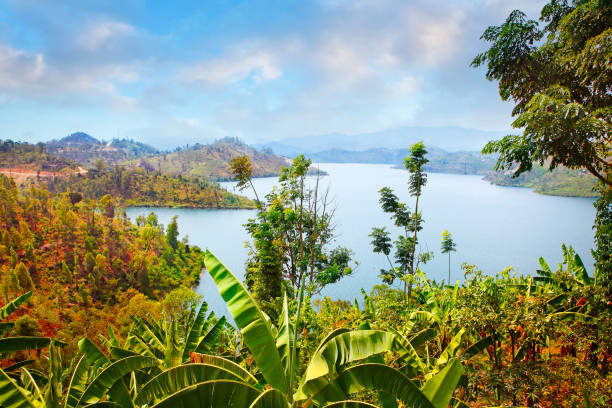 Wander around the locals' capital
Rwanda's capital city is Kigali and it is almost squeaky clean with shiny shopping malls, cinema halls trendy coffee shops and gleaming office blocks. For some true African vibe, take a tour of Nyamirambo, the city's oldest and most vibrant neighborhood, with Marie-Aimee Umugeni from the local Women's Centre, visiting markets and shops and sampling local food. You'll be supporting the center's work in education and empowerment of the country.
Get to be inspired by the country's renewal
Apart from gorillas, Rwanda is most known for the horrific genocide that devastated the country in 1994, when almost a million people, mostly the Tutsis, were murdered by the Hutu majority.
Today, there is little ethnic division everyone is a Rwandan and the grace and fortitude of the people in moving on from this tragedy is astounding. Visit the Kigali Genocide Memorial in the capital to understand the history behind the horror – it's a surprisingly peaceful haven with sweet-scented rose gardens representing unity and reconciliation.
To sway on East Africa's highest canopy walk
The marvelous -named Igishigishigi Trail in Nyungwe Forest National Park features the Uwinka Overlook, a stomach-churning suspension bridge that sways 50m high above the rainforest. Look down if you dare and you'll see nothing but trees panning out like gigantic broccoli florets and fantastical ferns after which the trail is named. All you can hear is birdsong, distant waterfalls and the occasional monkey squealing in the forest below.
Experience a taste of (vegetarian) dodo
Rwanda's traditional cuisine is fairly unadventurous. Meat (particularly goat) is usually served as brochettes, fish is often sardines or small tilapia and the staple food is ugali, a porridge-like paste made of cassava flour. But vegetarians are in for a treat, try matoke (fried green bananas), ibihaza (boiled pumpkin with beans), roasted sweet potatoes, veggie stews and dodo, a garlicky spinach-like dish with plenty of groundnuts and chillies.
Spot the Big Five while on a safari
This is managed by conservation organization African Parks since 2010, Akagera's once depleted wildlife is now thriving. Elephants, buffalo, giraffe and plenty of antelope can easily be seen, while lions (relocated here in 2015) and leopards are more elusive. Rhinos will soon be introduced too, making the 1120 square kilometre reserve a Big Five destination. One of Africa's prettiest national parks, Akagera merits a visit regardless of its wildlife, with lakes and papyrus swamps, vast savannah plains and undulating highlands in shades of green and gold.
It is for mesmerising monkey mania
Rwanda is primate paradise staggering 13 species live in Nyungwe Forest alone. Track the grey-cheeked mangabey or the colobus monkeys that look like ageing hippies with long white manes and beards. Catch chimpanzees leaving their nests in Cyamudongo Forest. Cutest of all are the playful golden monkeys, with reddish-gold coats and gorgeous expressive faces that cavort around the bamboo forests of Volcanoes National Park.
Experience the interesting Intore dancing.
Rwanda's traditional dance is exciting. It is historically performed for the Rwandan mwami (kings), they tell the story of warriors returning successfully from battle. The ground positively thumps with passion and energy as groups of dancers jump to drumbeats and singing. Women look demure in traditional colourful dresses while men wear headdresses of long white grasses that swirl frenetically as they toss their heads. Check out the King's Palace Museum at Nyanza Cultural Centre in Kinigi for some great performances.
Get on your bike ride with Team Rwanda
Eager cyclists will love this rare opportunity to ride with members of Rwanda's national team. Using the range race or mountain bikes, they will take you on a half-day training ride from their base in Musanze, teaching techniques and trying different terrains along the way. You can even have a guided multi-day tour with a team member. But you will need to be fit,  Rwanda is known as The Land of a Thousand Hills in East Africa.
When is the best time to visit Rwanda?
The best time to visit Rwanda is during the drier period from June to September, when you have the best chance at spotting the country's undoubted highlight: the mountain gorilla.
The rainy seasons, from March to May and in November, are the optimum times for tracking chimpanzees. It's also quieter then.
Temperature vary throughout the seasons due to Rwanda's position just south of the Equator. The days are warm, sitting comfortably in the late teens or mid-twenties depending on which area of the country you visit. The nights can be cool, especially at altitude.
Hits: 2