Serengeti's Thrilling Balloon Adventure, Tanzania
Embarking on Serengeti's thrilling balloon adventure is a unique and exhilarating way to experience the world from a birds-eye view. Hot air balloons are lighter-than-air aircrafts consisting of fabric envelopes, usually made of nylon or polyester that are filled with heated air to lift them off the ground.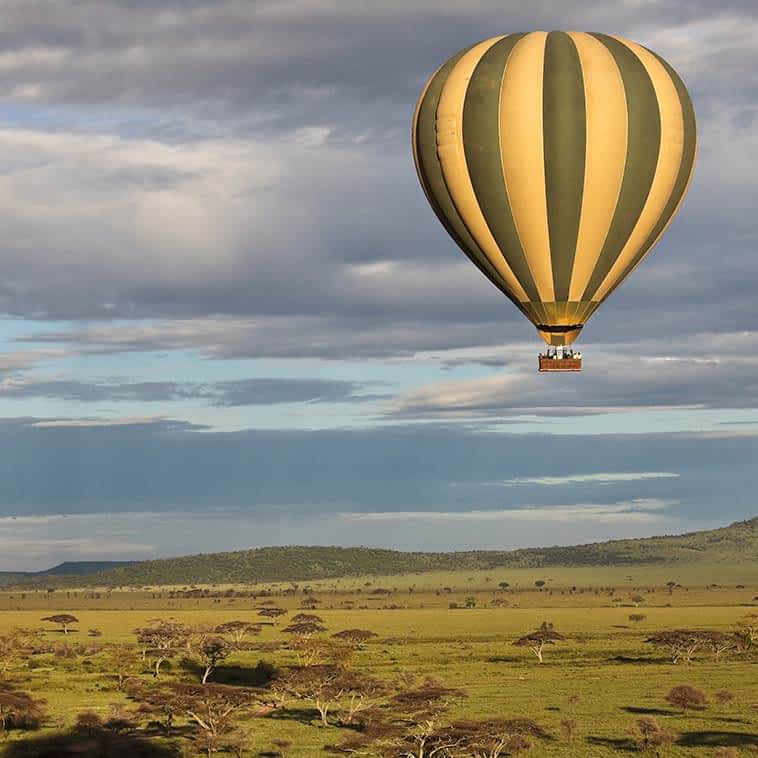 They offer a unique and exhilaration way to experience the world from a birds-eye view. Hot air balloons are the safest form of air travel, they are said to be 50 times safer than an airplane. The views from hot air balloons are unmatched. During hot air balloon adventures, you will get to enjoy panoramic views of the landscape below including but not limited to waterbodies, forests and wildlife.
Hot air balloon rides give you a feeling peace and tranquility as the rides are always calm and quiet except for the occasional bursts from the propane burner, whilst still providing a unique connection with nature because while viewing the wonders below you will be more attuned to the wind and weather conditions.
Serengeti national park is located in northern Tanzania, near the border with Kenya and it is part of the larger Serengeti Ecosystem. It covers approximately 14,750 square kilometers (5,700 square miles). It is known for its diverse ecosystems like vast grasslands and woodlands, riverine forests, rocky kopjes and its incredible wildlife populations including the big five (lion, elephant, leopard, buffalo and rhino) and zebras, numerous antelope species, cheetahs, wildebeests, giraffes as well as birdlife.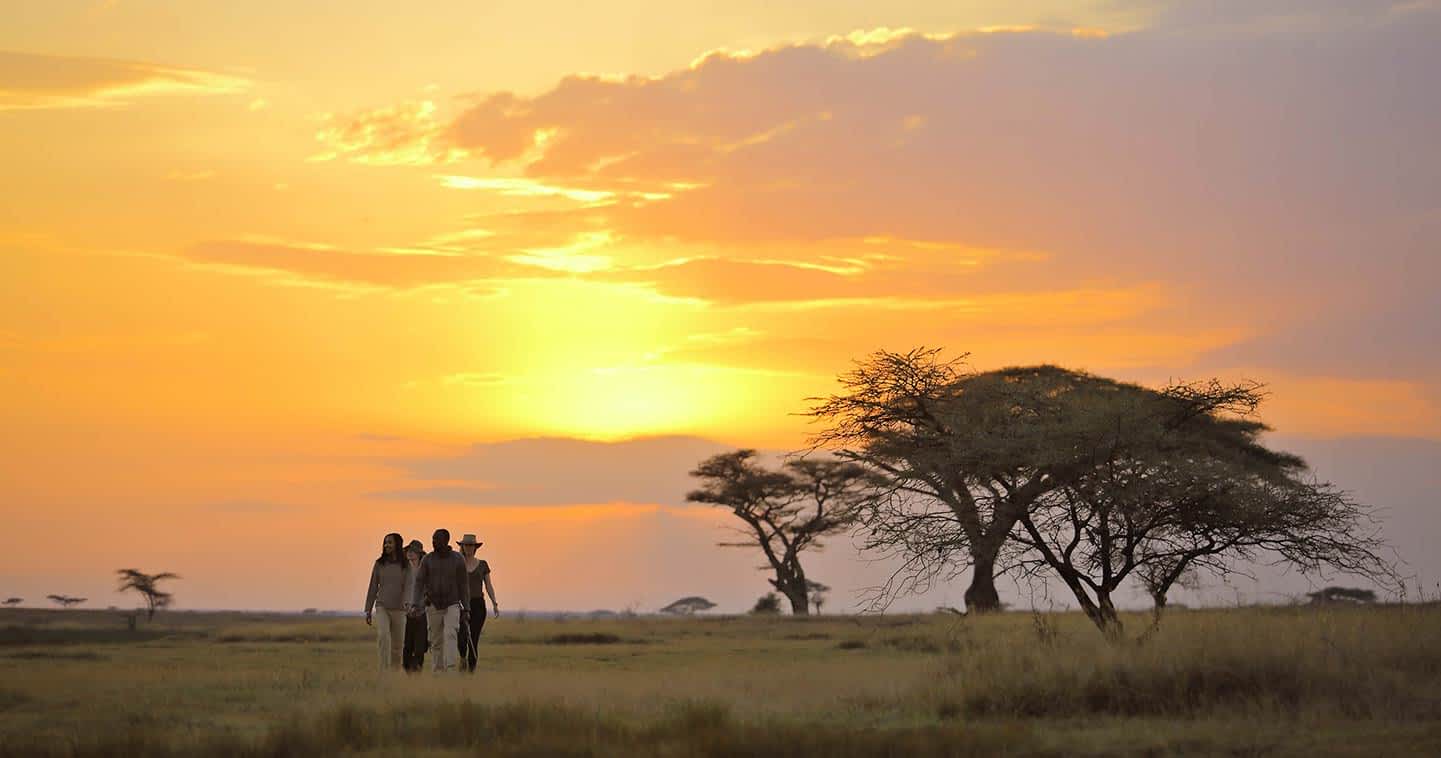 Serengeti is known for hosting the Great migration which is referred to as the world wonders, a massive annual movement of millions of wildebeest, zebras and other herbivores in search of fresh grazing. At Serengeti National Park the best way to enjoy this breathtaking spectacle is through taking the hot air balloon safaris where you get to enjoy it from a birds-eye view.
 Balloon Adventure Experience in Serengeti National Park.
Serengeti balloon adventures typically start very early in the mornings. Hot air balloon rides offer the unique and unforgettable opportunity to view the mesmerizing sunrise while you float calmly and peacefully across the horizon. During the safaris you will get to enjoy the diverse landscapes, wildlife, birdlife as well as the water bodies at Serengeti national park.
From a birds-eye view, you will be able to spot the animals clearly and in slow-motion as they move across the vast Serengeti plains and sometimes you may get to see some of the top predators spot and hunt their prey. This spectacle from above is a sight to behold.
Depending on the seasons at the park,  air balloon safaris at Serengeti can be carried out at three main sections of the park like from June to October Hot air balloon safaris area usually done in northern or western Serengeti because this is the best time to experience the great wildebeest migration. During December to February the safaris are carried out at the southern of Serengeti and northern part of Ngorongoro because of the calving season which gives you an opportunity to see the animals with newly born young ones.
The Seronera valley which is the central part of Serengeti national park is known for its year round wildlife activity. It is a popular hot air balloon safari location due to its abundance of animals like the different antelope species, zebras, giraffes and elephants as well as its stunning landscapes. It also offers a spectacular view of the animals as the cross to the northern part of the park during the great migration.
Hot Air Balloon prices in Serengeti National Park.
Balloon adventure prices in Serengeti National park typically range from approximately 524 USD to 599 USD per person. These prices are relatively high due to the exclusive experience, safety standards, remote location, limited availability, wildlife viewing opportunities and the area's popularity.
The best time for  balloon adventures in Serengeti National Park.
The best time for balloon adventures in Serengeti largely depends on your specific interests and what you hope to experience. To witness the Great Migration, plan your visit from late June to October and if you are captivated by the sight of wildebeest calves during the calving season, January to February is ideal.
If you prefer fewer crowds and lower costs, the seasons of March to May and November to early December offer quieter experiences. Keep in mind that an balloon safari in Serengeti is weather-dependent, so it is wise to check with local operators for availability during your chosen travel dates to ensure you do not miss this incredible adventure.
Other Activities carried out in Serengeti National Park.
Game drives
Game drives stand out as the primary and widely favored activity for visitors in Serengeti national park. Day game drives In Serengeti national park offer a diverse and thrilling experience across its varied landscapes. The popular regions for the game drives include the Seronera valley, where you can witness an array of wildlife, including the big five and cheetahs.
In the Ndutu area you will encounter thousands of wildebeests and zebras during the great migration. The western corridor is fantastic for river crossings while the northern Serengeti near the Masai Mara provides a chance to witness the these dramatic crossings during the migration season.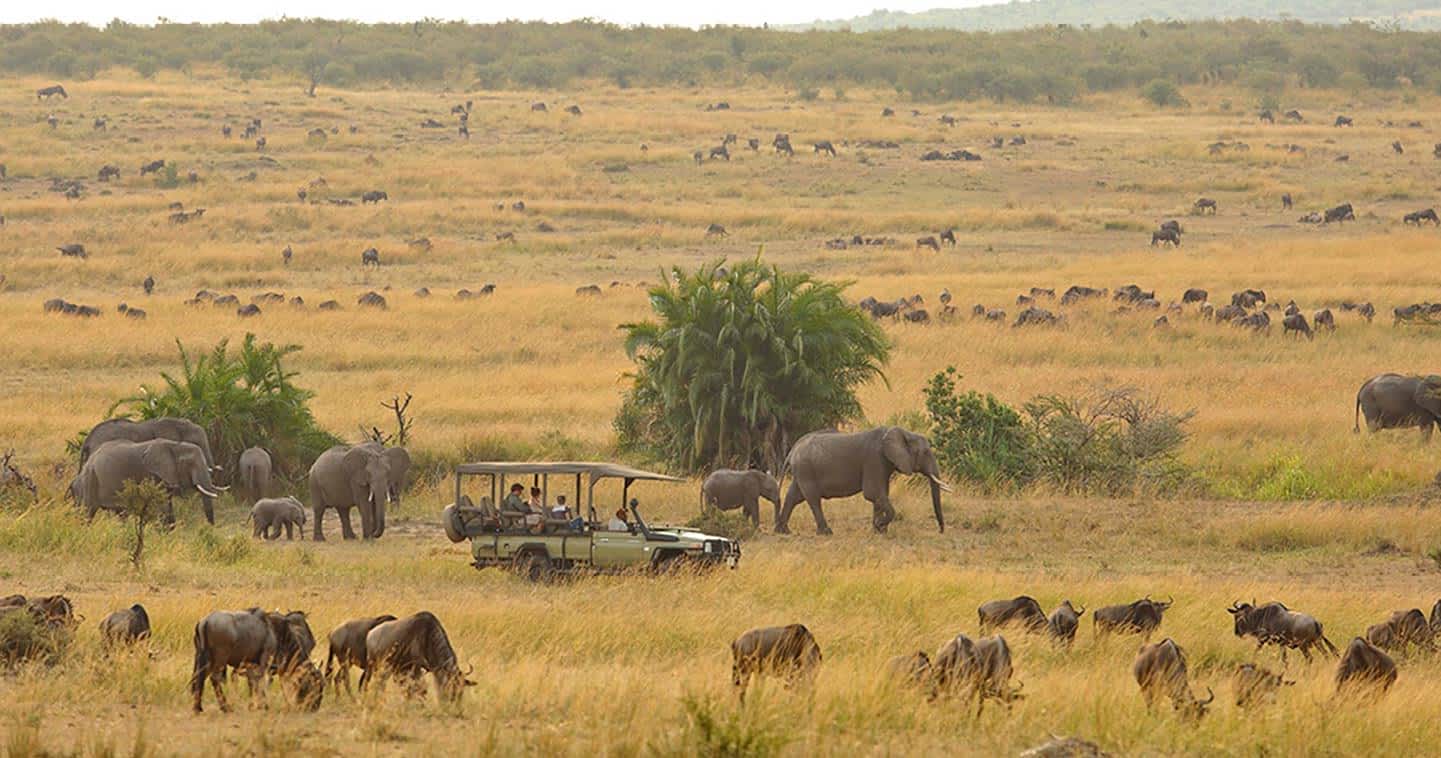 While Night game drives are not allowed with in Serengeti national park are not permitted due to conservation regulations, premium lodges located in the outskirts can arrange guided night game drives in private concession areas adjacent to the park boundaries. This exclusive experience allows the guests to observe the nocturnal wildlife behaviors and enhance their safari experience.
Hiking
Hiking opportunities in Serengeti national park are limited due to conservation and safety concerns as most of the park is designated for wildlife protection and vehicle-based safaris. However, there area a few areas where guided hiking activities area permitted such as the Lamai Wedge in northern Serengeti,Empakaai Crater located nearby in the Ngorongoro conservation area. These hikes provide a unique perspective of the landscape, wildlife, and in the case of Empakaai Crater, stunning views and a chance to see flamingos.
Visiting the Olduvai Gorge
While the Olduvai Gorge is not within the boundaries of Serengeti national park, it is relatively close and easily accessible by road. Visiting Olduvai Gorge allows you to learn about the fascinating history of human evolution and see where the important archeological discoveries were made. It is a valuable addition to your Serengeti experience if you have an interest in anthropology and history.
Exploring the Lobo Valley
The lobo valley is located in the northern part of Serengeti national park, it offers a captivating wilderness experience. The area is renowned for its abundant wildlife, making it an ideal location to spot the "Big Five"(Lion, Leopard, elephant, Rhino and Buffalo) and zebras, cheetahs and, giraffes. The lobo valley also serves as a focal point to vie w the great migration an awe-inspiring spectacle as thousands of wildebeest and zebras transverse this region during their annual journey.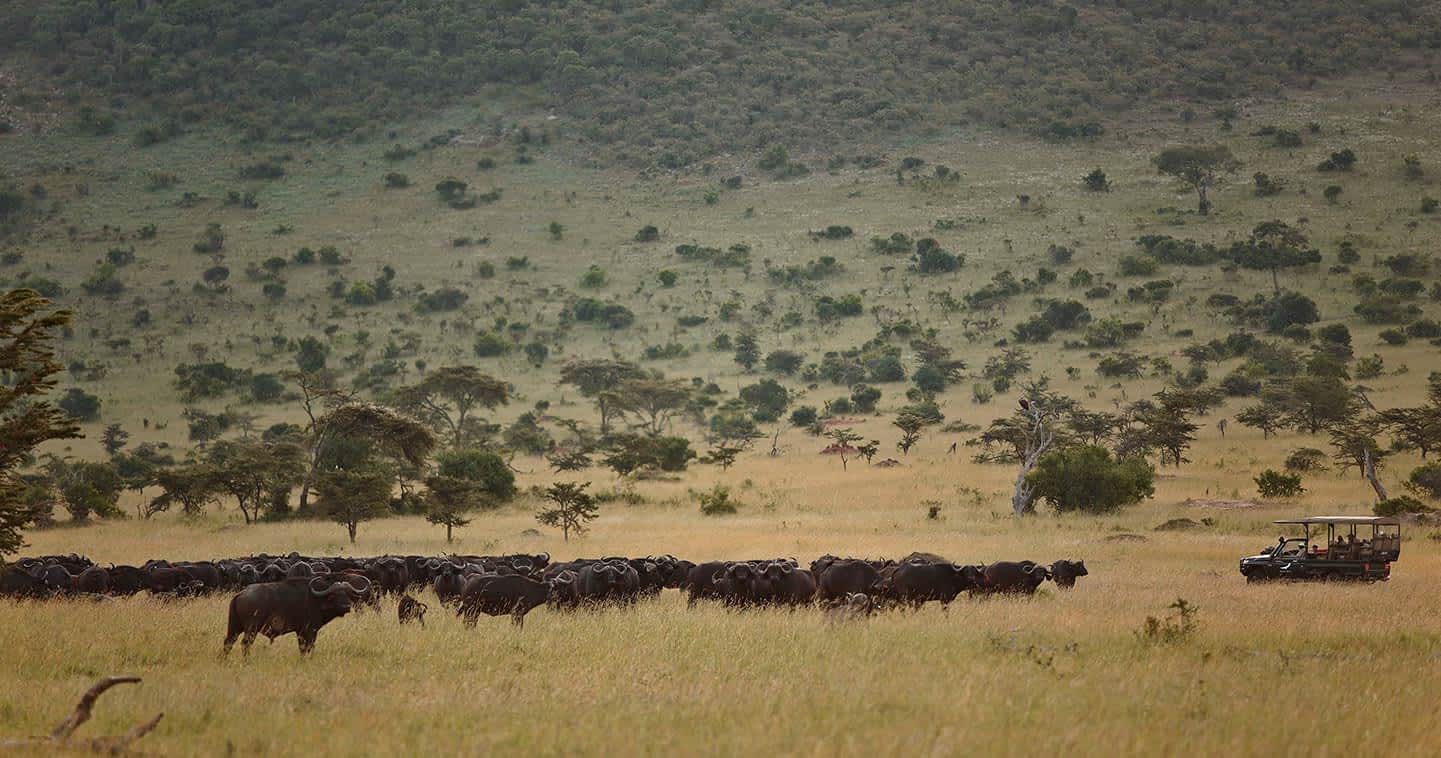 Another thing that sets the Lobo valley apart is its quieter ambiance compared to the more crowded sections of the park allowing for peaceful safaris amidst the eye catching beauty of northern Serengeti.
Cultural visits
Cultural visits in Serengeti national a park offer  a captivating opportunity to engage with the Maasai communities residing near the park and gain a deeper understanding of their rich traditions and lifestyles. These visits often include tours of the Maasai villages, where you can witness daily routines, traditional dances and the vibrant craftmanship of beadwork and jewelry. these interactions add a unique layer to your Serengeti journey, showcasing the harmonious blend of human culture and natural wonder in this iconic ecosystem.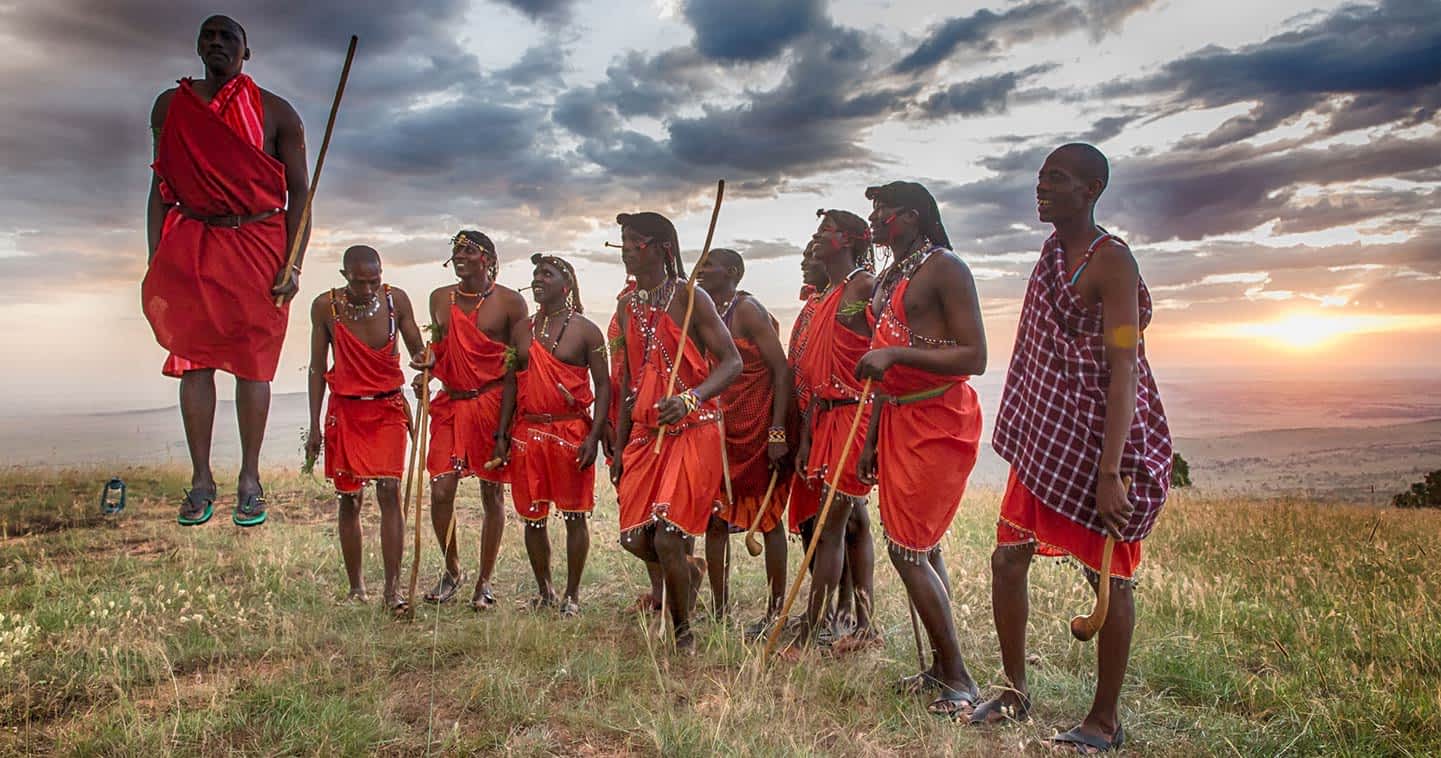 Visiting the Moru Kopjes
The Moru Kopjes are striking granite rock formations in the central Serengeti which are not only visually striking but also serve as havens for wildlife including lions, leopards, cheetahs. Guided hikes and game drives offer opportunities for close encounters with these animals and stunning panoramic views of the surrounding plains. You will also discover ancient rock art and gain insights into the region's history.
Animals found at Serengeti National Park
Lions
Serengeti national park is often referred to as the "Lion King" territory, and its one of the places in Africa to spot these majestic cats. These apex predators often form prides and can be seen lounging under acacia trees or engaging in thrilling hunts across the vast plains.
Leopards
They are the masters of stealth and are skilled climbers and while they are more elusive than lions as they are more adept to concealing them selves in trees and rocky outcrops, lucky visitors might spot them draped over branches or stalking prey silently.
Cheetahs
Serengeti national park is home to the largest population of cheetahs in Africa. Its open grasslands are perfect for cheetahs, the world's fastest land animals to hunt and spot their prey. They rely on their speed to chase down prey like gazelles and witnessing a cheetah in action is a thrilling experience.
Wildebeest and Zebras
Wildebeests including blue and black species and zebras, renowned as "Serengeti's Alarm Clocks", are not just participants in the Great Migration but year-round residents of the park. Zebras' keen eyesight helps them spot predators and warn other animals earning them their nickname. Wildebeests and zebras form mixed herds which are efficient for grazing because the strong sense of smell of the wildebeests compliments the eyesight of the zebras and help them stay safe from prey.
Hippos
Hippos are iconic aquatic residents of Serengeti national park, primarily found in Grumeti and Mara Rivers. Hippos often referred to as the "river horses" are massive semi aquatic mammals known for their grunting vocalizations and territorial behaviors. They spend most of their days submerged in water emerging at night to graze on grasses. These seemingly docile creatures are remarkable aggressive when defending their territories.
Crocodiles
Crocodiles are another on of Serengeti national park's aquatic residents. The Nile crocodiles are some of Africa's largest reptiles and they lurk in the same waters as the hippos concealed below the surface. They are patient and stealthy hunters that ambush their prey during river crossings including wildebeests and zebras during the great migration. Witnessing these aquatic giants in their natural habitat adds a thrilling and fascinating dimension to Serengeti Safari experience.
Accommodations in Serengeti National Park
The accommodations at Serengeti national park are a diverse array of choices ranging from luxury, midrange and budget each inviting you to explore the wonders of untamed landscape in your own unique way. Here is a concise overview of the various options.
Luxury accommodations
Luxury accommodations in Serengeti national park embody grandeur in the heart of the African wilderness. These exquisite lodges seamlessly blend modern comforts with traditional African aesthetics. Guests can expect spacious, elegantly decorated rooms, private balconies overlooking wildlife-rich landscapes and top-notch amenities like private plunge pools, spa facilities and gourmet dining. Some of these accommodations include Faru Faru lodge and Singita Sasakwa lodge.
Midrange accommodations
Midrange accommodations in Serengeti strike a balance between comfort and affordability, making them an attractive option for travelers seeking a memorable safari experience without premium price tag. These lodges are strategically located within Serengeti providing easy access to game drives and wildlife sighting making Serengeti's wonders accessible to a broader range of travelers. Some these accommodations include Serengeti Sopa lodge and Seronera Wildlife lodge.
Budget accommodations
Budget accommodations in the Serengeti national park are designed for travelers seeking an affordable safari adventure without compromising on the essence of the wilderness. Because these accommodations are simple yet comfortable, they provide a genuine safari experience.
The camps are often located strategically to offer proximity to wildlife-rich areas,  making game drives accessible. while the amenities are basic compared to the luxury and midrange options, budget accommodations provide a cozy place to rest after exhilarating days of wildlife exploration. Some of these options include Serengeti acacia camps and Ikoma Tented camp.
Other Hot Air Balloon safari Destinations in Africa.
Magaliesberg, South Africa
Hot air balloon safaris in the scenic Magaliesberg region of South Africa provide a breathtaking and tranquil adventure. Rising early in the morning, passengers gather at the launch site while the balloons are being inflated. As the sun's first rays paint the sky, you gently ascend into the crisp still air, offering unparalleled views of the Magaliesberg mountains, the cradle of mankind and the surrounding lush landscapes.
Drifting silently over this geological wonder, you will have a birds eye perspective of the pristine wilderness below with the possibility of spotting wildlife such as antelope and raptors.
 Marrakech, Morocco
Marrakech, Morocco offers an unique and captivating hot air balloon experience. Typically beginning in the early morning, the adventure begins when the balloons are inflated against the back drop of the Atlas mountains. As you ascend you will be treated to awe-inspiring views of the vibrant Marrakech cityscapes, the lush palm groves of Palmeraie and the vast Moroccan desert stretching in to the horizon. the contrast of colors, cultures and landscapes below creates a mesmerizing picture.
As the sun bathes the landscape in a warm glow, the peace of the ride is occasionally interrupted by the distant call to prayer by the city minarets. Generally the ride is a sensory journey that allows you to embrace the rich tapestry of Morocco from a serene and elevated vantage point.
The Okavango Delta, Botswana
Hot air balloon safaris in the Okavango Delta, Botswana offer a truly and magical and immersive experience. Typically, the adventure begins in the early morning as passengers gather at the launch site near the delta's pristine wilderness. As the balloon is inflated, the pre dawn silence is only punctuated  by the sounds of the African bush awakening. Once your above, you will be treated to an astonishing view of the delta's labyrinthine waterways, lush islands and abundant wildlife.
Drakensberg, South Africa
A hot air balloon safari in the Drakensberg region of South Africa provides a serene and awe-inspiring adventure. Beginning in the early hours against the backdrop of the towering Drakensberg mountains, the balloons gently lift off, offering breathtaking views of the rugged peaks, lush valleys and winding rivers that define this UNESCO World Heritage Site.
Drifting peacefully, you will have the opportunity to spot mountain wildlife and fully absorb the natural beauty of the region. The rising sun casts a warm and enchanting glow on the landscape, creating a a magical ambiance intimately connecting you with the splendor of these ancient mountains when you view them from above.
Maasai Mara, Kenya
A hot air balloon safari in the Maasai Mara, Kenya is the most thrilling and immersive way to experience one of Africa's most iconic wildlife destinations. As you ascend into the sky you will be greeted by the vast and awe-inspiring panorama of Maasai Mara's rolling savannah and landscape teeming with a remarkable diversity of wildlife. From your elevated vantage point, you may be able to spot the big five(lion, rhino, elephant and buffalo)as well as countless other animals including giraffes, wildebeests and zebras.
The beauty of this hot air balloon safari lies in the nearly silent flight, allowing you to observe wildlife without disturbing their natural behavior. The sight of the Maasai Mara stretching before you bathed in the soft morning light is truly breathtaking and it for sure leaves you with a lifetime's worth of  memories.
Sossusvlei, Namibia
A hot air balloon safari over Sossusvlei, Namibia offers a surreal and all-encompassing encounter with one of the world's most iconic desert landscapes. As the sun rays touch the red sand dunes of Sossusvlei, the balloon gracefully lifts off the ground providing a mesmerizing view of the other worldly desert. From above, you will witness the ethereal expanse of the Namib desert, with its mesmerizing play of light and shadow on the iconic dunes.
The near silent flight allows you to absorb the natural beauty of the desert without disturbance and you may even catch sight of the resident oryx or other desert adapted creatures.
Luxor, Egypt
A hot air balloon ride over Luxor, Egypt, offers a captivating and all encompassing experience. Starting in the early morning hours, you will witness the inflation of balloons near the historic Luxor city as you ascend, you will be treated to breathtaking views of Luxor's archeological treasures including the iconic Valley of Kings and the grandeur of the Karnak Temple complex.
The peaceful flight lasting about an hour immerses you in Egypt's fascinating history and the timeless beauty of its landscapes, leaving you with indelible memories of Luxor's historic and enchanting splendors.
Tarangire National Park, Tanzania
Hot air balloon rides over Tarangire national park, Tanzania, offers a captivating and immersive experience. As the balloons are inflated, you will witness the sunrise casting a warm and golden glow over the vast savannah, ancient baobab trees and meandering river. Once your above you will be treated to heart stopping views of Tarangire's unique landscapes and abundant wildlife, including large elephant herds, graceful giraffes and majestic lions.
The flight allows you to observe these animals in their natural habitat without disturbing their routines. As you drift above the iconic baobab trees and Tarangire river's winding courses, the peacefulness of the experience becomes truly enchanting. These are best lodges in Tarangire National Park
Kafue National Park, Zambia
This safari promises a mesmerizing and immersive adventure. As the balloons are inflated you will witness the soft hues of sunrise painting the landscape, illuminating the sprawling grasslands, lush river banks and pristine wilderness of Kafue. Once aloft , you will be treated to the noteworthy views of the park's extraordinary landscapes and rich wildlife including elephants, hippos and myriad bird species.
Generally the Hot air balloon safari at Kafue National Park, offers an engrossing and unforgettable adventure, immersing you in the heart of Zambia's largest and most diverse wildlife sanctuaries
Frequently asked questions
What should I wear during the Hot air Balloon Safari?
you are advised to wear layered clothes so that incase it gets warm you can stay comfortable.
Are hot air balloons safe?
Yes hot air balloons are safe. They are considered the safest form of air travel.
How many people can fly during  the hot air balloon safari?
The capacity of a hot air balloon can vary depending on its size however, standard hot air balloons can carry 4 to 16 passengers.
What should I carry to a hot air balloon ride?
You are advised to carry essentials like a camera, your booking confirmation, a hat and sunglasses.
Hits: 0