Best 10 Reasons To Visit Okavango Delta In Botswana
The best 10 reasons to visit Okavango Delta are; Ecological marvel, Birdwatching, Big game, Necessary break, Cultural heritage, Best views and water gliding. These are just a fraction of the many beautiful things  which you will encounter at this amazing delta. It is managed by Moremi Game Reserve and it harbors some of Africa's best safari camps.
Found in North Western Botswana, the Okavango Delta is a very large low lying area comprised of permanent and seasonal swamps, papyrus waterways, islands and grasslands which occupy a total surface area of over 15,000 Km squared. Tourism in Botswana's Okavango Delta has generated a lot of revenue which directly funds conservation in the country. Here are the best 10 reasons to visit Okavango Delta; 
1. The ecological marvel of Okavango Delta
The Delta is as complex as it is beautiful and it is Surrounded by the desert.  It is completely sustained by seasonal rains that favors a staggering range of plant and animal life. Seasonal flooding swells and replenishes this verdant oasis, attracting huge numbers of iconic wildlife species which move between fertile plains, marshlands, and huddles of shaded islands.
2. The birdwatcher's paradise of Okavango Delta
There are over 400 species of wetland birds that have been recorded in the Delta, making it a hotspot for ornithologists and birdwatchers. It is easier to view most of these birds from the waters of serene comfort of a mokoro ( It is a traditional canoe-like boat). Examples include; African Jacana, Slaty Egret, Pels fishing owl, Malachite kingfisher, Wattled crane among others.
Despite the diversity of species here, overall bird numbers in the Delta seem to fluctuate, which is what led the National Geographic Okavango Wilderness Project to survey the river systems that feed it. National Geographic has been joined by De Beers through the Okavango Eternal Partnership, supporting its mission to help protect the source waters and rivers that supply the Delta and the people and wildlife that rely on it.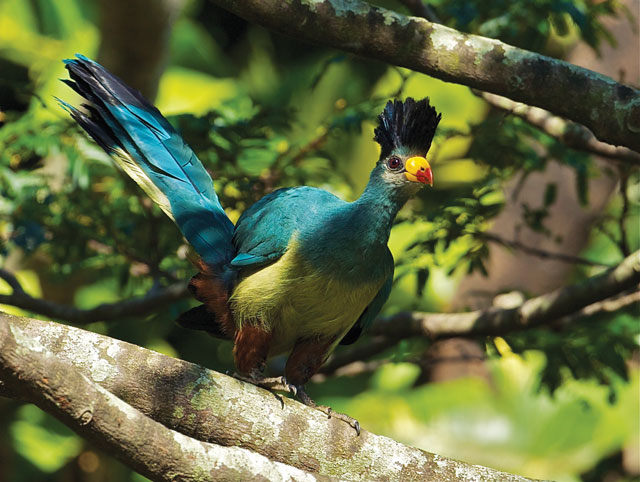 3. You are able to spot big game at Okavango Delta
Big cats prowl the Delta's open plains, along with many of Africa's other remarkable mammals. A local guide will be able to get you closer to predators like lions, leopards, and wild dogs. Viewing lions involves walking single file as your guide spots and follows fresh paw prints which often eventually leads you to the lions resting in the shade.
4. You are able to follow an elephant's footsteps at Okavango Delta
Usually, elephants are a full-day spotting experience. You'll need to hop between islands scattered through the water until they make their presence known. The  local guides who are already trained expert in animal behavior  are a must have for a successful elephant spotting experience.
Without them, you could venture too close and trigger a mock charge, trumpeting, ear flapping and stomping up dust by the elephants. To stay safe, follow your guide's instructions, keep a distance, and enjoy these gentle giants in a way that respects their space.
Elephant Riding Safaris in Okavango Delta
These were introduced in the 1980's in the Abu region of the delta. Up to date tourists from all over the world always look forward to the Elephant back-riding safaris. It is fun and worth trying. 
5. The Okavango delta's little break from the world
In addition to the excitement of seeing incredible wildlife, there's nothing unique like the serenity offered by the quiet isolation at the heart of the Okavango Delta. A low-impact tourism model means that footfall through the Delta is carefully managed, making for a unique, highly tailored trip.
No crowds, no tourist traps―just some of the most tranquil safari experiences you could ever imagine. There's also a range of ways you can experience this wild land, from tented camps all the way to 5-star lodges with terraces, plunge pools, and views of some of the most vibrant flora and fauna in the world.
6. The Okavango's rich cultural heritage
The people of Botswana offer the warmest welcome and will happily offer you insight into the many unique cultures around the Delta. These local communities are descendants from the early San settlers, and many ancient cultures such as the BaYei, still employ supreme hunter-gatherer skills to track animals and find useful plants, adding depth to the bush experience. 
7. One of the best views is from the Okavango Delta
The Delta is so expansive, you will most likely need to fly from the local town of Maun to one of the many safari camps that freckle the region. It is an adventure you will be glad to have embarked on, as flying offers breathtaking aerial views of the entire delta and the surrounding areas. 
 As part of the work to better integrate communities into the tourism industry and its numerous benefits, many of these small bush planes are often flown by skilled local pilots able to deftly land on the simple airstrips that grant access to your camp.
8. You can glide along the water at Okavango Delta
Very few places in the world offer boat-based safaris, and no wild experience quite matches navigating the Delta's labyrinth network of waterways in a (Mokoro a traditional long canoe) used by local people here for centuries. An expert guide can traverse you, though, to any part of this landscape, allowing for views and observations that only those who have grown up in the Delta have the knowledge and the skill to find. 
9. The water attracts all manner of animals (Wildlife) at Okavango Delta
Herds of animals like water buffalos are a sight to behold, whether just standing together as a collective bunch or causing the Earth to shake as they run across it. In this case, spotting a lone animal isn't actually an opportunity to get in closer, as "dagger boys" (as they're known locally) are older male buffalo that have been forced out of their herds.
They can be aggressive if approached, but your guide will likely be able to get you a good look from a safe distance.  There are over 200 mammal species at the delta, examples include; the Lechwe, Sitatunga antelopes, Sable antelopes, Lions, Elephants, Cheetahs, Hippos, Giraffes, Buffaloes, Crocodiles and over 150 reptile species.
10. You can explore the Delta by foot at Okavango Delta
You will experience the rival mokoro safari or even walking trails which offer a great alternative for those who would rather stick to dry land. These take you into the drier reaches without the need for a vehicle, and to the add the thrill of truly being out in the wild.
Slower and arguably more immersive, over a couple of days your guide will track plains-dwelling animals across the wide, waterless spaces where you might spot a predator like a cheetah, the world's fastest mammal on land. To book a tailored experience, you can organize to tour with Kubwa Five Safaris before your trip and discuss exactly what you'd like to see.
The best 10 reasons to visit Okavango Delta are so enticing and interesting to be honest.
When should you visit Okavango Delta?
The area is accessible all year round and is so unique because each season comes with different things to see however, due to the flooding nature of the seasonal swamps, you should consider coming during the dry winter months these being June to October. Your visit to the Delta entirely depends on which activities you are interested in.
Though referred to as 'dry' months, the water levels are at there highest which is ideal for water activities like water gliding. In October (hottest month) it is so dry and hot hence ideal for game viewing and low water related activities. During the summer season, bird watching safaris are ideal because even the migratory birds join the resident birds hence busking in full glory.
How To Access Okavango Delta
You can get to Okavango Delta either by Air, Road or Water transportation means. 
By Air
This is the easiest and quickest way to get to the delta. If you are planning on visiting the north western part of Botswana where the delta is located, you can book a chartered domestic flight from Maun Airport which happens to be the country's most frequently used entry point. From there you would land at any of the various airstrips near the delta from where you would be picked by the hotel vehicles with who you booked your stay.
By Road
Regardless of how you get to Maun (Botswana's tourist capital) The Eastern part of the delta is accessible by road. Endeavor to use either a private or public 4×4 tour van or vehicle to take you there. Here you will not need the charter flight.  
By Water
Upon reaching Maun, there is an option of using motor boats or the local canoes (Mokoros) to reach Okavango Delta. These sail on the Okavango river which is the 3rd largest river in South Africa at 1,500Km.
Accommodation at Okavango Delta
There is a wide range of accommodation choices for you to make at the delta. So many hotels and lodges offer 3 different types of accommodation like Luxury, Mid-Range and Budget accommodation and these too are in line with the best 10 reasons to visit Okavango Delta. These are discussed as follows;
Luxury Accommodation at Okavango Delta
 This type of accommodation usually targets clients who are willing and able to spend on themselves without limits. Examples of such places include;
Camp Xakanaxa; It is a very beautiful luxurious place with a spectacular view, great food and a quite surrounding which is perfect for you to rest well at night.

Hyena Pan; It is a lovely place which gives you a close up view of wild animals like elephants while in the comfort of your luxurious suite.

Sable Alley; It is an amazing place with great meals, exquisite display of class and delicious meals.
Mid-Range Accommodation at Okavango Delta
These are for clients who can only spend but sparingly. Examples include;
andBeyond Nxabega Okavango Tented Camp; It is a lovely 5-star hotel with a very beautiful view, outside pool. It is in close proximity to the away delta. You will love staying there.

andBeyond Xaranna Okavango Delta Camp; It is also a very beautiful place with nine very posh suites.

Eagle Island Lodge; It is 18.6km away from the delta with great sight seeing opportunities, dining and recreation.
Budget Accommodation at Okavango Delta
This is the most affordable type of accommodation and it is pocket friendly. Examples include;
Hippo Island Okavango Delta; It has beautiful tents which can be shared. It will give you an actual out door wild experience.

Phazama Farm; It is a simple but lovely place with good services and great staff members.

Discovery Bed and Breakfast; It is as simple as it sounds but you are assured of good breakfast and an okay sleeping space.
Regardless of where you choose to stay at this lovely delta, please ensure that you make your bookings at least a month before you come. This will enable proper and timely planning. Due to technological advancement, you can make all your bookings and payments online.
My conclusion about Okavango Delta
On top of the best 5 reasons to visit Okavango Delta, there are so many things in stock for you to enjoy together with your loved ones for example; Helicopter flights, Fishing activities, Boating safaris, Guided walks, Horseback riding safaris and so much more fun activities. All you have to do is to book with Kubwa Five Safaris so that you get a thrilling and unforgettable touring experience.
Hits: 13