Best 15 Safari Lodges in Zambia
The best 15 Safari lodges in Zambia include; Msindile River Lodge, Chikunto Safari Lodge, Royal Livingstone Lodge and Mfuwe Lodge.
Honestly Zambia is a nice and beloved destination for seasoned Safari-goers and first-timers inclusive with national parks such as South Luangwa National Park, which is renowned for walking safaris across its wildlife floodplains, and the ever-famous Victoria falls, Kafue National Park, Lochinvar National Park among others
When planning your African adventures can be a bit overwhelming, so to help you out, we have gathered the 15 best Zambia Safari Lodges stay at the destination
1. Msandile River Lodge in Zambia
This park is located in the South Luangwa National Park, Msandile River Lodge offers accommodation on the riverbanks, ideally located for game viewing, Sightseeing.
The property offers a restaurant, an outdoor swimming pool, a bar and a garden. All the staff  members are so friendly and attentive to their customers, thus making you feel safe and comfortable while at the destination. The food is really good as well and everything run smoothly.
The staff at the park are very caring thus you can go on a Safari and come back when lunch is already waiting, thus making the safari interesting with the help of the guides who are experienced.
2. Chikunto Safari Lodge in Zambia
The Lodge is located in Kakumbi in South Luangwa National Park and offers accommodation with free WIFI, boasting  swimming pool, a bar, a garden and views of the river, garden views also offered in every unit, sun terrace is also available for guests to use at Chikunto Safari Lodge.
Continental and buffet breakfast options are available every morning at the Lodge  and the World Wild Life Monument is near by just 26 km from the accommodation, as well as Chilelemba which is 10 km from the property.
3. Royal Livingstone Lodge in Zambia
The Royal Livingstone lodge is located on the Zambian side of the Zambezi river and  offers a stay fit for royalty. From the private butler service that ensures every need is met to the hotel's ideal location on the Zambezi River, the Royal Livingstone provides 5-star service and unrivalled experiences.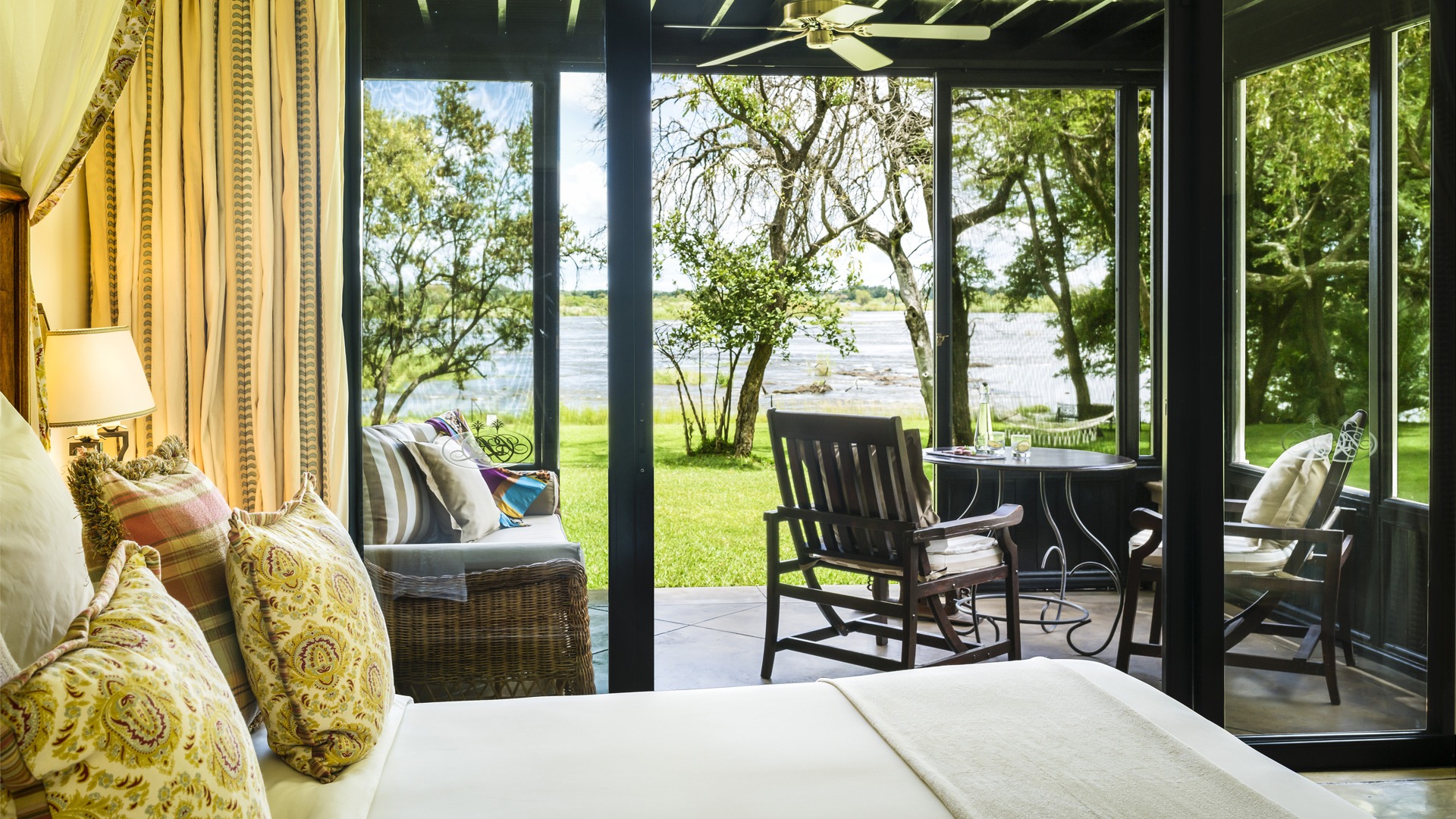 Its close proximity to one of the Natural Wonders of the World and the restored luxury steam train that affords a stylish and comfortable tour of Victoria Falls mean that adventure is always around the corner. and also various views of the savannah vegetation and also your able to explore the private outdoor spaces, soak up nature wonders
4. Mfuwe Lodge in Zambia
Mfuwe Lodge is located in South Luangwa National Park,  and one of  the Africa's most abundant wildlife regions. The area is famous for its walking safaris that allow guests to have up close wildlife encounters while passing through  the rugged landscape in search of big game.
This is the perfect base from which you can embark on the thrilling activity, and probably you won't even leave the  camp without  seeing any animals, and the adjacent lagoon is constantly frequented by an array of wildlife. when you  visit the park in November, you might be lucky  to bump into the local herd of elephant in the lobby as they make their way to the nearby mango trees.
The staff members in the lodge are caring and loving in nature, thus the buffet of food is prepared on time and the lodge offers swimming activities, free WIFI and entertainment to its customers thus making the stay at the destination interesting
5. Royal Chundu Lodge in Zambia
Royal Chundu  is  worthy of its moniker, providing a high-end getaway fit for nobility. This luxury resort on the banks of the famed Zambezi River, comprises two opulent properties – River Lodge and Island Lodge. Both stylish, contemporary lodges afford spectacular views of the surrounding landscape, as well as every creature comfort and amenity one would desire. The cherry on top of this fantastic hideaway is its close proximity to the ever-popular Victoria Falls – a wonderland for every type of traveler
6. Thorn tree River safari lodge
Thorn tree River Lodge sits on the banks of the famed Zambezi River and is a 20-minute journey from the Victoria Falls. A luxury lodge of note, Thorn tree delivers an upscale experience.
Thorn tree River Lodge is one of Zambia's most contemporary lodges along the Zambezi River, Built from local timber, stone and reclaimed railway sleeper wood, Thorn tree River Lodge has an eco-conscious design that blurs the line between nature and 21-century modernity. Its superb location gives you easy access to all the fun of the Falls – like sunset cruises, kayaking, nature walks, tracking white rhinos and, of course, awe-inspiring vistas of Africa's most indomitable waterfall – while allowing you peace and tranquility on the river's edge.
7. Tena Tena safari lodge
Tena Tena, which translates as 'temporary home' is located in the remote Nsefu sector of  South Luangwa National Park. Guests are accommodated in six spacious tents maximizing privacy and uninterrupted views onto a magnificent stretch of the Luangwa River. The main area is molded around a massive termite mound in the shade of an ancient mahogany tree. This home away from home offers the ultimate personalized safari experience in a rustic, yet elegant environment.
8. Ila Safari Lodge in Zambia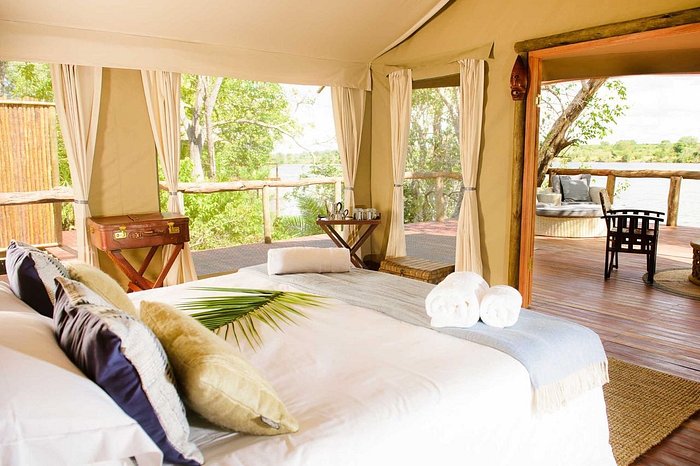 Ila Safari Lodge offers luxury tented accommodation in Kafue National Park  The tents seamlessly blend into the wild surroundings while offering sweeping views of the Kafue River. However, its main claim to fame is its minimal carbon footprint and outstanding eco credentials. From the solar powered electricity to the locally sourced building materials to its development of Zambia's first electrical game drive vehicle. Veggies are grown in a community garden and the friendly staff are local villagers trained
9. Tongabezi safari lodge in Zambia
Set in the shade of a towering grove of ebony trees, Tongabezi Lodge is set on the banks of the mighty Zambezi River. Warm and exclusive, the lodge consists of five river cottages and six private houses. Boasting high ceilings and expansive wooden and glass doors and windows, the accommodations combine authentic local style with a beautifully clean and modern design.
Delectable meals can be savored at one of three open-air dining decks or in the privacy of your own cottage or house. A shimmering swimming pool mimics the colors of the Zambezi and invites guests to cool off. Activities include game drives, bush walks, canoeing, tours of Victoria Falls and much more.
10. Kaingu Safari Lodge in Zambia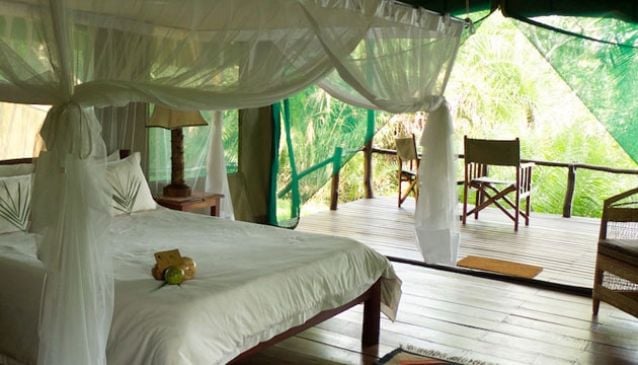 Harmoniously designed to blend beautifully with the environment, Kaingu Lodge a Zambia safari lodge, extends a warm Zambian welcome. Enjoy a Kafue River safari adventure which includes boating, Kafue River cruises, canoeing and fishing. Traditional game drives and game walks provide superb wildlife viewing in Kafue National Park.
Kaingu offers intimate and secluded East African tented accommodation in Zambia and campsites right on the banks of the Kafue River. Luxuriously appointed and set on decks overlooking the river, the tents provide comfort and peace.
This Zambia game lodge has been deigned to be environmentally friendly and all the buildings reflect this intent and there is very little impact on the surrounding area. Guests will get an authentic African bush experience while staying at Kaingu Lodge.
The climate in this area is moderate all year round and guests can be involved in a number of exciting game viewing activities as well as birding, cruising and guided walks.
Kaingu Safari Lodge is situated on a high plateau 1 200 m above sea level. This Zambia game lodge can be reached in all seasons and there is good access by air and road. This is a great Zambia Self Drive destination.
11. Royal Zambezi Lodge in Zambia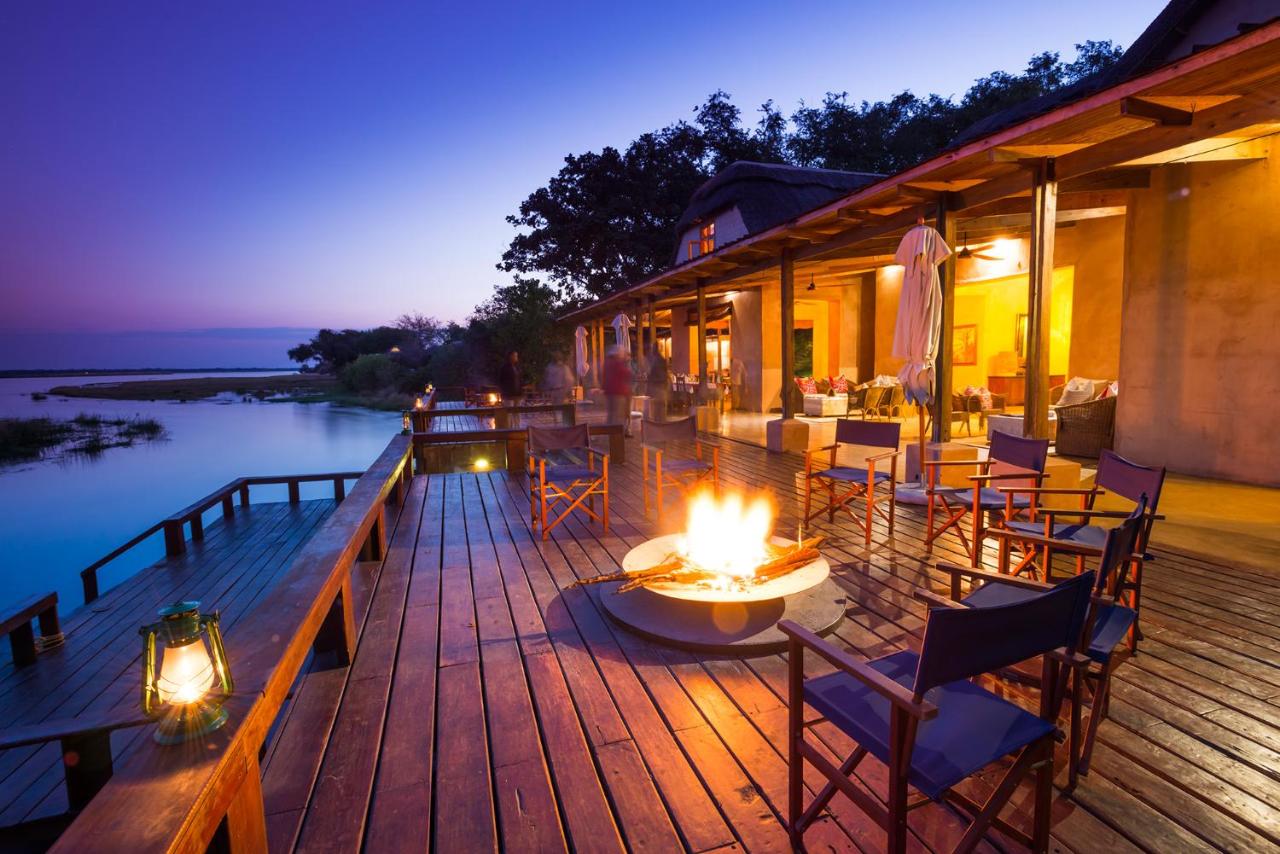 Set against the breathtaking mountain backdrop of the Zambezi Valley Escarpment, the Royal Zambezi Lodge has 3.5 km of unspoiled river frontage on the northern bank of the Zambezi River. The lodge is directly across the river from Mana Pools National Park, a UNESCO World Heritage Site, on the Zimbabwe side and just minutes from the Lower Zambezi National Park. The lodge's 15 airy canopied tents are nestled under mature trees, each one carefully positioned to ensure maximum enjoyment of the surrounding views while retaining complete privacy. After a long day fishing or tracking wildlife the infinity pool – which overlooks the river – is the perfect place to relax and unwind
12. Leopard Lodge in Zambia
Leopard Lodge is a small family run luxury Zambia game lodge in the Kafue National Park, The Lodge is situated on the Kafue River in an area that is home to many animals including Elephant, Lion and Leopard. The Lodge has an ethos of personal service for every guest.
This Zambia game lodge in Kafue National Park has spacious reception rooms and a large deck that extends out over the river. The accommodation consists of just meaning that you are sure to have an intimate safari experience. Each has wonderful views over the river and the surrounding bush.
Leopard Lodge offers many exciting activities, such as traditional morning and evening game drives in open vehicles where you may see animals such as elephant and lion. are an exciting way to explore this diverse region and discover many smaller animals in the park. Boating expeditions down the river as well as fishing are also on offer – you might catch dinner.
13. River club Lodge in Zambia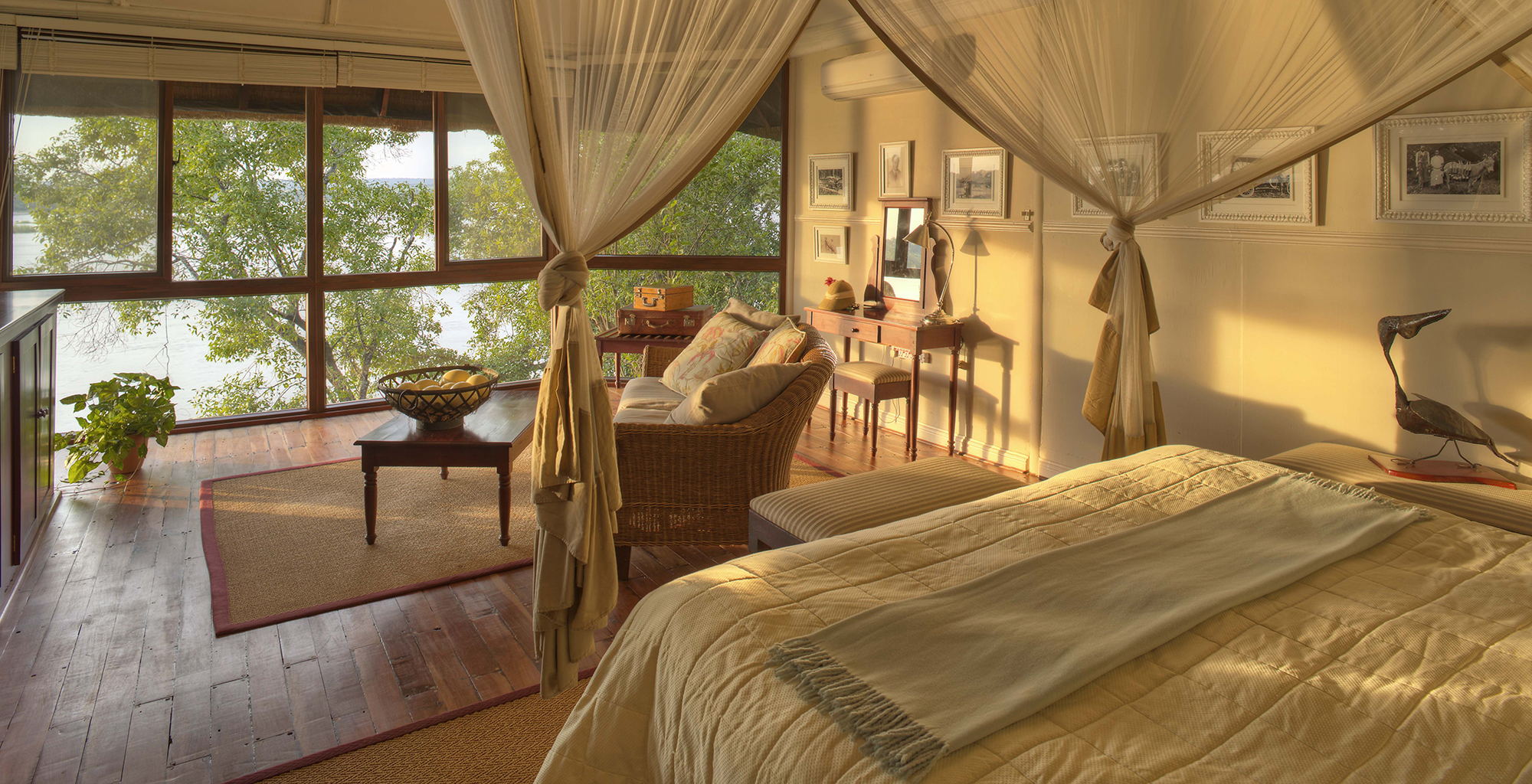 Just a stone's throw from Victoria Falls, the River Club is the perfect add-on to a safari. The elegant suites with magnificent views over the mighty Zambezi offer a perfect haven to unwind. But there are also plenty of activities if you feel like keeping busy. Swim in the infinity pool with forever-views over the river, meander the paths along the property's riverine forest, enjoy the sunset on an evening cruise, or indulge in a relaxing massage.
14. Chichele presidential safari lodge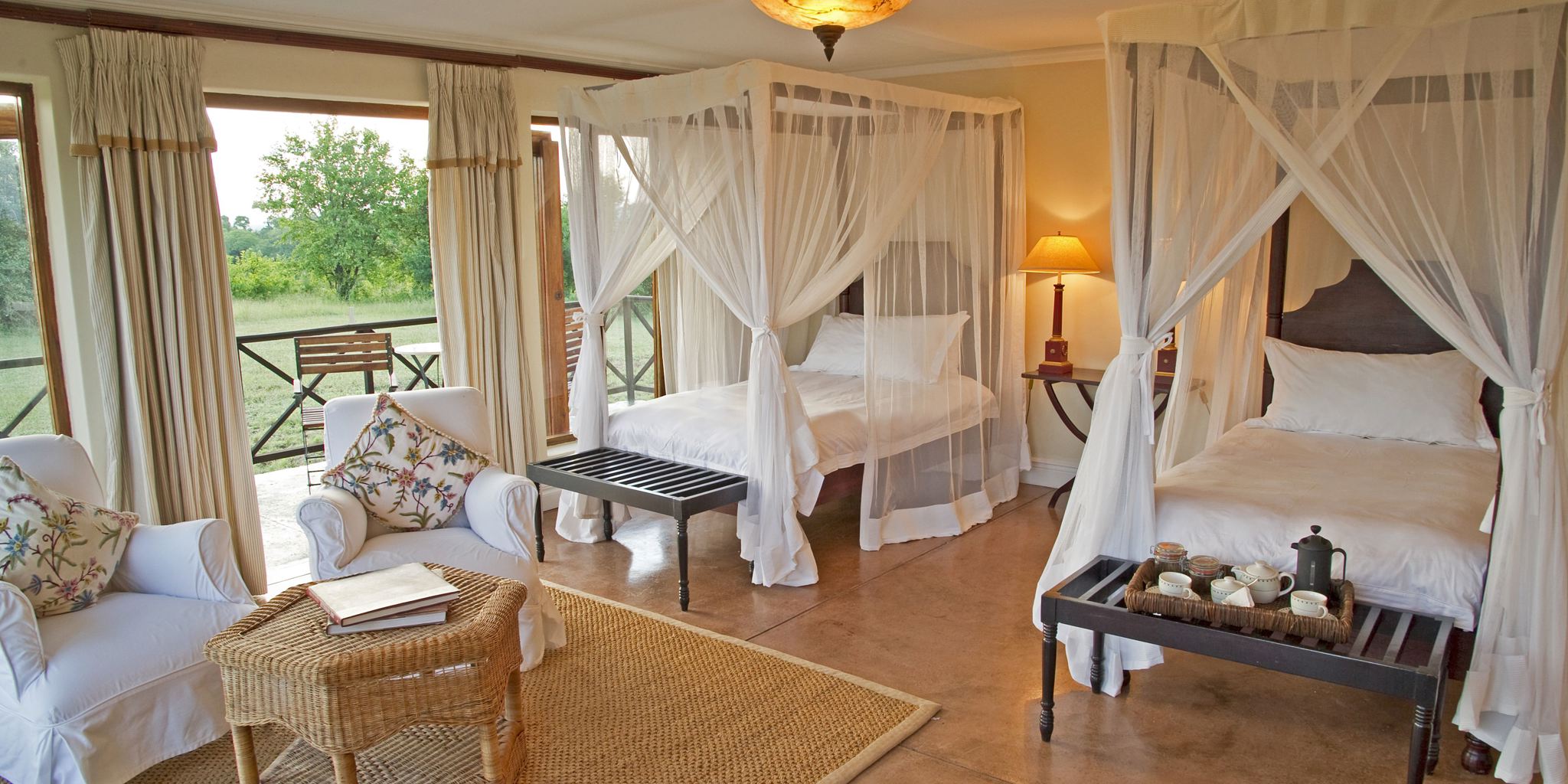 it has stunning views over South Luangwa National Park, the Luangwa River and the Chindeni Hills. It is a solidly-built lodge with a more colonial feel than most.
Please note that Chichele Presidential Lodge closed at the beginning of October 2018 for a major rebuild and refurbishment, and is currently due to open in 2021. We'll be following the progress and update here when we have further information – please call us for the latest developments.
Chichele Presidential Lodge is currently undergoing significant renovations, and we're excited to see the new look of the lodge when it's completed.
15. Tongabezi lodge in Zambia
Did you know that Tongabezi Lodge offers a secluded, intimate getaway in one of the most romantic settings in Africa. Located in Lower Zambezi National Park, the opulent lodge is a stone's throw away from two of Africa's most iconic landmarks.
Couples can't help but fall deeper in love when walking hand-in-hand across Victoria Falls Bridge and indulging in a Sampan dinner while floating on the Zambezi River.
Conclusion
Zambia as a country has various safari lodges for the visitors who visit most of the national parks and they of the required standards with hardworking people and they ensure comfortability of customer.
For more information make your bookings with Kubwa five safari more experience and they are hardworking, love what they do and care about their clients.
Hits: 66