Best 15 Lodges in Zanzibar Island
The best 15 lodges in zanzibar are; Z- lodge, driftwood beach lodge, fumba beach lodge, zanzibar dream lodge,  game fish lodge, kaure sand beach lodge, bagamoyo spice villa lodge, kichanga lodge, the dalma lodge, Michamvi spirit lodge, simba garden lodge, Matemwe lodge, Elewana Kilindi  lodge, kiganja lodge and pili pili zanzibar lodge in zanzibar – all inclusive resorts with flights
Zanzibar island is renowned for its blend of distinctive beaches, renowned spice farms, history (Stone Town is the capital), and diversified culture. In Unguja, you may find a lot of endangered species, like the green turtle and red colobus monkey
Zanzibar Island, also known as Unguja, is the biggest island in the Tanzanian archipelago of Zanzibar. Stone Town, which is a part of Zanzibar City, is a historic commercial district with mosques and meandering streets. The House of Wonders from 1883 has a clock tower and was once a sultan's residence. Presently, the Old Fort serves as home to a cultural center and a stone amphitheater. Underground aqueducts provided heat for the Hamamni Persian Baths, which were constructed in the late 19th century.
Best Luxury Lodges In Zanzibar
1. Z- Lodge In Zanzibar Island
Z-Lodge Zanzibar offers lodging with a restaurant, free private parking, an outdoor swimming pool, and a bar in Kiwengwa, just a few feet from Kiwengwa Beach. The five-star hotel features air-conditioned rooms with free WiFi and private bathrooms. It also has a garden. The lodging offers its visitors a front desk that is open around-the-clock, room service, and currency exchange. The personnel provided excellent service and was very kind. Excellent dining establishment and bar. A fun birthday party and gorgeous ocean views.
2. Driftwood Beach lodge In Zanzibar Island
Nine rooms make up the recently remodeled Driftwood Beach Lodge situated in Jambiani on Zanzibar's south-east coast, every one of our rooms has a private bathroom, a fan, and a Zanzibari bed with a mosquito net, other rooms with air conditioning, and the beach is not far from our open-concept dining room, pub, and new swimming pool.
The WiFi is free, and there is a TV lounge available, lunch and dinner can be selected from our restaurant's menu, breakfast is included in our cost. However, nearby boat trips, fishing, diving, and bicycle tours are also available on-site by the management  also providing a casual, cozy, and welcoming environment, pub, renovated swimming pool, and open-concept dining space are all near to the beach making it one of the best beach hotels in zanzibar.
3. Fumba Beach Lodge In Zanzibar Island
Fumba Beach Lodge is located just 30 minutes by car from Stone Town, where Zanzibar's international airport is located, in the southwest of this beautiful island. To provide private views of the ocean, 26 whitewashed bungalows with en suite bathrooms and private verandas are positioned along the beach. The beaches around the lodge are shielded by three naturally occurring bays, which also offer isolation and calm.
Provides a variety of options for daytime adventure, including Stone Town tours, kayaking, snorkeling, and scuba diving. Or simply do nothing while lounging by the pool or on the beach beneath the baobab trees. Fumba Beach Lodge will realize all selection of meals from around the world and your own backyard
4. Zanzibar dream lodge In Zanzibar Island
Zanzibar Dream Lodge is a welcoming lodging with an upbeat day and night always making visitors feel like a part of our community and at home, experiencing the regional cuisine and "catch of the day," along with freshly made juices and drinks, there is a restaurant and bar on site, we are situated between Paje and Bwejuu, about 100 meters from the lovely beach and close to Paje's main town.
The lodge provides a variety of on-site activities, such as local culinary lessons, energy cleaning rituals, and spiritual ceremonies, also provide fantastic outings and excursions around the island for all the things that are simply amazing with experience and to exhibit the country's culture, history, and stunning landscapes including journeys  that are brimming with affection, tenderness, and positive energy.
5. Game Fish Lodge In Zanzibar Island
One hour's journey from Stone Town takes you to Game Fish Lodge along the picturesque Nungwi Coast on the northern tip of Zanzibar. The Lodge overlooks one of the best and least-developed beaches as well as a bright stretch of the glistening Indian Ocean. You may see the Indian Ocean in complete solitude and calm. Wide and active coral reefs surround the shore. Fans of game fishing, scuba diving, and snorkeling can all find it interesting in the clear seas.
It serves as a getaway and tranquil setting. The Lodge's position gives you complete isolation and peace while still being close enough to enjoy Nungwi Village's bustle. For those who wake up early, stunning sunrises are a daily thrill, while moonlit nights spent listening to the water are an amazing experience. A cooling infinity pool is also available to escape the summer heat. Each accommodation has a patio with a beautiful view of the ocean and the coconut palms that are in the area, where you can relax and take in Zanzibar's natural beauty. completing a tranquil day in paradise.
Best Midrange Lodges In Zanzibar
6. Kaure Sand Beach Lodge In Zanzibar Island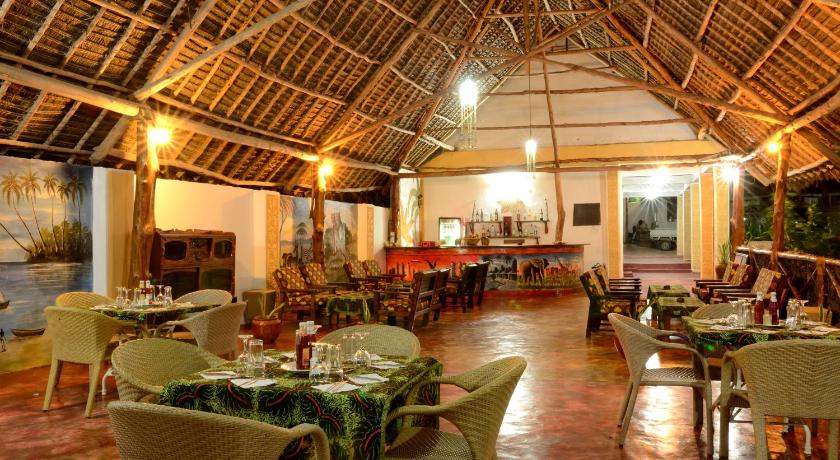 The Kaure Sand Beach Lodge consists of six "makuti" bungalows, a small restaurant with 30 seats, and a beach bar. The rooms are situated in the cozy garden with local wood furnishings, a king-size traditional four-poster bed with a mosquito net, a private bathroom with a shower, and some even have an additional single bed, a view of the ocean. The private beach is roughly 400 meters wide and furnished with beach chairs and makuti umbrellas. Just 200 meters from the ocean, in the quiet village of Uroa on Zanzibar's east coast, you may find the Kaure Sand Beach Lodge spice Villa.
7. Bagamoyo Spice Villa Lodge In Zanzibar Island
Bagamoyo Spice Villa is situated in Nungwi, about two minutes' walk from the ocean. It has apartments with garden views and equipped terraces. There is a seating area and beds with mosquito nets in every room at Bagamoyo Spice Villa, a toilet and bathtub in every private bathroom. The cost of the stay includes a full English breakfast that can be enjoyed in the privacy of your own room. Additionally, a common kitchen with an oven and a refrigerator is available. Cycling is one of several activities that can be done on-site or in the vicinity. After making a reservation, the facility provides free parking. A short distance distant is Nungwi Beach, and Kisauni Airport is 34 miles from Bagamoyo spice villa.
8. Kichanga Lodge In Zanzibar Island
A small resort with a secluded beach, lovely villas, and a lush tropical garden as its backdrop. For people who enjoy the outdoors and romantic ambiances, Kichanga Lodge is an outstanding location that blends seamlessly with the surroundings.
It favors couples or a group of people willing for leisure and relaxation due to its location and features around it making it a perfect timing for any calm or cool mood.
9. The Dalma Lodge In Zanzibar Island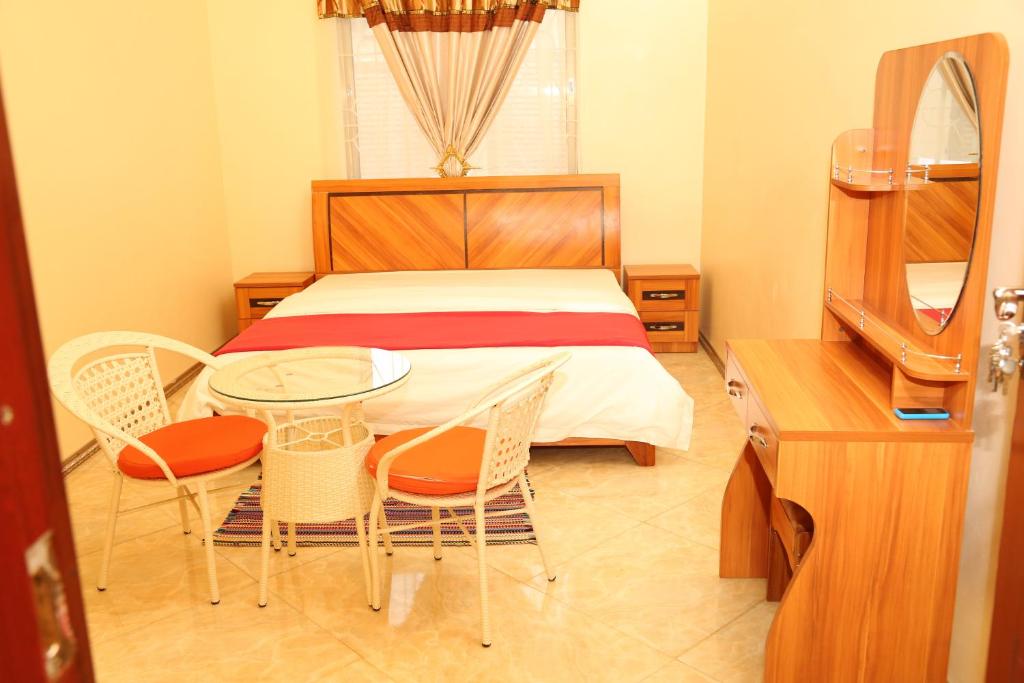 Dalma lodge is located at the heart of the zanzibar island between stone town and all the beach. it is of a 5 star quality rooms only 60 meter away from beach, cheap and with amenities offered including free wifi, free breakfast, and an on-site restaurant. It has also got attractions like the; Aromas of Zanzibar, Cheetah's Rock, and Tangawizi Spice Farm, with lodging in Bububu.
10. Michamvi Spirit Lodge In Zanzibar Island
The Michamvi Spirit Lodge is located in Michamvi and features a restaurant, a tour desk, a bar, a garden, an outdoor swimming pool, and a barbecue. It also boasts pool views, offers complimentary private parking and WiFi more so a visitor to the lodge is eligible for a genius discount according o the range of services required by the visitor..
The accommodation offers a sun terrace, a continental and à la carte breakfast options available every morning at the Lodge, cycling is possible in the surroundings through a bicycle rental service, the beach is 600 m from the lodge. more  so being nearest to the airport of Abeid Amani Karume International, and offers shuttle sevices.
11. Simba Garden Lodge In Zanzibar Island
The beach can be reached by foot in just five minutes from Simba Garden Lodge, which is situated in the center of Paje Village. It is a vibrant location with a good energy. The guesthouse offers accommodations in a large dorm as well as double rooms with private bathrooms and separate entrances, currently its being expanded in the view of space so that soon a restaurant and swimming pool will be accessible.
12. Matemwe Lodge In Zanzibar Island
Matemwe Lodge's idyllic setting and well-known laid-back vibe makes it the perfect spot to unwind. It is perched on an outcrop overlooking a tiny, coral-fringed lagoon on the calm northeastern coast of Zanzibar Island, Matemwe Lodge offers an unmatched island getaway, whether you choose to relax in a hammock or scuba dive in the Indian Ocean, with more amenities provided by the lodge along side a gentle breathe making the visit worth.
13. Elewana Kilindi  Lodge In Zanzibar Island
Kilindi Zanzibar is made up of a collection of white-domed Pavilion guest rooms scattered throughout 50 acres of lush tropical gardens, with a true fusion of the best different cultures to be found in Tanzania, its neighboring island of Zanzibar  has got a dramatic architectural overtones of Middle Eastern heritage, all the while promoting a relaxed, "back-to-nature" view.
Wide arched glassless windows in each of the Pavilion suites are surrounded by white wooden slat shutters, providing each with breathtaking views of the Indian Ocean. The same openness makes it possible for a light ocean breeze to blow through bringing about a relaxed gentle atmosphere.
Wide arched glassless windows in each of the Pavilion suites are surrounded by white wooden slat shutters, providing each with breathtaking views of the Indian Ocean. The same openness allows the soft seaside wind to float through each area and bring with it the enchanting music of Kilindi's vibrant birds. Any visit at Kilindi will be a sensory treat thanks to the area's vibrant birdlife as a soundtrack. Any stay in Kilindi will be sensory-pleasing.
14. Kiganja Lodge In Zanzibar Island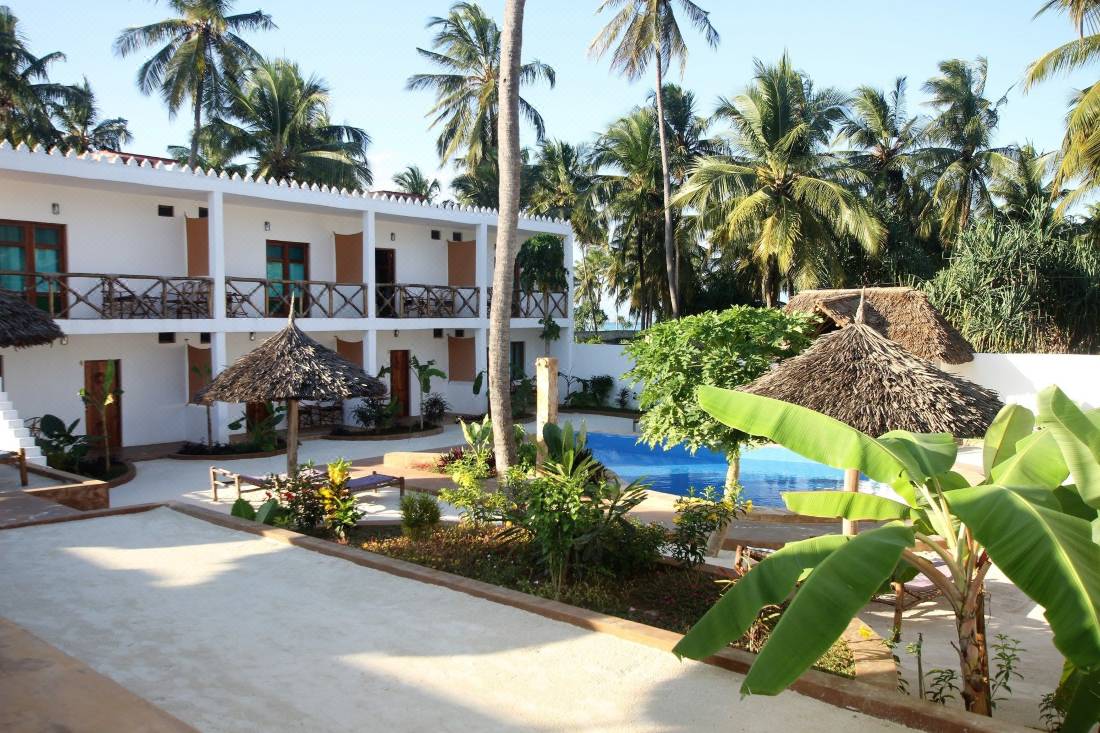 Near the white sand beaches of the island's north east, the lodge is situated and the following amenities are provided in each of the 8 rooms like: a private balcony, air conditioning, a fan, a minibar, a safety deposit box, a hair dryer, tea and coffee making supplies, and wireless internet. There is a restaurant, a bar with a full liquor license, a swimming pool, and a solarium at the hotel.
15. PiliPili Zanzibar Lodge In Zanzibar Island
Beachfront lodging is available at Pili Pili Nautica, which also offers a number of amenities like an outdoor pool, a bar, a restaurant, room service, baggage storage, and free WiFi access throughout the building. One master suite and five flats. includes a private bathroom, a hairdryer, and a terrace with a view of the ocean. A complementary continental breakfast is available to visitors in the lodge.
Best known for relaxation Bwejuu beach is one of Zanzibar's quietest neighborhoods and a popular choice for anyone seeking total tranquility, isolation, and leisure.
Conclusion
Zanzibar is an archipelago in the Indian Ocean that shares a political union with Tanzania. It comprises of Zanzibar, also known as Unjuga, Pemba, and other smaller nearby islands,  located 22 miles (35 km) off the coast of east-central Africa.
Africa's tropical paradise, Zanzibar Island, is home to some of the most breathtaking beaches on earth. There are miles and miles of white sand beaches with palm trees scattered across them, all encircled by the Indian Ocean's crystal-clear water. Together with Pemba Island and a number of other smaller islands, Zanzibar Island makes up the Zanzibar archipelago. Because of their extensive history in the spice trade and numerous spice farms, these islands are also known as the Spice Islands.
The island has got a variety of activities conducted there which include; tourism activities, farming, trade among others all of which call for settlement and accommodation of different races of people, these call for the different varying classes of accommodation facilities, for more information Kubwa five safaris has got more details, you can either book or set your trip through Kubwa five safaris, you can either reached out to there offices or find them online for more about zanzibar island.
Hits: 20