Best 5 Reasons To Visit Isangano National Park In Zambia
The best 5 reasons to visit Isangano National Park in Zambia are; Bird watching, game viewing, canoe rides, wildlife, and game drives.
Situated in the Northern province of Zambia – the Isangano National Park is a small park close to the Bangweulu swamps.
The park offers a different kind of appeal to many of Zambia's other parks. It's composed of mainly low-lying floodplains and flat well-watered grassland. The western side forms part of the Bangweulu wetlands which comes along with seasonal flooding and a profusion of birdlife.
The area was declared a national park and protected reserve in 1972, but unfortunately, the park went into decline many years ago due to the consequences of a lack of funds, infrastructure, support and management – resulting in little wildlife and infrastructure in the park. However, since July 2007, the Zambian government started to take steps to preserve the wetlands and develop a viable community-friendly wildlife reserve. The opportunity exists to conserve and resuscitate park back to its former status as a fully-fledged National Park
             1. Bird Watching In Isangano National Park
Isangano is another favorite habitat for various waterfowls and also many migratory species .The ecology of this wetland area is a favoured habitat for many water fowls and numerous migratory species. Species such as the black crowned night heron, Denham's bustard, flamingo, Fuelleborn's long claw, glossy and sacred ibis, pelican, rosy-throated long claw, spoonbill, spur winged goose, swamp flycatcher, wattled crane and white fronted bee-eater. The highlights being are the rare – and in-fact endangered – saddle-billed stork and shoebill. A treat for avid birders, and laymen alike.
              2. Game Viewing In Isangano National Park
Game viewing in this park includes the black lechwe, tsessebe, reed buck, Oribi, Sitatunga, elephant, African buffalo, crocodile as well as a hippopotamus. Zebra, antelope, Harte beets, roan antelope, eland, bush buck, and the warthog may also be spotted however not in abundance.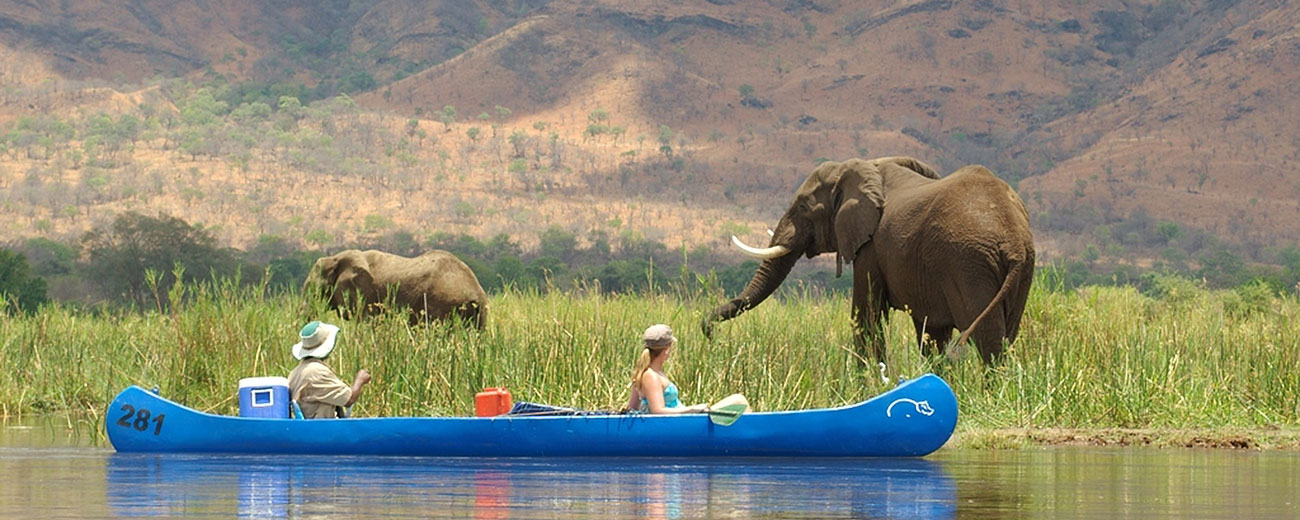 3. Canoe rides in Isangano National Park
Safaris and tours to Isangano National park in Zambia,there are activities like canoe trips which are available in most cases when it becomes a wetland .
The low water levels allow for such kind of activities to take place.
            4. Wildlife In Isangano National park
There is curently little game in this region due to illegal human settlements and subsistance hunting by those living in the park-butas the park recovers the animal populations are steadily increasing. The Bangwelu wetlands play host to a wide range of animals,the most prolificc being black lechwe, tsessebe, reedbuck, oribi, elephant, buffalo, corcodileand species such as zebra hartebeest, roan can aslo be spotted here.
               5. Game Drives In Isangano National Park
A game drive in Isangano National park is an adventure that entails viewing wildlife in the comfort of a 4×4 open-sided safari vehicle that accommodates 4 to 6 people, a sure way to give you that classical safari feeling game drives are one of the most popular ways to see wildlife. However the roads are not favorable.
When To Visit Isangano National Park
The dry season lasts from May to October and the weather is sunny and rarely rains. June to July is the best time to see big herds of lechwe and other grazers, while May to August is the best time to see the phenomenal shoebill stork. The low water levels allow for activities such as game drives and canoe trips, while the rainy season – November to April – makes driving difficult, so no game drives will be available. However, canoe trips are still available, and the area becomes a wetland paradise and haven for migratory birds. November brings the first rain and new grass attracting the lechwe and other grazers.
How To Get To Isangano National Park
The park lies in the Luwingu and Kasama districts in Luapula province and can be accessed from the west of Mpika or Mpulungu road near Chambeshi. Because of the remote location, there are few maintained roads accompanied by seasonal flooding. Therefore, a fully-equipped 4×4 vehicle, or the accompaniment of a professional and knowledgeable guide or tour operator.
Safari Lodges  In Isangano National Park
Due to an unmaintained background, the park has no facilities to speak of. It's back to basics with no ablution blocks or electricity – but this doesn't mean it's not popular tourists. Plan an organised expedition, with a knowledgeable guide, and full personal camping equipment and you're in for a real bush-experience.
Conclusion
Feel free to have Isangano National park on your bucket list by contacting Kubwa Five Safaris
Hits: 12