Best 5 Reasons To Visit Mudumu National Park In Namibia
The best 5 reasons to visit mudumu National Park In Namibia include; nature walks, game viewing,birding, camping, and fishing in kwango river in Mudumu National
Mudumu is a National Park is located in Caprivi Region in north-eastern Namibia which was established in 1990 covering an area of 737 square kilometres. Mudumu serves as a vital trans-boundary passageway for wildlife to go between Angola, Botswana, Namibia, and Zambia. African elephants and other large game species in this area majorly migrating since there are no boundary fences in the park.
Mudumu National Park is a great travel destination for adventurous safaris in the Zambezi Region surrounded by the community forests in Namibia.
1. Nature walks In Mudumu National Park
In Mudumu national park guided nature walks are conducted in the dense mopane woodlands and the Kalahari woodlands providing tremendous cover for the variety of wildlife species living in the area like the buffalo, crocodile, elephant, eland, giraffe, hippopotamus, kudu, roan antelope, oribi, impala, wildebeest, and zebra.
The national parks nature walk gives a great experience due to being characterized by a riverine ecosystem that follows along the Kwando, a fossilized river that traverses through the central part of the park only flowing during the rainy season and attracting activities like biking, photography among others in Mudumu National Park.
2. Game viewing in the Mudumu National park
Mudumu National Park has got abundance of wildlife like elephants, zebras, antelopes, buffalo's, Hippos and crocodiles which attract touristic activities like game viewing, bird watching and camping.
The southern part of the Park due to its remoteness and tropical climate it is rarely visited but has a lot of water where more than 400 different species of birds can be seen attracting birders in Mudumu National National Park.
3. Birding in the Mudumu National Park
Mudumu National Park offers first rate of bird watching with a variety of habitats, and over 400 bird species especially in the wetlands being a magnet for birding like  the carmine bee-eaters, coppery-tailed coucal, African jacana, Bradfield's, hornbill and Rufous-bellied heron.
Bird species found in Mudumu National Park are mostly abundant in the Wet season, from November to April making it a more practical chance to the tourists interested in birding and photography in Mudumu National Park.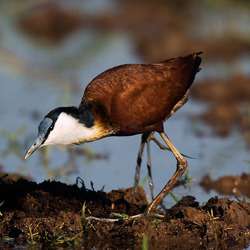 4. Self-drive through the Mudumu National Park
Mudumu National Park is a great travel destination for adventurous safaris in the Zambezi Region with various wildlife densitions and a variety of resident and migrating animals which make a visits worthwhile.
Through game drives in Mudumu National Park expect to see good herds of elephant and buffalo as well as a variety of antelope which attract photography that most visitors would need in a national park.
5. Fishing in the Kwando River In Mudumu National Park
In Mudumu National Park, Kwando River forms the boundary between Namibia Angola and Zambia after making its way through the Caprivi Strip flowing along the border of Mudumu National Park.
Before disappearing forms Okavango River in one direction and breaking up into a labyrinth of channels, islands and oxbow lakes, to form the vast Linyanti Swamps with waters nourishing the land, providing waters to Local fishermen skillfully pole their mokoros dug-out canoes as they cast their nets for tilapia, tiger fish and the ripples of turtles.
papyrus beds act as fish nurseries, and serve superb wetland bird habitat roughly 430 bird species have been recorded in the region, all these attracting various tourist activities in Mudumu National Park.
How To Access Mudumu National Park
To get to Mudumu National Park visitors have to travel along the Trans-Caprivi-Highway to Kongola, from there drive to the south and the road conditions are often poor, a visitor can enter Namibia via Hosea Kutako International Airport  located 40 km/25 mi east of Windhoek, rent a 4×4 car in case of self drive or choose a fly-in trip comprised of charters between various parks and lodges like Lianshulu Lodge, located inside the park which has a private airstrip.
When To Visit Mudumu National Park In Namibia
In Mudumu National Park the best time to spot lots of animals is from June till October, probably because it's dry and animals tend to hang around to the water  The bush is also less thick, which makes it easier to find them. During the wet months (November-April), water can be found everywhere and the bush is a lot denser, which makes it some how difficult to locate animals.
Wet season from November to April provides chance to see the summer migrants of herds of animals however, roads are always bad due to the wet weather conditions, the dry season May-October is more practical since there is more access to animals in Mudumu National Park.
Accommodation In Mudumu National Park
Accommodation in Mudumu National Park is offered by different accommodation service providers like Malyo Wilderness Camp, Camp Kwando, Sharwimbo River Camp, Sharwimbo Adventure Lodge, Namushasha River Lodge among other hotels where a visitor can choose an accommodation type such as Bed and Breakfast, Guest House, holiday home, self catering or Hotel or Check out  Mudumu National Park Specials, according to the different visitor preferences matching the budget in Mudumu National Park.

Conclusion
Mudumu National Park has an abundance of wildlife like elephants, zebras, antelopes, buffalos Hippos and crocodiles, a lot of water in the southern part of the Park, with more than 400 different species of birds which make great holidays and vacations for tourists through participating in the different activities like biking, fishing, nature walks, game viewing  among others, Kubwa five safaris is the answer to the great experience achievement in Mudumu National Park, for bookings Kubwa safaris offices can be reached or found online and can be contacted for more information.
Hits: 10