Top 8 Best Places To See Chimpanzees In Africa
In this blog, we will discuss the top 8 best places to see chimpanzees in Africa. The most popular chimp trekking destinations in Africa are Uganda and Rwanda. The African countries where chimpanzees can be seen are; Uganda, Rwanda, Tanzania and Kenya.
Here, we offer you the most incredible places to See the primates in the wild, chimpanzee trekking is one of the bucket lists of the African travelers. Spending an hour with a family of chimps can be a truly grounding and life altering experience. Africa is the best and only continent in the world to see chimpanzees in the wild and there are only a few excellent spots in East Africa which gives tourists from all over the world the best chances of finding the chimps.
The 8 Best Places To See Chimpanzees in Africa.
1. Kibale National Park
Kibale Forest National Park is one of the best safari destinations in Africa for chimpanzee trekking safaris and has the highest number and diversity of primates in East Africa. There are 13 species of primates including chimpanzees living within its 795km2 land cover with the most beautiful and most diversified tracts of tropical forest in the whole of Uganda. The Forest covering prevails in the central and northern part of the park on the raised Fort Portal plateau
Uganda is similar to Rwanda in primate experiences and both are phenomenal for chimps. Uganda is a little more affordable than Rwanda in general so this is the ultimate destination for those who want to tick off the primates on an adventure of a lifetime.
2. Nyungwe National Park
This is one of the oldest rainforests in Africa, Nyungwe is rich in biodiversity and spectacularly beautiful. The mountainous region is teaming with wildlife, including a small population of chimpanzees as well as 12 other species of primate, including the L'Hoest's monkey endemic to the Albertine Rift.
Nyungwe, as well as being an exceptional place to trek with the mountain gorillas, Rwanda is home to a flourishing chimpanzee population. You can combine both in one trip, making Rwanda one of the best primate destinations in the world (as well as Uganda). There is only one place to stay in, One & Only Nyungwe Forest Lodge.
3. Kyambura Gorge in Queen Elizabeth National Park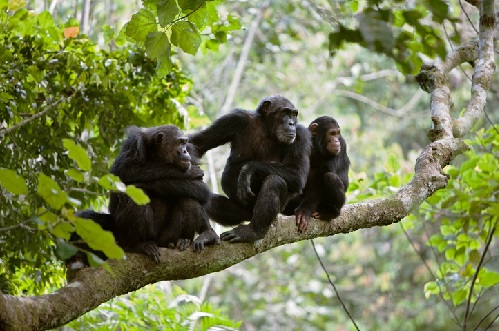 Kyambura is a large, forested grassland plain with a beautiful riverside path at its bottom. It has a small community of chimps that have a heartbreaking story, isolated from the main Maramagambo forest by an overgrown village and grasslands where predators such as lions and hyenas lurk, they are already showing signs of inbreeding.
4. Kaniyo Pabidi, Budongo Forest Reserve
This park is one of the two ecosystems on Budongo Forest Reserve in Northern Uganda, this is another low key but excellent place to see chimpanzees in the wild. The forest reserve is located on the route of the famous Murchison Falls.
Budongo is a worthy rerouting for excellent chimpanzee trekking before heading in the vast Murchison Falls National Park for the big game viewing experience.
5. Kalinzu Forest
Kalinzu forest is found in the western Uganda Bushenyi district. It is closer to queen Elizabeth national park and Maramagambo forest. Chimpanzee trekking is one of the major attractions in Kalinzu Forest. Chimpanzees are interesting creatures because they look and behave like human beings since they share 98% of their DNA with us.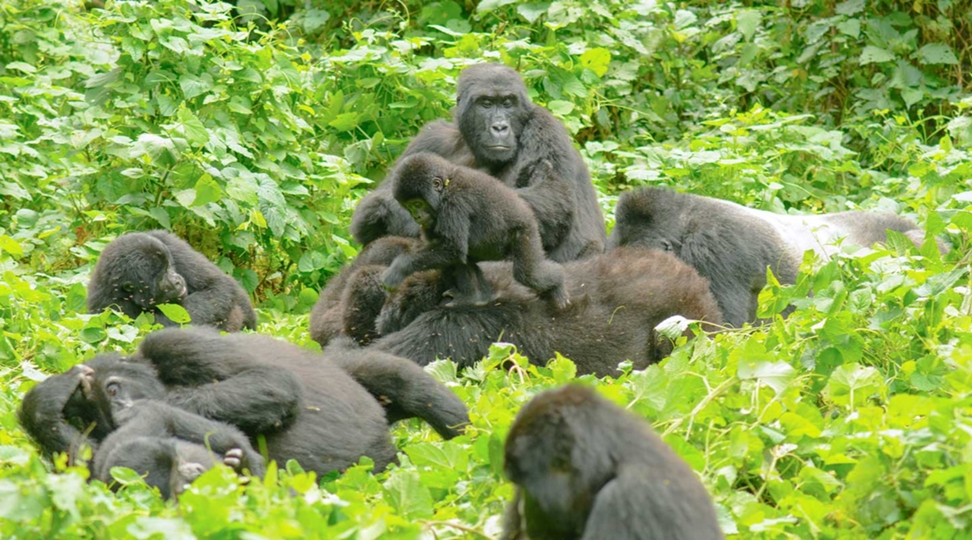 Chimpanzees live in large communities each with a different culture. They are very intelligent and known for a variety of tools and tricks to hunting insects, smaller primates and antelopes.
6. Mahale Mountains National Park
Mahale Mountains National Park is one of Africa's best kept secrets when it comes to wildlife viewing. Its luxurious green hills are home to almost 9200 chimpanzees. Chimpanzees are the star attraction, birds turn the slopes into a multihued of color each morning. The monkeys are almost as fancy red colobus, red-tailed monkeys and blue monkeys are among those you may see.
Chimpanzee trekking takes place  a year round. But the best months to visit are between July and November, when the park's resident animals gather around compressing water holes.
7. Gombe Stream National Park
This park is located on the shores of Africa's longest lake Tanganyika in Tanzania, Gombe Stream National Park, is Tanzania's most attractively and loveliest destination for the tourists. Gombe Stream National Park is one of the two places in Tanzania where visitors can see chimpanzees in the Wild. However, it is the most challenging of all chimpanzee trekking destinations in Africa.
The game park is 2 miles (3.5 km) wide and only 9 miles(15 km) long stretches from the white sandy beaches of the blue lake up into the thick jungle and the mountains of the rift valley escarpment in the background.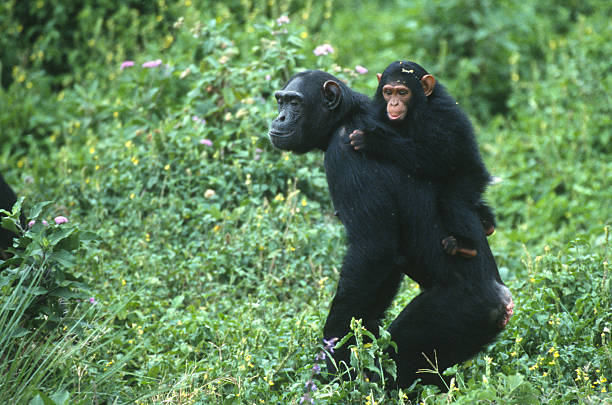 The area is famous for its primates and the Tanzanian rain forest is mainly covered with thick savanna woodland.
Chimpanzees are amongst the noisiest of all wild animals. You will be able to hear them long before you see chimpanzees swinging the treetops. A series of hoots and shrieks rising to a crescendo of piercing whoops sounds like a major primate battle is about to begin. But it's only the members of the clan identifying, recognizing, and finally greeting one another.
8. Sweet Waters Chimpanzee Sanctuary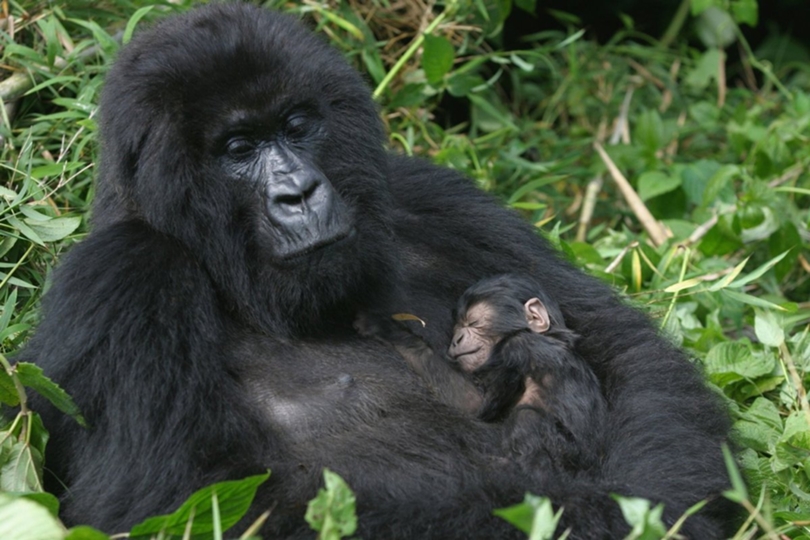 The Sweetwaters Chimpanzee Sanctuary was established with an agreement between the Ol Pejeta Conservancy, the Kenya Wildlife Service (KWS) and the Jane Goodall Institute. The aim was to provide lifelong refuge to orphaned and abused chimpanzees from West and Central Africa. Many of the sanctuary's animals were confiscated from cramped and unnatural living conditions, and many arrive with horrific injuries sustained from abuse at the hands of humans. At Sweetwaters, they get a chance to start over.
This has enabled to the coming of many world travellers to visit the sweet waters chimpanzees sanctuary in Kenya, due to the increased number of chimps.
Frequently asked questions.
Where is the best place to see chimpanzees?
The best countries to see these endangered creatures are Tanzania, Rwanda and Uganda.
Kibale National Park, Murchison Falls National Park (Kaniyo Pabidi, Budongo forest)
, and Queen Elizabeth National Park (Kyambula Gorge), Kalinzu in Kasese region and Sweet waters Sanctuary in Kenya.
Volcanoes National Park in Rwanda is home to half of the world's remaining mountain gorilla population and is the first choice for travelers to Africa. Bwindi Impenetrable National Park and Mgahinga Gorilla National Park in Uganda are great for observing other primates as well.
Hits: 117