Best 5 Reasons To Visit Namaqua National Park In South Africa
The best 5 reasons to visit Namaqua National Park include; diversity of wildlife, wild flowers, roaming ostriches, sight seeing and photography in South Africa.
Namaqua National park in South Africa with a surface area of more than 1300 km2, the Park is located roughly 495 km north of Cape Town and 22 kilometres northwest of Kamieskroon, a piece of Namaqualand covering a 55,000 km2 region in the Succulent Karoo biome that is semi-desert.
Having a high range of succulent plants, Namaqua park has got an estimated number of 3500 flora species, and being well-known for its springtime display of wild flowers. Tourists do travel to the country of extremes, where the harsh environment has produced a wide range of life forms that are wonderfully adapted to their particular ecosystem.
The highest concentration of succulent plants in the world may be found in this biome, which is a hotspot for biodiversity with Succulent plants growing in an arid setting of the park. To safeguard its flowers, the park was established. In the spring, there are lovely wildflower blooming there which are the park's main attraction for tourists with its abundance of brilliant spring wildflowers, in addition to its enormous range of floral and plant species, this park is recognized for its astonishingly rich diversity of animal species.
1. Diversity Of Wildlife In Namaqua National Park
Namaqua National park is home to a variety of bio diversity which involves both wild species of flora and fauna with animals like Leopard; Black backed jackal, Porcupine, Klipspringer, Aardvark, Baboon, Steenbok, Duiker and many more with several endemic species, amphibians and reptiles as well as plant species like when the environment begins to change into a sea of color. bursting with unique varieties of flora, including Yellow, Orange, White, and Purple flowers as well as many others, species that have adapted to these challenging circumstances of the country's harsh conditions.
2. Wild Flowers In Namaqua National Park
The wild flowers in Namaqua National Park are the main tourist attraction to the park which bloom of a bright colour with other succulent plants which can be found in places like the Alexander Bay and the Orange River mouth and estuary however, wild flowers can be seen all over the Namaqualand, West Coast and Olifants River Valley and towns such as Citrusdal, Clanwilliam, Lamberts Bay, Nieuwoudtville and Vredendal will definitely not disappoint.
When it comes to Namaqualand, the Cederberg, and the West Coast, give the best times for tourists to start looking for flowers in the early to mid August, and late August to early September, respectively in a good year, and the West Coast blooms can last until mid-September.
Namaqua plains in August and September, gorgeous and opulent Namaqua Flower Skilpad Camp opens its doors,  displaying their breathtaking beauty where visitors experience and are encouraged to spend time exploring the suites, all of which get a spectacular mountain view that may be seen from a private veranda, as well as the incredible vistas, granite outcrops, rolling mountains, and a profusion of birds and wildlife in Namaqua National Park.
3. Roaming Ostriches In Namaqua National Park
In Namaqua National Park these enormous birds frequently can be seen sprinting across the middle of the wildflower fields by visitors frequently encountering ostriches in pairs as they freely explore the park, It's better for tourists to keep distance and observe them from afar since they can still be easily startled by humans.
The ostrich, a huge flightless bird of the genus Struthio, with two live kinds endemic to wide regions of sub-Saharan Africa and the Somali ostrich indigenous to the Horn of Africa. They are the heaviest living birds, capable of running at 70 km/h, the fastest birds on land, and their feathers are used for ornamentation and feather dusters. They also lay the largest eggs of any living land mammal. Additionally, their skin is utilized to make leather goods.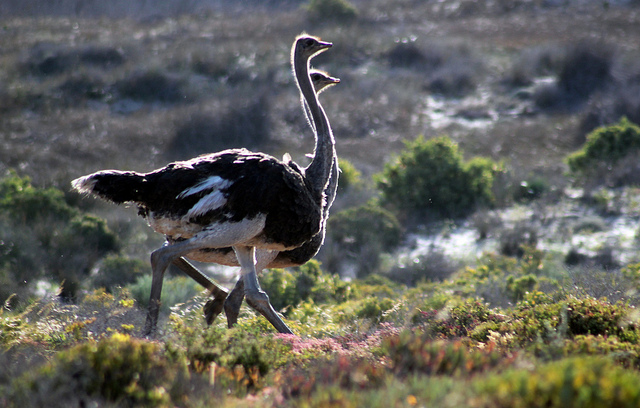 4. Sight Seeing In Namaqua National Park
Namaqua National Park is a semi-natural reserve, a biome of several species of flora and fauna that tourists cannot find anywhere else in the world and the main purpose of opening this park was to work and conserve the wildlife and flora which were found in the dry regions of the park, which later has brought about huge numbers of tourists to explore its beauty.
The Park has a growing popularity spread over a wide due to sheltering 5000 different species of plants, animals and the eye catching beauty of blossoming flowers among othhers which include;
A display of the stunningly beautiful blooming wild vibrant brightly coloured flowers that create an awesome inspiring view, Succulent plant species just not like any other plants, rich diversity of wildlife with the world's smallest known tortoise, humid  summers, variable cold temperature in the winter season with occasional rainfall all of which call for tourist viewing and experience in Namaqua National Park.
5. Photography In Namaqua National Park
Namaqua has got numerous small bays where the endemic Dolphins play and leap within the waves, a sandy white beach, the flat lands where Hartebeests, Steenbok among others match within the beautiful  purples, yellows, pinks and orange flowers during spring and summer.
The diverse scenery and home to the wildlife like the Chacma Baboons, Jackal Buzzards, Eagles with an aerial sight, Ravens among others with photographic opportunities from landscapes, floral diversity and species lying in the heart of Namaqua lands in South Africa.
When To Visit Namaqua National Park
In Namaqua it is better to take the 5 km round drive that provides overlooks while visiting the park during the blossoming season to take in the spectacular flower displays and the short nature trails, pets are not permitted in this park, so make sure you don't bring them with you. It is ideal to visit these parks between 10:30 am and 4 pm when the flowers are in their peak bloom.
The best times for visiting Namaqua are the times of  good weather on average, the warmest months are January, February, and March, coldest months are July and August all of which are ideal to the blooming of the flowers in the park and the dry periods in September, the dusty valley transforming into a wonderland, carpeted with wildflowers that draw visitors from a abroad, October and December with an average number of flowers.
How To Access Namaqua National Park
Namaqualand lies within the succulent Karoo and visitors can access the park through out the year making it through the use of sedans or 2×4 vehicles, but  for the best of their visit and to see a broad part of the Park they will need a 4×4 vehicle fuel in the Park itself. Going to the park, you can take the N14 to Springbok which is about 400km, N7 south to Garies in about 120km, the gravel road to Groen river which is 73km among other routes to Namaqua National Park.
Accommodation In Namaqua National Park
In Namaqua National Park guest rooms are tastefully decorated and opulently furnished, blending in perfectly with the surroundings with features of a home away from home including a roomy dressing area, generous walk-in showers, electric blankets, comfy cushions and warm duvets, and queen-size beds. For added comfort, the windows of the tents have gauze sashes, and they have full bathrooms. Each guest suite receives a basket of tea and coffee every morning among other services and if this experience is not on your bucket list, you can stay either at Beach Flower Camp or Skilpad Flower Camp in Namaqua National Park.
Conclusion
This region doesn't get too hot or too cold in the spring, the weather is pretty agreeable and cheerful, the park also hosts a display of more than 1000 vibrantly colored wildflowers over a sizable area of land, which is also the main draw for visitors to this location in the spring. During the spring, the park is open from 8 am to 5 pm. So be sure to go to this park during these hours or for more information and details Kubwa five Safaris is the answer, you can contact or reach Kubwa five safaris offices.
Hits: 1