Best 15 Safari Lodges In Botswana
The best 15 safari lodges in Botswana include; chobe safari lodge, Phokoje bush lodge, Khwai river lodge, Big valley game lodge, savute elephant lodge, lions roar lodge, Gweta lodge, dolar lodge, big five chobe lodge, kwa nokeng lodge, Thobolo's bush lodge, shakawe river lodge, mapula lodge, Tuuthebe lodge, and Muchenje safari lodge.
One of the best places to see wildlife in Africa is Botswana. Approximately 17% of Botswana's land area is officially designated as national parks, wildlife reserves, and nature reserves. Private concession areas and nature reserves are excluded from that. We are proud to say that Botswana is home to some of the world's most remarkable conservation sites and with affordable game lodges in botswana.
Accommodations in Botswana Include well-known land-based safari lodges in Chobe and Moremi, as well as water-based lodges in the Okavango Delta and remote camps in the Kalahari. They are all professionally run and located in prime game viewing areas and range from luxury botswana safari lodges to rugged bush camps and romantic tented suites.
 Best botswana safari lodges have also got the luxurious mid range and budget lodges some of which include; Kgalagadi Transfrontier Park, Khutse Game Reserve, Makgadikgadi Pans National Park, the Moremi National Park, also called Moremi Game Reserve, Nxai Pans National Park is situated north of the Makgadikgadi Pans National Park.
Best Luxury Safari Lodges In botswana
1. Chobe Safari Lodge In Botswana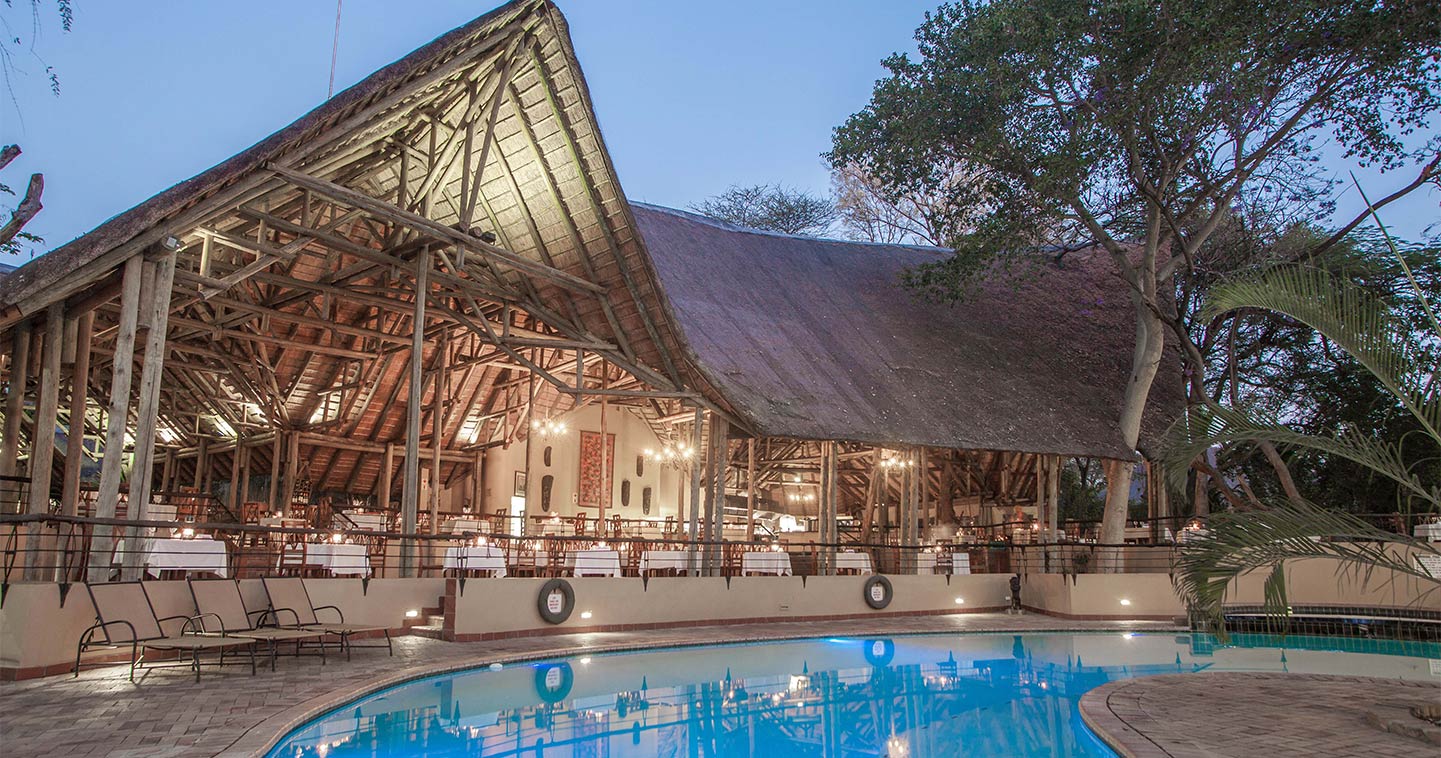 On the banks of the Chobe River in Kasane, Chobe Safari Lodge is bordered by Chobe National Park. It is one of the most expensive safari lodge in botswana founded in 1959 and is the oldest lodge in Chobe. The meeting of four African nations—Botswana, Namibia, Zimbabwe, and Zambia—takes place right outside our front door. As a result, Chobe Safari Lodge provides a great base for exploring Caprivi, Victoria Falls, or Chobe.
The best heritage hotel in northern Botswana is Chobe Safari Lodge, which is perched on the banks of the Chobe River next to the renowned Chobe National Park. this is the perfect expedition base for trips to the neighboring Victoria Falls, famous game watching by boat, or tiger fishing expeditions. Chobe Bush Lodge, next to Chobe Safari Lodge, has the same venerable buildings and grounds with wandering impala, endangered Chobe bushbuck, and entertaining warthogs. It has a contemporary design and a communal atmosphere.
2. Phokoje Bush Lodge In Botswana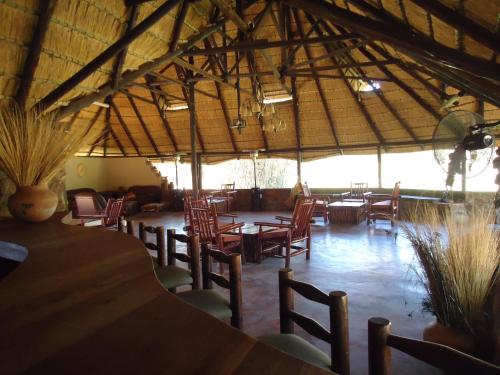 Phokoje bush lodge offers an excellent lodging in a completely serene setting, kind and welcoming service, and delicious cuisine. Lodge on Page. Lodge at Mmadinare T Junction and Phokoje The Selebi-Phikwe, Central Region, Botswana Lodge offering the perfect location for unwinding in the bushveld.
It has got the Selebi-Pikwe reachable in 6.4 miles, accommodations, a restaurant, an outdoor swimming pool, a bar and a shared lounge.
3. Khwai River Lodge In Botswana
Access is available through shared charter aircraft flown by Mack Air, a partner airline of Khwai, from Livingston, Maun, and Kasane. Private charters are available upon request and all Mack Air aircraft are single-engine. The Okavango Delta in Botswana's Moremi Game Reserve is home to the safari lodge Khwai River Lodge, and the lodge are the other two that make up Belmond Safaris. You can get there from Maun, Botswana.
Enjoy a sundowner from the minibar or sprawl out in your four-poster bed under a traditional thatch roof. Discover zebra while relaxing on your panoramic deck. Our private apartment, which is hidden from the public areas, provides a more intimate and romantic setting. As antelope dart by just yards away, plunge into a hot pool. Alternately, take an outdoor shower in the early morning to see the savannah come to life.
4. Big Valley Game Lodge In Botswana
Big Valley Game Lodge offers lodging, a restaurant, an outdoor pool, a bar, and a communal lounge, all of which are accessible from Lobatse in 26 kilometers. Yes, it provides amenities for visitors with disabilities and rooms for people with decreased mobility. We advise phoning in advance to confirm particular inquiries
The lodge offers 72 rooms in total, including 10 Executive Lodge Rooms, 22 Deluxe Lodge Rooms, and 40 Luxury Hotels Rooms. Meeting and conference rooms are available at the opulent hotel for guests who want to hold their events in elegance. A vacation of this kind should ideally be experienced in its purest form in Southern Botswana, giving visitors a taste of what visitors to destinations like Maun and Kasane experience while traveling only a short distance.
5. Savute Elephant Lodge In Botswana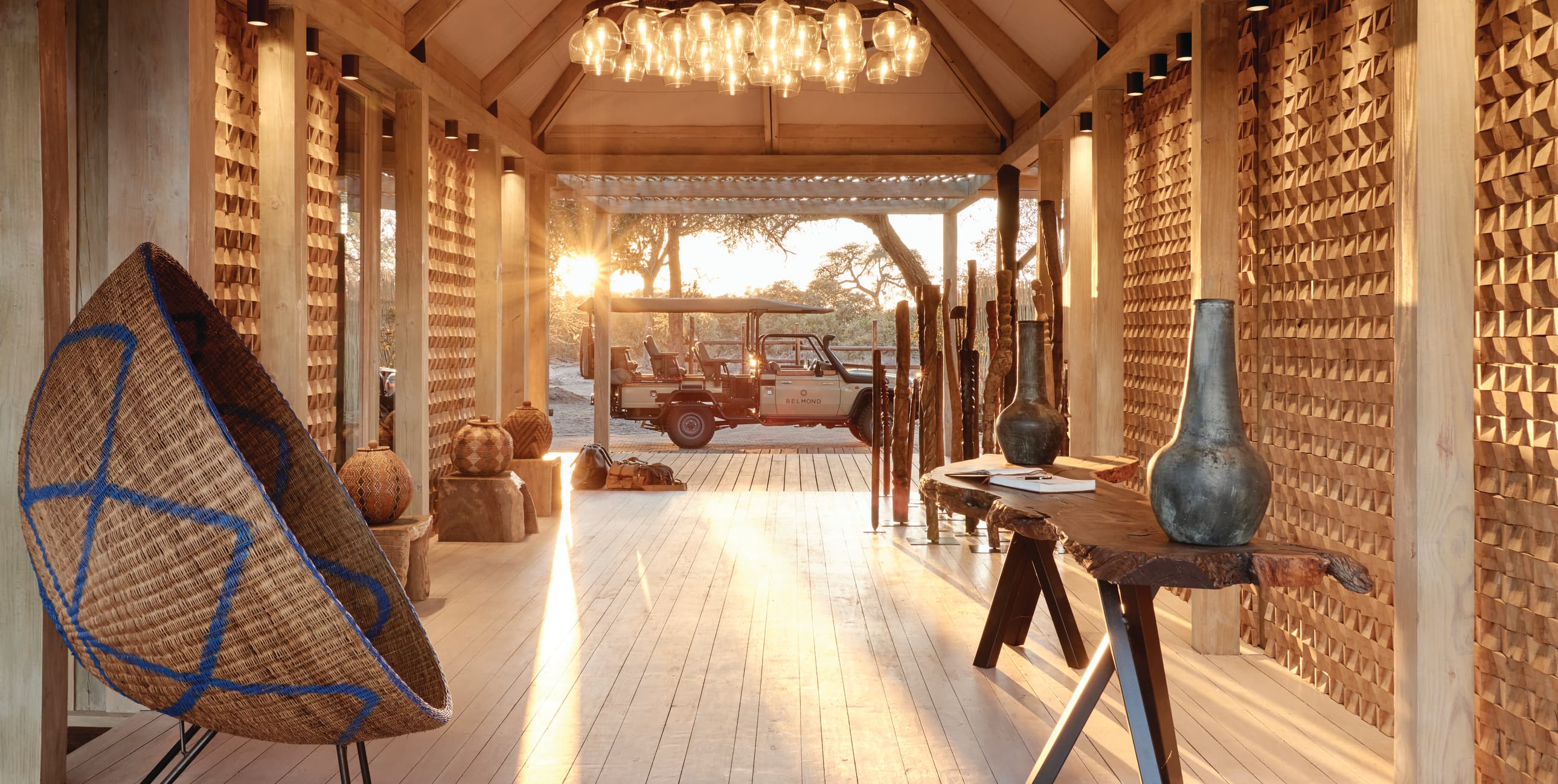 Savute Elephant Resort is a distinctive luxury safari lodge next to Botswana's erratic Savute Channel. The river was dry for many years before it started flowing again a few years ago. It is situated in the center of Chobe National Park. consists of elevated wooden stilts housing tents with traditional thatched roofs from Africa.
Belmond Savute Elephant Lodge is a safari lodge in Chobe National Park in Botswana. Chobe was the country's first national park and is its third largest. The lodge is one of three that comprise Belmond Safaris, the others being Belmond Eagle Island Lodge and Belmond Khwai River Lodge. All three are reached from Maun, Botswana.
Best Midrange Safari Lodges In Botswana
6. Lions Roar Lodge In Botswana
About a 10-minute ride will get you to the 3-star Lion Roars Lodge Kasane from Hide. The inexpensive hotel has a restaurant and free self-parking. Every morning, the hotel serves made-to-order breakfast, more so with a lounge bar.
It provides free parking and secured parking to guests ,more so with an airport shuttle for guests, its recommended calling ahead to confirm details about the Game Lodges & Tented Camps. Number of Rooms and Beds
7. Gweta Lodge In Botswana
In Gweta Village, Botswana, Gweta Lodge is a haven at the entrance to the Makgadikgadi Salt Pans. Take part in a variety of excursions, including small village strolls to get a glimpse of Kalahari life and overnight experiences on the Pans. 200 kilometers from Maun and 290 from Francistown, Gweta Lodge is the ideal place for both a stopover and a standalone vacation. Visit Gweta Lodge to experience a five-star stay at a two-star price.
Gweta Lodge, which is situated in the peaceful village of Gweta, has a sun terrace, an outdoor pool, a restaurant, and a bar on site. the entrance to Botswana's Makgadikgadi Pans. Gweta Lodge provides cozy, reasonably priced lodging as well as breathtaking wildlife encounters. A remarkable oasis in the desert, Gweta Lodge is located in the settlement of Gweta, 200 kilometers from Maun and 100 kilometers from Nata. It serves as a gateway to the pans.
8. Dolar Lodge And Tours In Botswana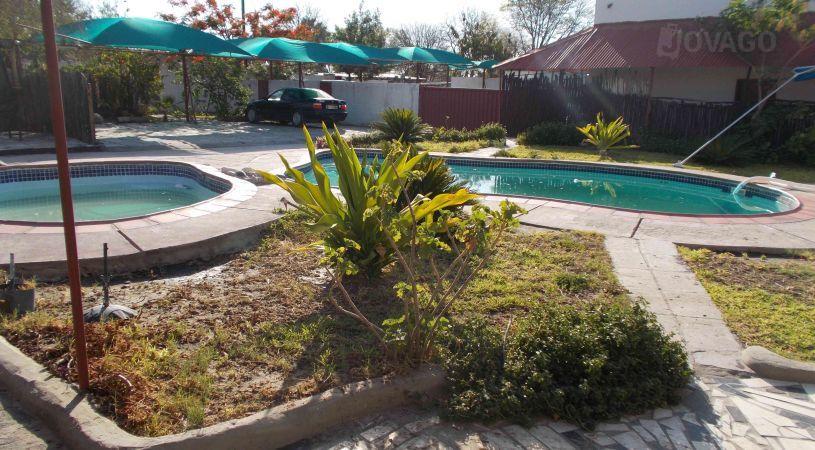 The Dolar Lodge is strategically located in Maun's Wenela Ward, 1200 meters from the airport, on the Maun-Sedie Main Road. It serves the hospitality industry well, earning a two-star rating and looking forward to attaining a three-star rating in the very near future. It offers fully serviced rooms to all types of visitors, including foreign tourists and members of the government and private companies.
The 
inn 
offers 
a 
variety 
of 
accommodation 
types, 
including 
single, 
twin, 
double, 
and 
family 
rooms, 
in 
order 
to 
satisfy 
the 
needs 
of 
the 
vast 
majority 
of 
visitors. 
Families 
with 
kids 
are 
catered 
to 
as 
all 
rooms 
include 
hot 
water 
showers, 
televisions, 
free 
internet, 
telephones, 
DSTV, 
refrigerators, 
and 
air 
conditioning.
Due to the lodge's well-kept gardens and two lovely swimming pools, it naturally offers jungle gyms, see-saws, trampolines, and jumping castles, making it a large site for children's birthday parties in Maun. Additionally, the Lodge offers tours, meeting space, and outside catering for outside events.
9. Big 5 Chobe Lodge In Botswana
Big 5 Chobe Lodge's offers more affordable accommodation in the Chobe region of Botswana. It offers breathtaking views over the mighty Chobe River, to the east across the Zambezi River, situated on the bank of the Chobe River in the far Northern corner of Botswana
Big 5 Chobe Lodge is located and has a fantastic view over the river onto the Impalila Island, and it offers cozy and reasonably priced lodging in en-suite individual chalets with air conditioning, as well as campsites with private ablutions, powerpoints, hot/cold showers, wash basins, and fire places.
You will experience outstanding service and incredibly comfortable accommodations in bungalow-style rooms. The Big 5 Chobe Lodge offers twin or double beds, en-suite bathrooms, coffee and teamaking amenities, overhead fans, and air conditioning.
10. Kwa Nokeng Lodge In Botswana
This is a one stop over for travelers to and from Botswana, offering lodging, the best  fuel prices, a food court,  a general  grocery store, and a currency exchange are all available. Accommodation options range from a large campsite with good amenities to a number of self contained chalets and luxury tents with private facilities, as well as a safari tent option. 
We 
now 
carry 
ice 
cubes 
made 
with 
fresh 
water 
from 
our 
own 
springs.
The Kwa Nokeng Lodge is the ideal location for a leisurely "stop-over" when traveling through the hinterland. After cooling off in the pool, chat with other travelers at the "mokoro" bar while sharing stories, and then have dinner under the massive Mashutu tree (Nyala Berry) before retiring for a well-earned nap. Before leaving, begin your day with a full breakfast at the Lodge.
Best Budget Safari Lodges In Botswana
11. Thobolo's Bush Lodge In Botswana
Thobolo's Bush Lodge, one of the most distinctive accommodations in the area, is an eco-friendly animal refuge in the middle of the Botswana bush. It is situated 108 kilometers from Kasane on the way to Savuti, Linyanti, and Maun.
Thobolo's Bush Lodge, situated on the edge of the majestic Barangwe Pan, provides guests with an unmatched opportunity to watch wildlife from the comfort of our environmentally friendly lodge and campsite. Offering a large campsite, 12 well decorated chalets that can be rented for self-catering or dinner and a breakfast, an observation deck with a view of Barangwe Pan, a lounge, a library, a fully supplied bar, and a boma restaurant.
12. Shakawe River Lodge In Botswana
Shakawe River Lodge is a great place for self-drivers to stop because it is 20 km from the Namibian border and 380 km from Maun. The Okavango River, which is the Panhandle's principal river system, is visible from this exquisitely renovated and air-conditioned lodge, and river-based activities like fishing and birdwatching are heavily emphasized.
Accommodations in the Okavango Delta can be divided into three main groups according on the activities they provide: water, land, and mixed camps. For a full Okavango experience, water camps are often located in the permanent delta and offer boating.
With high animal concentrations close to places like Mombo Camp, Chief's Camp, and Chitabe Camp that offer both land and water sports, the delta's rich floodplains and islands are home to some of the best game viewing in Africa.
13. Mapula Lodge In Botswana
The relaxed Mapula Lodge is situated in the center of it all on a huge forest island surrounded by seasonal floodplains. Even better, it's one of the concession's few campgrounds, allowing for thrilling game viewing in a wonderfully empty setting. You can come see for yourself if you don't trust us.
One of the most stunning locations in the Okavango is Mapula Lodge, which looks out over a vibrant and glittering lagoon. A unique and interesting camp with colorful kilims, elephant-shaped lamps, velvet couches, and traditional thatch. The famed Bousfield family's camp, Mapula, has been spruced up since joining the Natural Selection family. The game viewing is exciting and varied, much like the scenery.
14. Tuuthebe Lodge And Camping In Botswana
Tuuthebe is about 80 kilometers from the magnificent Lekhubu (Kubu) Island, which has conference facilities that can accommodate up to 40 people. Options range from a large campsite with first-rate services to a variety of independently operated hotels with private facilities.
There isn't a better area to halt for refuge in Botswana due to its central location,  traveling through and need of a place to rest before continuing your journey or if you need a home away from home while working nearby, it is located on the edge of the Makgadikgadi Pans, 350 kilometers from Maun, 220 kilometers from Francistown, 345 kilometers from the Martinsdrift border station, and 525 kilometers from Gaborone. The Okavango Delta, Moremi, and the Central Kalahari Game Reserve may all be reached from Tuuthebe.
15. Muchenje Safari Lodge In Botswana
Muchenje offers a range of safari experiences and activities, including morning and afternoon game drives, full-day safaris with a Chobe boat cruise, seasonal morning walks, night drives, and a community school visit. It also offers rustic luxury accommodations with outstanding views across the flood plains and into the Caprivi Strip.
Additionally, there are a variety of thrilling encounters to pick from in the park, which is renowned for its sizable herds of elephant and buffalo as well as several predators. So, take a ride in a cozy 4×4 safari vehicle in the morning, midday, or even for the entire day. Additionally, you may take a boat tour to witness all the species that inhabit the river and its surroundings or go on an exhilarating bush walk to get up up and personal with nature..
Explore Chobe's vibrant evening by setting out with a guide and a flashlight. After that, it's time for your own exciting evening, which will include a delicious lunch served beneath a starry sky, followed by a restful night's sleep with the sound of the savannah playing in the background. Just to awaken the following morning to a gentle knock, hot coffee or tea, and another Botswana day beginning.
Which month is best for Botswana safari?
The best way to decide when to travel to Botswana is to consider the experiences you wish to have. Botswana's wildlife tends to scatter during the wet summer months of January through April, but a number of locations, like the Kalahari and the Savuti region of Chobe, offer outstanding summer game viewing since they are in the way of migrating animals, especially zebra.
Botswana is best visited from May to October, when game watching is at its optimum, during the dry winter season. As the dry season continues, animals are gathered in ever-increasing numbers at water sources during these months. Many experts agree that Botswana's cooler months of June through August are the greatest times of year for luxury safaris because the weather is ideal for wildlife drives and malaria risk is at its lowest.
Is Botswana or Namibia better for safari?
Overall, both Botswana and Namibia offer remarkable safari experiences that are equally distinctive.
Namibia focuses on beautiful landscapes and fauna that has adapted to the desert. The greatest place to go in search of a wide variety of animals and the chance to visit the renowned Okavango Delta is Botswana. Although Namibia is frequently seen to be better for individuals doing their first safaris and Botswana is frequently thought to be more expensive, the truth is that both countries offer excellent coverage of these factors, so ultimately the decision between the two places will rely on your interests and tastes. For a more in-depth exploration of Namibia and Botswana, check out our safari guides.
Is Botswana or Kenya better for safari?
Two of the best places in Africa to see animals are Kenya and Botswana. Although both nations provide a variety of safari experiences, they also have significant differences. It's crucial to weigh their differences in order to determine which is the best option for you.
Big game: Unlike Botswana, Kenya has an iconic population of big cats, including lions, cheetahs, and leopards. When it comes to huge herbivores, Botswana does have one significant edge over Kenya: its enormous elephant population.
Which is better for safari Tanzania or Botswana?
Choosing where to travel is arguably the most difficult part of organizing a once-in-a-lifetime African safari. Two of the most well-known and well-liked wildlife locations are Tanzania and Botswana. In the end, you'll need to reflect on what kind of experience you are seeking, but the following advice can help you choose between the two.
The geography of Botswana is diverse, ranging from the glistening wetlands of the Okavango Delta to the dry Kalahari Desert. We refer to Botswana as the purist's version of Africa. It is a far-off and undeveloped nation. Many camps can only be reached by bush planes, which offer a breathtaking aerial perspective of thousands of square kilometres of country populated solely by wild animals.
You will undoubtedly be awed by Tanzania's seemingly endless views across wide-open savannas. Grasslands are dotted with iconic baobab trees, and the Ngorongoro Crater, a massive 100-square-mile caldera, is one of the planet's most striking topographical features. Additionally, there are sweeping plains, impressive mountain ranges, and stunning lakes.
Conclusion
These lodges offer access to some superb wildlife safaris and have extremely high standards for service and food. It is a really quiet and, dare we say, opulent experience because a lot of the lodging is in private concessions and the only place to stay for kilometers.
Mobile camping is also possible in specific areas. If you are looking for a comfortable but more rustic luxury lodges and camps in Botswana corner, you can book with Kubwa five safaris for accommodations, tours and safaris in Botswana and other African countries at large, for more information contact or reach Kubwa on there offices or via online for details.
Hits: 27