Best 11 Reasons  to visit Rwanda in East
Best 11 Reasons to visit Rwanda in East Africa, it is one of the most interesting country to be visited. Gorilla trekking is the most popular tourist attraction
Rwanda is an excellent destination for mountain hiking, game drives, biking, nature walks and cultural tours in East Africa. The cultural practices of different indigenous people were passed on from one generation to another through cultural ceremonies, language, stories, dressing style and a kingdom that has now been put to an end.The prime attraction is Volcanoes National park, where visitors can glimpse gorillas, golden monkeys, and other primates. Rwanda also leads environmental efforts in Africa, plastic bags are not allowed.
 Here are best 11 reasons to visit Rwanda.
Gorilla trekking
The unique opportunity to see gorillas in their natural habitat is unforgettable, some even wonders the life changing. Encounters with gorillas as they go about their daily lives are carefully managed, with expert trackers and guides leading small groups of tourists up bamboo-covered slopes to spend a precious and inspiring hour just a few feet away from the gentle creatures.
     2. Walk In The Footsteps Of Famed Primatologist Dian Fossey
Visiting the former research home site of Dian Fossey is the perfect regard to any mountain gorilla trek. Hiking up her grave shrine and its about 10 minutes drive  while in the park, it is an experience that appreciates education, courage, advocacy, celebration, and tragedy. Fossey was known for her work as a primatologist, both studying the gorillas and spearheading efforts to protect them. In 1967 Ms. Fossey began a research effort that would ultimately become her life's work, as well as the foundation for developing a deep, personal connection to the primate species and to many of the individual gorillas with whom she spent her time .
    3. To trek some of the Thousand Hills
Rwanda offers some of the  interesting treks for example Nyungwe Forest has an extensive network of trails covering over 130km that take between two hours to four days. In the Volcanoes National Park, head for Mount Bisoke with its beautiful crater lake at the summit or try the two-day trek of Mount Karisimbi, Rwanda's highest peak at 4507m. You will be able to experience the cold and the altitude while at the mountain.
   4. For kicking the sand on Lake Kivu's shore
Rwanda is a landlocked country and this is why a beach is the shore of Lake Kivu. The sixth largest lake in Africa, it stretches 90km along the border with the Democractic Republic of Congo, with beautiful reflections of hills covered with patchworks of vivid green crops and terracotta-coloured earth. The perfect town on the lake is Karongi, from where boats can take you to Napoleon Island to see the fruit bats up to Rubavu for water sports and cool beach bars.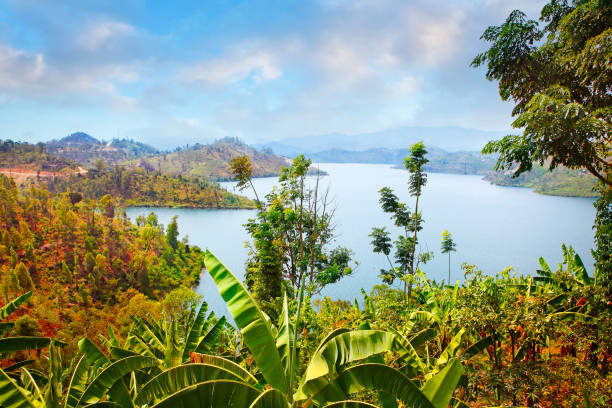 5. Wander around the locals' capital
Rwanda's capital city is Kigali and it is almost squeaky clean with shiny shopping malls, cinema halls trendy coffee shops and gleaming office blocks. For some true African vibe, take a tour of Nyamirambo, the city's oldest and most vibrant neighborhood, with Marie-Aimee Umugeni from the local Women's Centre, visiting markets and shops and sampling local food. You'll be supporting the center's work in education and empowerment of the country.
   6. To sway on East Africa's highest canopy walk
The marvelous -named Igishigishigi Trail in Nyungwe Forest National Park features the Uwinka Overlook, a stomach-churning suspension bridge that sways 50m high above the rainforest. Look down if you dare and you'll see nothing but trees panning out like gigantic broccoli florets and fantastical ferns after which the trail is named. All you can hear is birdsong, distant waterfalls and the occasional monkey squealing in the forest below.
   8. Experience a taste of (vegetarian) dodo
Rwanda's traditional cuisine is fairly unadventurous. Meat (particularly goat) is usually served as brochettes, fish is often sardines or small tilapia and the staple food is ugali, a porridge-like paste made of cassava flour. But vegetarians are in for a treat, try matoke (fried green bananas), ibihaza (boiled pumpkin with beans), roasted sweet potatoes, veggie stews and dodo, a garlicky spinach-like dish with plenty of groundnuts and chillies.
   9. Spot the Big Five while on a safari
This is managed by conservation organization African Parks since 2010, Akagera's once depleted wildlife is now thriving. Elephants, buffalo, giraffe and plenty of antelope can easily be seen, while lions (relocated here in 2015) and leopards are more elusive. Rhinos will soon be introduced too, making the 1120 square kilometre reserve a Big Five destination. One of Africa's prettiest national parks, Akagera merits a visit regardless of its wildlife, with lakes and papyrus swamps, vast savannah plains and undulating highlands in shades of green and gold.
  10. World-Class Hiking & Trekking
If your daydream is about climbing, hiking and trekking Rwanda is the preeminent destination for your outdoor vacation. Both Nyungwe Forest and Volcanoes Park offer clear networks of trails that take you into some of the most breathtaking landscapes on the planet. No matter your fitness or experience level, this vacation will help you find trails that will exceed your expectations.
   11. Get on your bike ride with Team Rwanda
Eager cyclists will love this rare opportunity to ride with members of Rwanda's national team. Using the range race or mountain bikes, they will take you on a half-day training ride from their base in Musanze, teaching techniques and trying different terrains along the way. You can even have a guided multi-day tour with a team member. But you will need to be fit,  Rwanda is known as The Land of a Thousand Hills in East Africa.
When is the best time to visit Rwanda?
The best time to visit Rwanda is during the drier period from June to September, when you have the best chance at spotting the country's undoubtable highlight: the mountain gorilla.
The rainy seasons, from March to May and in November, are the optimum times for tracking chimpanzees. It's also quieter then. Rwanda was recently voted the world's ninth-safest country and Africa's safest country by the World Economic Forum hence making it hospitable for tourists.
Temperature vary throughout the seasons due to Rwanda's position just south of the Equator. The days are warm, sitting comfortably in the late teens or mid-twenties depending on which area of the country you visit. The nights can be cool, especially at altitude.
Hits: 12