5 Interesting Facts About Kenya
5 interesting facts about Kenya. When it comes to incredible travel destinations, Kenya is a country that never fails to capture the imagination. Nestled in East Africa, Kenya is a land of astounding natural beauty, rich cultural diversity, and an unparalleled array of wildlife. Whether you're a seasoned traveler or an adventurous spirit seeking new horizons, Kenya has something to offer everyone.
In this blog, we are going to embark on a journey to explore 5 interesting facts about Kenya that make it a must-visit destination for any globetrotter. From thrilling wildlife safaris to unique cultural experiences, Kenya has it all. So, fasten your seatbelts and get ready to be swept off your feet by the magic of this captivating nation.
1. Safari Adventure
Let's begin with a true Kenyan classic, the iconic wildlife safaris. Kenya is renowned worldwide for its breathtaking national parks and game reserves, making it one of the best places on Earth to witness the wonders of the animal kingdom. The Maasai Mara National Reserve, a household name in the safari world, is where millions of wildebeest and other creatures participate in the mesmerizing Great Migration. Picture yourself in a safari vehicle, surrounded by the "Big Five" – lions, leopards, elephants, buffaloes, and rhinoceros. In Kenya, this adventure is more than just a dream; it's an unforgettable reality.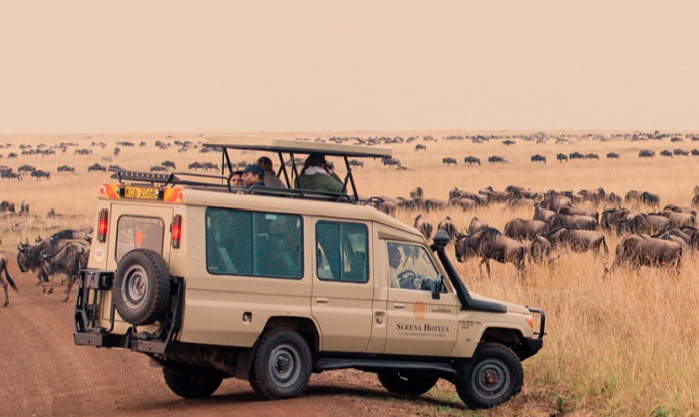 2. Cultural Kaleidoscope: From Maasai Heritage to Swahili Charms
Kenya's cultural tapestry is a mesmerizing blend of tradition and diversity. Among its standout features are the Maasai people, who grace the land with their iconic red attire and rich beadwork. Their semi-nomadic lifestyle, traditional dances, and deep connection to nature provide a captivating glimpse into a culture that seamlessly coexists with wildlife.
On the coastal shores of Lamu, the Swahili culture unfolds in a UNESCO World Heritage site. Here, the narrow streets of Lamu's Old Town are steeped in history, offering a journey back in time. The fusion of Arab, Persian, and African influences is evident in the architecture, cuisine, and warm hospitality. Dhow races, intricate henna art, and the call to prayer from the island's mosques create an enchanting atmosphere that contrasts beautifully with Kenya's bustling urban life.
From the Maasai's profound connection to the land to the timelessness of Lamu's Swahili charm, Kenya's cultural experiences promise to be indelible moments that stay with you long after your journey ends.
3. The Marvelous Great Rift Valley 
As we venture deeper into the heart of Kenya's intrigue, we can't overlook the awe-inspiring geological wonder known as the Great Rift Valley. Stretching majestically across the country, this colossal trench is a testament to the Earth's ever-evolving landscape.
The Great Rift Valley's dramatic landscapes are more than just a sight to behold, they are a living testament to the Earth's geologic history. As you stand on the rim of the valley, you will witness breathtaking vistas, from lush savannahs to dormant volcanoes and sparkling lakes that glisten under the African sun.
But the Great Rift Valley is more than just a pretty face, it's a geological treasure trove. Within its depths, you willl find hot springs, geysers, and ancient volcanic craters. The valley's diverse ecosystems support a rich variety of flora and fauna, making it a paradise for nature enthusiasts.
4. A Tale of Two Worlds: Mountain Kenya and the Indian Ocean Coastline
In Kenya, nature's grandeur knows no bounds, as we turn our gaze towards two distinct yet equally mesmerizing landscapes – the regal Mount Kenya and the pristine Indian Ocean coastline.
Mount Kenya: A Climb to the Roof of Africa
Eager adventurers will find their calling on the slopes of Mount Kenya, the second-highest peak on the African continent. Here, the challenge of conquering this majestic mountain is rewarded with breathtaking views and an indelible sense of accomplishment. As you ascend through lush forests and alpine meadows, you will witness a diverse array of flora and fauna, making each step a true immersion in nature's beauty. Reaching the summit, with its frosty glaciers and a sense of being on top of Africa, is an experience that lingers long after you've descended.
Indian Ocean Coastline: Where Paradise Meets Culture
On the opposite end of the spectrum, Kenya's Indian Ocean coastline offers a peaceful escape where white sandy beaches meet the crystal-clear waters of the Indian Ocean. Here, relaxation and rejuvenation are the name of the game. Whether you are unwinding on the pristine shores of Diani Beach or exploring the underwater wonders in marine reserves, the coast offers idyllic settings for a tropical getaway.
Yet, this isn't just a sun-soaked paradise, it is a region steeped in history and culture. From the ancient port town of Lamu, with its well-preserved Swahili heritage, to the vibrant coastal cities of Mombasa and Malindi, the coast offers a blend of laid-back charm and rich traditions. The coastal cuisine, a fusion of African, Arab, and Indian influences, is a gastronomic delight that should not be missed.
These two worlds, with their stark contrasts and unique allure, are but a glimpse into the diversity of Kenya. Whether you are drawn to the thrill of a mountain expedition or the serenity of a beachfront escape, Kenya's offerings are as varied as they are captivating.
5. Lake Turkana
In Kenya, the surprises never end, and Lake Turkana is a prime example. This is the world's largest permanent desert lake, nestled in the arid north. With its strikingly vibrant, turquoise waters, it's an oasis in the midst of the desert, offering life and sustenance where you'd least expect it. But Lake Turkana is more than just a beauty in a harsh landscape; it's a treasure chest of paleontological wonders. The region has yielded some of the world's most significant fossil discoveries, including the famous Turkana Boy.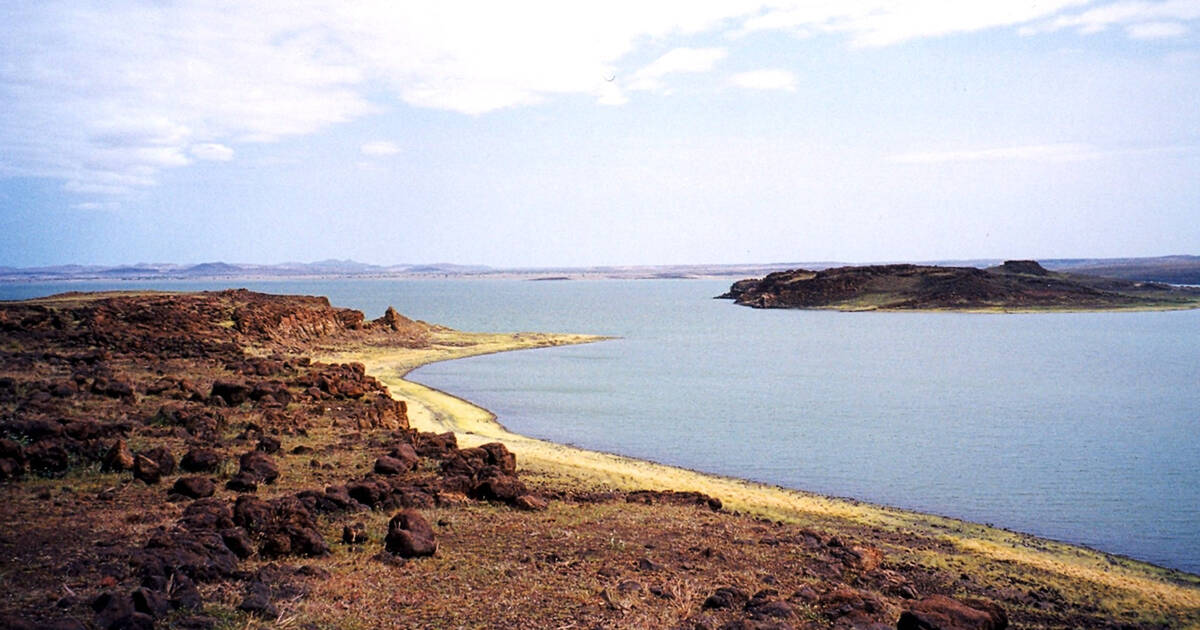 Remote and serene, Lake Turkana offers an off-the-beaten-path adventure. Camping under the African skies, encounters with local tribes, and flamingo-filled shores make for a remarkable experience. Lake Turkana is a testament to Kenya's diverse landscapes, revealing an unexpected side to the country's natural beauty and a gateway to our ancient past.
How To Get To Kenya
Getting to Kenya is easier than you might think, making it a top destination for travelers worldwide. Nairobi's Jomo Kenyatta International Airport, one of East Africa's largest and busiest airports, serves as the primary gateway. It connects to major cities across the globe, offering a seamless entry point.
Additionally, the coastal city of Mombasa boasts Moi International Airport, providing access to Kenya's stunning Indian Ocean shoreline. Once you've touched down in Kenya, an efficient domestic flight network and well-maintained road infrastructure make traveling within the country a breeze. Whether you're embarking on a wildlife safari, ascending Mount Kenya, or relaxing on the pristine beaches, Kenya's accessibility ensures that your adventure begins the moment you arrive.
Kenya's Mesmerizing wildlife
As we venture deeper into the heart of Kenya, our journey takes an exciting turn toward the untamed world of its remarkable wildlife. Kenya's diverse landscapes and ecosystems are a haven for a stunning array of creatures, from the majestic Big Five to unique and rare species. In this segment, we'll embark on a thrilling safari through the facts and fables of Kenya's animal kingdom, discovering the captivating stories of these incredible inhabitants. So, join us as we set out to explore the wild wonders that make Kenya a truly extraordinary destination for animal enthusiasts and adventure seekers alike.
The Big Five: Kenya's Iconic Wildlife Parade
Kenya is home to the world-famous Big Five (lions, leopards, elephants, buffaloes, and rhinoceros). Embarking on a safari in Kenya's national parks and reserves allows you to witness these majestic animals in their natural habitats. Whether it's the elusive leopard lurking in the acacia trees or the powerful elephant herds crossing the savannah, these iconic creatures are a sight to behold.
 The Great Migration: A Wildlife Spectacle
Kenya hosts one of the most awe-inspiring wildlife spectacles on the planet, the Great Migration. Millions of wildebeest, zebras, and gazelles traverse the Maasai Mara and Serengeti ecosystems in a relentless pursuit of greener pastures. Witnessing this massive migration, with river crossings teeming with crocodiles and dramatic predator-prey interactions, is a once-in-a-lifetime experience for any wildlife enthusiast.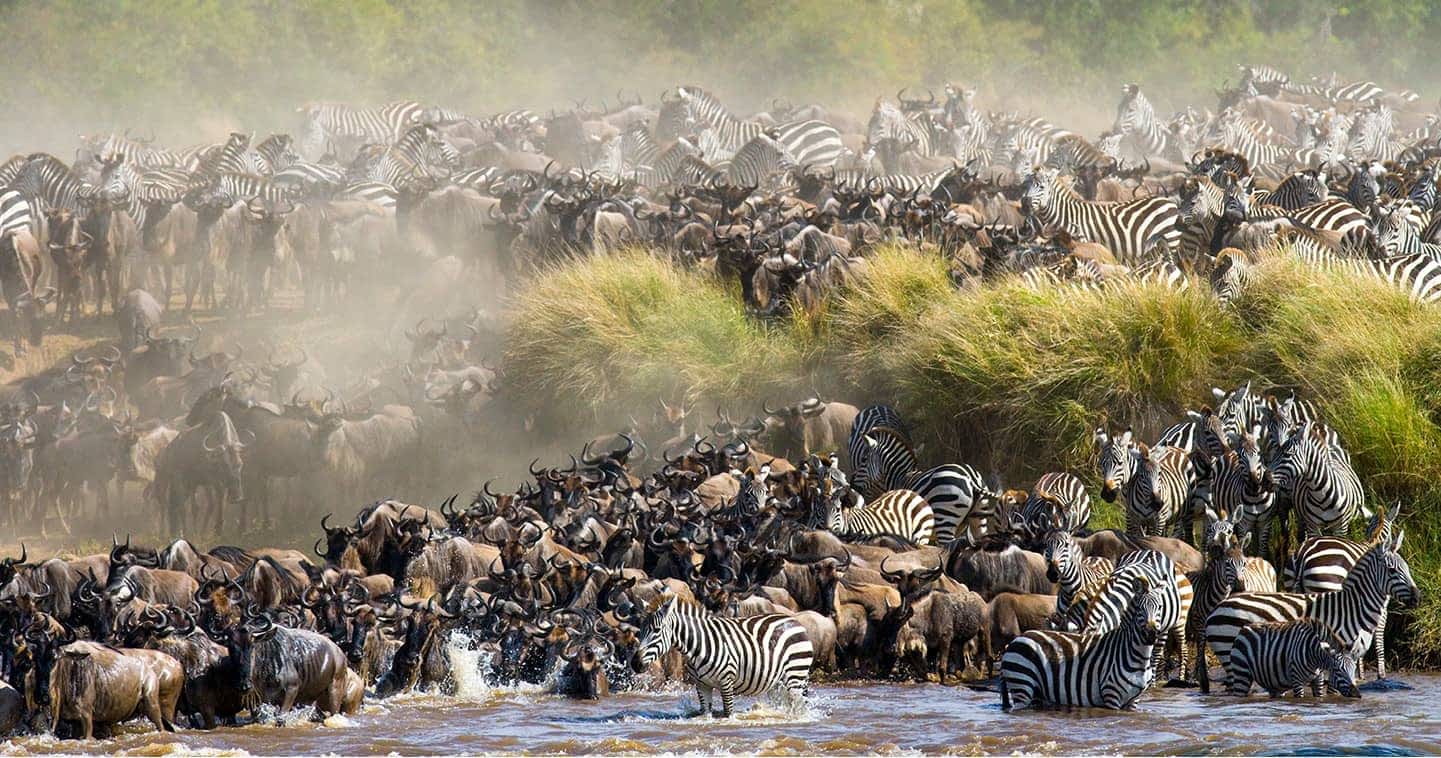 Flamingos of Lake Nakuru
Lake Nakuru National Park is renowned for its vast flocks of flamingos that turn the lake's waters into a sea of pink. Beyond flamingos, the park is a sanctuary for a diverse range of bird species, making it a birdwatcher's haven. The park also hosts black and white rhinoceros, among other wildlife, making it a compact yet rich destination for animal enthusiasts.
Amboseli's Elephants
Amboseli National Park, set against the striking backdrop of Mount Kilimanjaro, is famous for its herds of elephants. Known for their large tusks and regal presence, these elephants offer superb photographic opportunities. Observing them against the snow-capped Kilimanjaro is a breathtaking experience that truly captures the essence of Africa.
Samburu's Unique Species
The Samburu region in northern Kenya is a haven for unique wildlife species not easily found elsewhere. Here, you can spot the reticulated giraffe, Somali ostrich, Grevy's zebra, and Beisa oryx. The Samburu landscapes are a mix of arid beauty, Ewaso Ng'iro River oases, and diverse ecosystems, making it a distinct and remarkable safari destination for those who seek to encounter Kenya's less common animals.
Grevy's Zebra 
Accommodations in Kenya: Where Luxury and Nature Embrace
Safari Lodges: Where Luxury Meets the Wild
In Kenya, safari lodges offer a unique blend of opulence and immersion in the wild. Imagine waking up to the sight of elephants at a watering hole from your plush bedroom window. Many lodges are strategically positioned to provide guests with front-row seats to the natural world's most spectacular shows. From the Mara Serena Safari Lodge overlooking the Maasai Mara to the intimate elegance of Elsa's Kopje in Meru National Park, Kenya's safari lodges offer an unforgettable safari experience in the lap of luxury.
Tented Camps: Rustic Comfort in the Wilderness
For a more immersive experience, Kenya's tented camps provide the perfect balance between rustic charm and modern comfort. Nestled in the heart of the national parks, these camps allow you to stay close to nature without compromising on comfort. Camps like Governor's Camp in the Maasai Mara or Porini Amboseli Camp offer a unique way to experience Kenya's wildlife, as you fall asleep to the sounds of the African bush while still enjoying the comforts of en-suite bathrooms and sumptuous meals.
Beachfront Resorts: Coastal Luxury
Kenya's Indian Ocean coastline offers an array of beachfront resorts, ideal for those seeking relaxation by the sea. From the elegant charms of Watamu's Hemingways Watamu to the all-inclusive paradise of Diani's Leopard Beach Resort & Spa, these resorts provide a tranquil escape, complete with pristine beaches, crystal-clear waters, and a range of amenities for the ultimate coastal getaway.
Treehouse Retreats: Sleep in the Canopy
For a unique experience, Kenya's treehouse retreats offer an opportunity to sleep amidst the treetops. Treehouses like the famous Ngong House in Nairobi provide a charming escape where you can enjoy the sounds of the forest while still enjoying modern comforts. These retreats offer a romantic and immersive way to connect with nature.
Cultural Homestays: Authentic Encounters
For travelers seeking a deeper cultural experience, Kenya offers homestays with local communities. Staying with Maasai or Samburu families, for example, allows you to immerse yourself in their traditions, share stories around the campfire, and experience their daily way of life. It's an authentic and heartwarming way to connect with the people of Kenya.
Kenya's accommodations cater to a wide range of tastes and preferences, ensuring that no matter where you stay, you'll be surrounded by the breathtaking landscapes and vibrant culture that make this East African gem so enchanting.
Amenities offered in Kenya
Infinity Pools with a View: Where Relaxation Meets Wildlife
One of the unique amenities offered by some of Kenya's lodges is the infinity pool. Imagine taking a leisurely dip while overlooking the sprawling savannah, where elephants, giraffes, and antelopes roam freely. Lodges like Angama Mara in the Maasai Mara and Saruni Samburu offer this breathtaking experience, allowing you to unwind in style while staying connected with Kenya's incredible wildlife.
Outdoor Bush Showers: Refreshing in the Wild
Nothing quite matches the feeling of taking an open-air shower surrounded by the sights and sounds of the African bush. Many lodges and tented camps in Kenya offer this refreshing amenity, allowing you to cleanse your body and soul under the vast African skies. It's a unique and rejuvenating way to connect with nature.
Gourmet Dining Under the Stars: Culinary Delights in the Wilderness
Kenya's lodges and camps often go to great lengths to provide an exceptional dining experience. Picture savoring a gourmet meal under a star-studded African night sky, with the sounds of the wild as your background music. Lodges like Finch Hattons in Tsavo National Park and Cottar's 1920s Camp in the Maasai Mara offer exquisite bush dining, creating unforgettable moments for their guests.
Guided Bush Walks and Nature Drives: Getting Up Close
Many lodges include guided bush walks and game drives as part of their amenities. Highly trained guides take you on safaris, bringing you close to Kenya's incredible wildlife. Exploring the savannah on foot or in a safari vehicle allows for intimate encounters with animals and birds while gaining deeper insights into their behavior.
Cultural Experiences: Immersion in Kenya's Heritage
Kenya's accommodations often incorporate cultural experiences into their offerings. You can take part in Maasai dances, visit local villages, and even engage in conservation efforts alongside the lodge staff. These experiences provide a meaningful connection with the local culture and offer a chance to give back to the communities you visit.
Kenya's lodgings are about more than just comfortable beds; they're gateways to unforgettable adventures and meaningful connections with the country's natural and cultural wonders. These amenities ensure that your stay in Kenya is as enriching as it is comfortable, making it a journey you'll treasure forever.
Frequently Asked Questions
Is Kenya safe for tourists?
Yes, Kenya is generally safe for tourists, but it's essential to stay informed and take common-sense precautions.
What is the best time to visit Kenya for a safari?
The best time is during the dry seasons, from July to October and January to February, when wildlife is most active.
Do I need a visa to visit Kenya?
Yes, most visitors require a visa, which can often be obtained online or upon arrival at the airport.
Is it necessary to take malaria prophylactics when visiting Kenya?
Yes, malaria is prevalent in many parts of Kenya, so taking prophylactics is advisable.
What's the Great Migration, and when does it occur?
The Great Migration is the annual movement of wildebeest and zebras between Kenya and Tanzania, usually occurring from July to October.
Are yellow fever vaccinations required for Kenya?
If you're traveling from or through a yellow fever-endemic country, a vaccination certificate is required.
What's the local currency in Kenya?
The Kenyan Shilling (KES) is the official currency, and you can exchange money at banks, exchange bureaus, or ATMs.
Hits: 20