Top 15 Best Things To Do In Uganda The Pearl Of Africa
Top 15 Best Things To Do In Uganda, it is one of the most interesting and beautiful holiday destinations in the world for any traveler would love to make the first destination. Whether you are impressed by landscapes, wildlife, culture, or simply seek adventure, Uganda is the perfect destination for you.
1. Go mountain gorilla trekking
Gorilla trekking is one of first interesting thing to do in Uganda. If you are looking for adventure, you can't get any better than this! Uganda has the highest percentage of mountain Gorillas in the world and they are less than 1200 mountain gorillas left in the world's mountain Gorilla population is in Uganda specifically situated at Bwindi impenetrable national park.
Gorilla trekking is therefore both a fascinating and truly unique experience, travelers should make at the top of their bucket lists!
2. Go on safari in Queen Elizabeth National Park
Among the biggest gifts of nature to Africa and the entire world at large the park leaves you wondering, It's the most popular tourist attraction in Uganda and the most visited national park. It is home to over 95 mammals and more than 600 different bird species. The park is also Uganda, the Pearl of Africa's most popular tourist destination. A variety of trees, vegetation, hills, valleys, and crater lakes can all be seen and found there.
The animal species include lions, buffaloes, warthogs, hippos, crocodiles and elephants. You can spot them all at close range.
What is more interesting, you can see the park's tree-climbing lions! Very few African lions climb trees. And nobody knows the truth why a handful of lion populations in Uganda go up trees when their brethren don't. Some think they climb trees in order to avoid tsetse fly bites. Others believe it's a way of them escaping the heat on the ground.
3. Visit Murchison Falls
Murchison Falls became one of Uganda's first national parks in 1952. These beautiful falls are surprisingly the most powerful in the whole world and for no other reasons would you want to miss out on this awesome phenomenal. They lie between Lake Albert and Lake Kyoga on Victoria Nile.
You can be able to take pictures of the fall and share beautiful memories with your friends back home. The mighty River Nile flows through the park creating a powerful phenomenon at the kabalega falls
Today, you can expect to see elephants, crocodiles, endangered giraffes (more on these below), leopards, hartebeests, oribis, Uganda kobs, buffalos, hippos, antelopes and waterbucks.
A visit to Murchison Falls would not be complete without visiting the falls themselves up close in person. You can do this on an unforgettable boat cruise.
4. Trek to see Kibale Forest's chimpanzees
Kibale National park is the primate capital of the world; the park has the largest concentration of chimpanzees in the world which is about 4950 chimpanzees. It's not only the gorillas that attract animal lovers to Uganda. Chimpanzee trekking is also a fascinating experience and one you won't forget in a hurry while selecting a safari tour in Uganda
On a chimp tracking excursion, you go on a guided hike through beautiful Kibale Forest to find a troop. Once you find them, you spend about an hour with them, observing them eating, grooming, playing and maybe even swinging from one tree to another if you are lucky enough.
5. Hike in the Rwenzori Mountains
Rwenzori Mountain is located within the vicinity of Kibale forest national park and Queen Elizabeth national park, just like lake Albert is one of the recommended must-visits in Uganda for being the lowest point in Uganda at 621 meters above sea level; Rwenzori mountains have the highest point in Uganda recorded at 5109 meters above sea level.
Visiting Rwenzori mountains national park offers the opportunity for climbing the Rwenzori mountain up the highest point in Uganda. This hike usually takes 7 days.
Rwenzori Mountains National Park is the only place in Uganda where you can find snow. After enjoying the tropical climate on your Uganda safari; hiking the Rwenzori gives you a special feel of a totally different environment that many are not even aware exists in Uganda.
6. Visit endangered rhinos
The only wild rhinos in Uganda are proudly housed in ziwa rhino and wildlife ranch, which is located in the Nakasongola areas.
Rhino tracking is the major activity carried out and the visitors usually trek the rhinos on foot once you reach near the rhinos with a car, the guides will take you on foot 7 meters close to the rhinos. You will enjoy these animals continuously feeding on fresh vegetation without bothering your presence.
The rhinos are the major attractions but the ziwa rhino sanctuary has a sizeable number of butterflies, reptiles and mammals. Small primates are found in the sanctuary normally black monkeys
Watch the rhinos at close range on a one to two hour trek whilst they roam in their natural habitat. This is a spectacular African experience not to be missed!
7. Canoe on Lake Bunyonyi
It is believed to be the second deepest lake in Africa,Lake Bunyonyi is one of the country's top natural treasures.
Lake Bunyonyi is framed by lush, terraced hills, but it's the 29 islands of various shapes and sizes scattered across the water that make it most magical.
It's the perfect place to relax, explore the neighborhood on a quad bike or go bird watching. The word Bunyonyi in the local language actually means 'birds', and yes, you guessed right – it's thus called because the lake is home to an extremely broad range of bird species! Get your camera ready and check out those stunning views and the birds flying in the skies.
8. Take a boat safari on Kazinga Channel
A narrow stretch of water connecting Lake Edward and Lake George, this channel is among the most important features in the Queen Elizabeth National Park and can't be missed while making a safari to Uganda.
The park is known for being home to the world's largest concentration of hippos, who happen to live side by side with Nile crocodiles.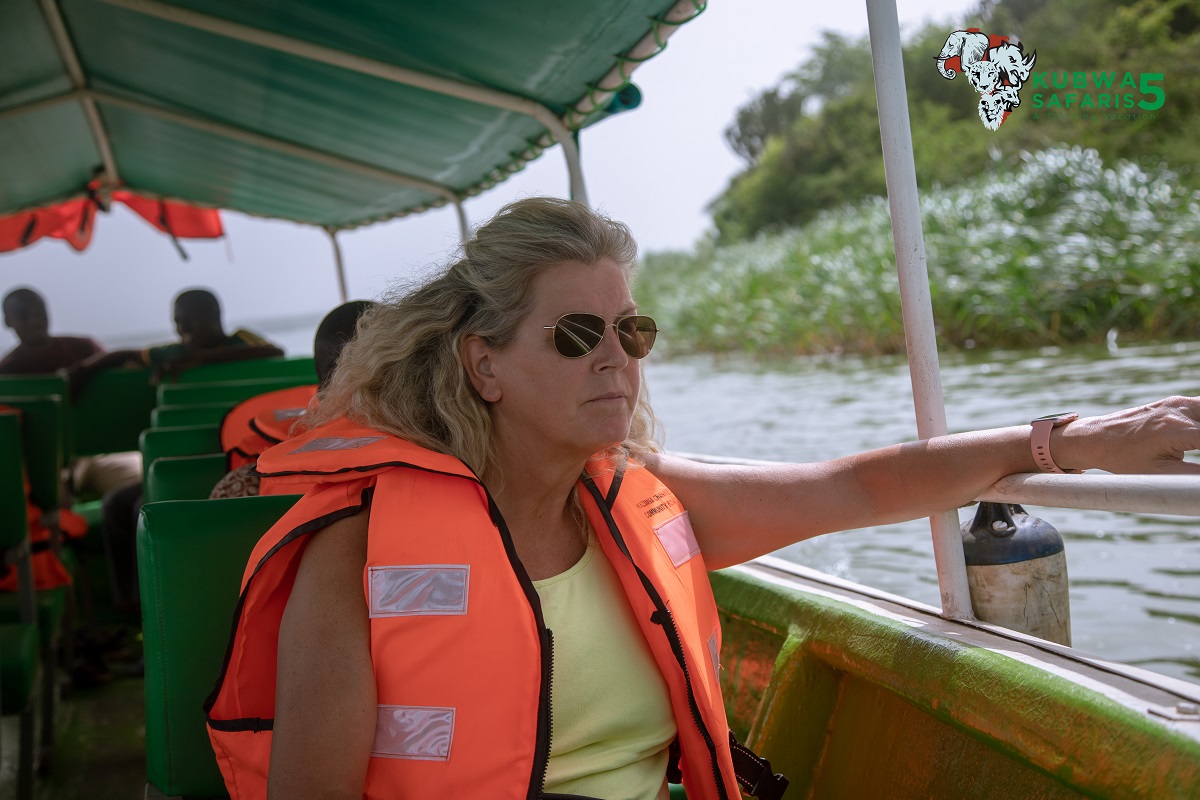 Climb aboard and explore the wonders of the Kazinga Channel from a panoramic view. Soak up the sights of energetic elephants and bathing buffaloes as an expert ranger guides you through the flora and fauna of Queen Elizabeth National Park.
9. Visit the salt pans of Lake Katwe
Lake Katwe is a traditional salt-mining lake known for its high-quality salt. Small salt mines make a pretty pattern on the edge of the lake. The trip safari recommends popping by on your way to Queen Elizabeth National Park to see how the local community mines the salt.
Visiting this site can add an extraordinary experience that can give you areal African experience of salt mining and living condition. You are able to interact with the local community and see how the whole activity is being undertaken.
10. Cultural interaction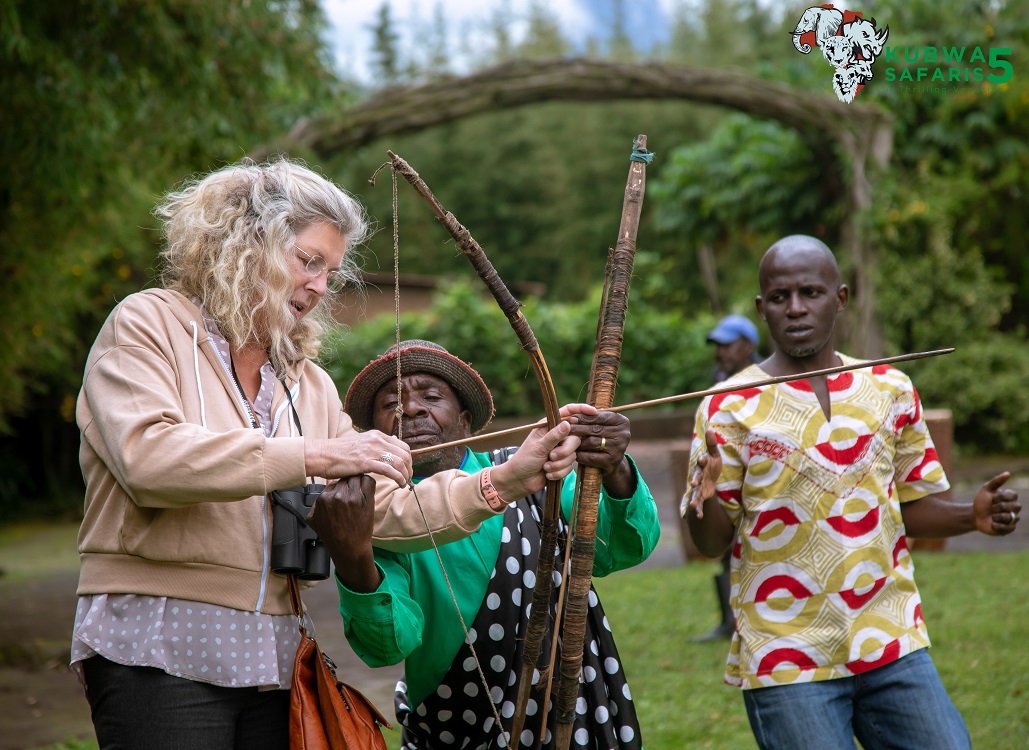 Uganda the pearl of Africa  has a very wide cultural heritage. For example many regions and king doms including Buganda, Busoga, Bunyoro and Tooro kingdoms. Ugandans are remarkably hospitable and have a diversity of rich culture and life styles, each tribe has its own traditional dance. The Banyoro preform their Runyege, the Banyankole perform Kitagururo dance,Acholi has the Bwora and Otele dances.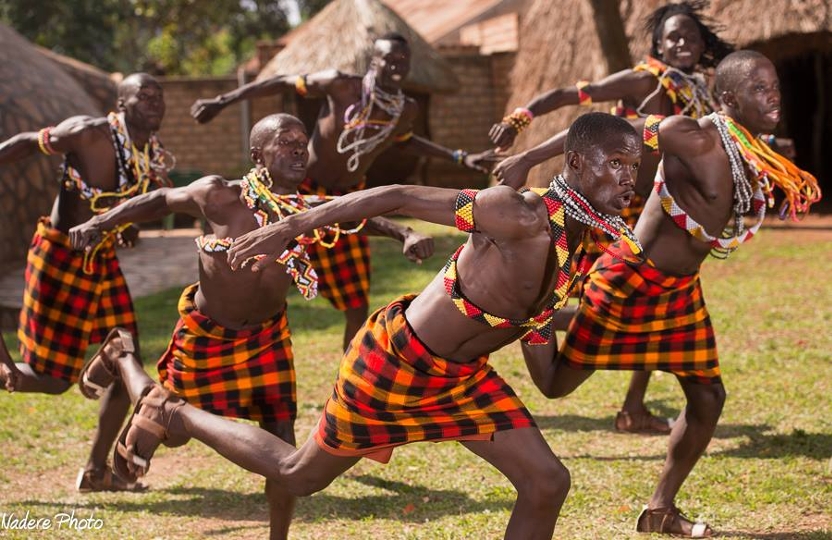 Culture and Traditions are also expressed through a wide range of arts and crafts made made from wood,papyrusreeds and local materials. And the include the beaded jewerly,wood carvings and Batiks. They can be found all over the city in some villages and communities, gift shops, hotels, urban galleries and the National Theatre market. While on your U ganda safari consider taking on a cultural tour to the known destinations.
11. Heritage Centres
Uganda has a very wide cultural heritage, for example the Kabaka's Palace and the Kasubi Tombs in  Kampala located five  kilometres from kampala city  the capital of  Uganda to Kasubi hills.
It is a UNESCO heritage site and the Tombs are burial grounds for four kings of Buganda Kingdom reffered to as the "Kabaka." Alot of royalty and respect is paid to this site and it holds numerous historical treasures of Buganda kingdom. It is a place worthy visiting while in Uganda.
12. Visit the Baha'i Temple
Uganda is the only place with Baha'i temple in Africa. The temple is built on top of a hill and offers great views of Kampala city The Baha'i faith unites all races and teaches the true values of humanity while focusing on human rights. A single Baha'i temple is built in every continent.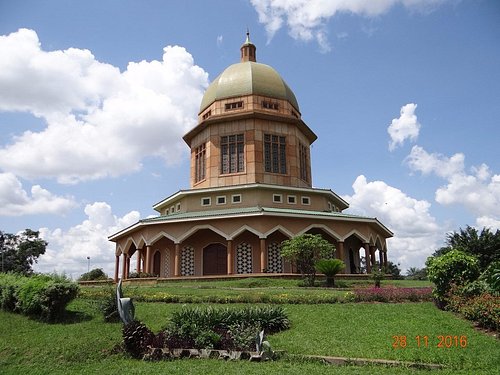 The temple has a beautiful compound with flowers, trees and well maintained lawns. Tourists go to the temple for picnics, relaxation, photos shoot or to just marvel at the unique architecture.
13. Water Rafting On River Nile
Water rafting is Considered as one of the best white water trips in the world, no safari to Uganda would be complete without truly experiencing the Nile from its source. River Nile offers some of the best  raising activities on earth like Bungee jumping, Quad biking, horseback riding and Whitewater rafting.
Whitewater rafting is a great sport that teaches how to remain calm under great pressure. The opportunity to do whitewater rafting from the longest river on earth is amazing. It is one of the best things to do in Uganda.
14. Explore the town of Kampala
Kampala City offers tourists many stunning attractions, captivating sites, and monuments. It is a modern city with all the facilities and amenities that today's travelers needs. For example you get a chance to visit the Uganda National Mosque formally known as Gaddafi national Mosque which is the biggest mosque in East Africa located on the top of Old Kampala Hill about 2 kilometers from Kampala City Center.
The mosque is on the upper floor which is only opened on special occasions like weddings and Eid days while the offices are on the ground floor which is open at all times. All tourists are well come to visit the Gaddafi Mosque and should dress modestly.
15. Explore the town of Entebbe
Entebbe is a small, green and laidback town on the shore of Lake Victoria. It's a fantastic Huber for adventure sports, exploring nature and cultural activities.
Visit Lake Victoria, Lake Victoria is the largest fresh water lake in Africa. It is also the second largest in the world after Lake Baikal in Siberia. The lake is one of the leading tourist sites in Uganda and Entebbe is arguably the best place to explore it.
Entebbe International Airport is just next door and this makes it the perfect overnight stop on your way in or out of Uganda.
Some of the activities at Entebbe include:
Horse riding
Visiting Entebbe Botanic Gardens.
Shopping at the craft markets
Exploring the impressive Uganda Wildlife Conservation Education Centre
Sports is a vastly popular cultural activity in Uganda.
Boasting the highest number of mountain gorillas worldwide
What is the coolest place in Uganda?
Jinja and Lake Victoria
Sipi Falls.
Kidepo Valley National Park.
Murchison Falls National Park.
Ziwa Rhino Sanctuary.
Kibale Forest National Park.
Crater Lake Area.
Bigodi Wetland Reserve.
Hits: 15