Best 5 Safari Lodges In Khaudum Park In Namibia
Khaudum National Park is an isolated Nature Reserve situated in the Kalahari Desert at the west of the Caprivi Strip in northeast of Namibia. It is a very remote and inaccessible reserve but is home to some magnificent animals, such as the lion and hyena. The best 5 Safari Lodges are in Khaudum park are not only based in the park but also near the park. The park also has a campsite for visitors. The dominant vegetation in the park is species-rich, high and short dry forest and dry acacia forest.
Trees can reach a height of up to 10 m and have a relatively dense undergrowth. In contrast to the dry high forest the trees in the lower forest reach less than 5 meters height. Species include Lonchocarpus neisii and Terminalia sericea, interspersed with Faidherbia albida and Grewia. Along the Omuramba is denser acacia dry forest, often with very large population of thorn bushes including Acacia erioloba, Acacia fleckii, and Acacia tortilis together with occasional Combretum imberbe and Combretum hereroense.
The unspoiled nature of the reserve encourages a rich and varied wildlife in the dry forest. The best time for seeing wildlife is from June to October. From November to March, more than 320 species of birds inhabit the area, including parrots and more than 50 birds of prey. Big game can be found in the park occasionally, more than 500 African bush elephants, many Angolan giraffes and many antelope, including roan antelope, kudu, lyre antelope, eland and reed buck. Even the stock of prey animals is high.
Besides the smaller cats, there is a larger population of lions, but also leopards, spotted hyenas, jackals, occasionally cheetahs and even African wild dogs. The accommodation in the park is not so developed meaning that there are few accommodations in the park. The accommodations may or may not be inside the park but near the park which means easy access to the park. The safari lodges in Botswana are classified into 3 namely; Luxury, mid-range, and budget option accommodations.These accommodations are as follows;
Luxury lodges In Botswana
These are the accommodations that are made for the guests or tourists that are willing to live luxuriously or willing to pay astronomical wages to live luxuriously in Botswana. Accommodations near Khaudum park include;
1. Nhoma Safari camp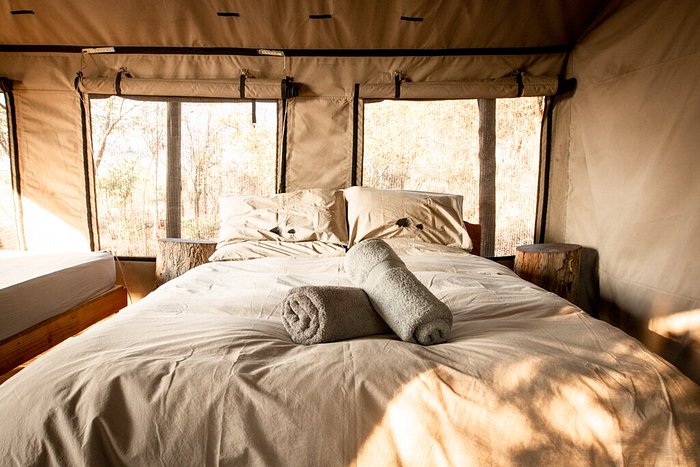 This is a small, activity orientated tented camp located 80 km from Tsumkwe within the traditional area of the San or Bushmen. This is one of the best 5 safari lodges in Khaudum park. The camp is adjacent to a native village and, on a four-wheel drive track, is 40 km from the Khaudum National Park. Accommodation comprises 10 safari tents with proper beds and en-suite bathrooms offer 180-degree views over the Nhoma Omuramba fossil river bed, with meals and drinks provided in the central dining area.
There are no electrical points in the tents, but batteries can be charged in the dining area and all lights are solar powered. Activities consist of traditional games, hunt and the making of hunting equipment. This can be followed by the powerful healing dances. A five-day bush craft and tracking course is also offered on set dates. The best Bushman hunters will demonstrate and teach their hunting techniques, with special emphasis on reading tracks.
In addition, day and overnight tours are offered to the Khaudum National Park and can be added on to the normal two-day stay. Khaudum escorts, whereby a guide and vehicle accompany a group through the park, are also offered.
2. Shamvura Camp
The camp is 97.43 km from the national park. Situated high on a prominent sand dune, fronted by the meandering Okavango River,the Shamvura Camp offers visitors more than 15 km of a pristine river system with a vast floodplain. Together with the added advantage of being surrounded by the riverine forest, woodland and extensive floodplains that have created a haven for a large diversity of fish, birds and other wildlife, the camp offers you accommodation in the heart of it all.
Isn't this amazing, this makes it one of the best 5 safari lodges in Khaudum park. . The Shamvura Camp strives to offer guests a personalised service, and succeeds with a range of activities, that include river boat trips for fresh water anglers and excellent birding. We also cater for those who just wish to experience the Okavango River at sunset. Guests can take specialist bird tours in the surrounding woodland area, with experienced and expert guides available.
For those who wish to just relax they are welcome to make use of our pool or unwind on our deck overlooking the river and floodplains.
3. Shankara rest Camp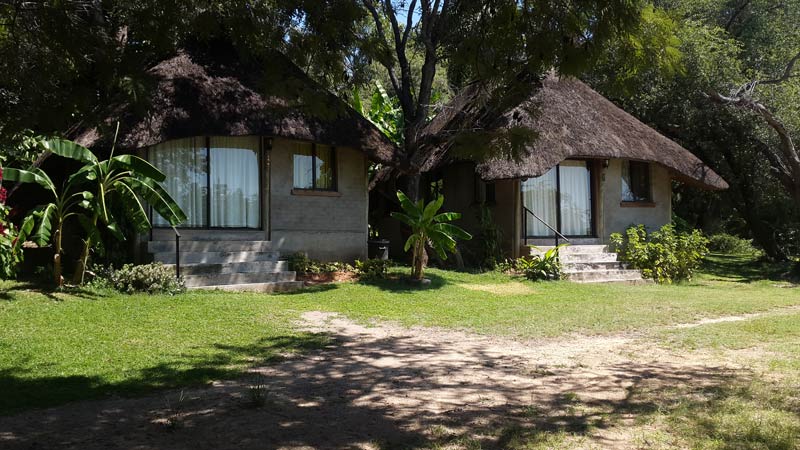 The camp is 99 km from the national park. Shankara Rest Camp is located at the Kavango river, 81 kilometers east from Rundu. Shankara Rest Camp offers a full relaxing atmosphere, beautiful garden with luscious lawns, under huge shady indigenous trees. Perfect for nature photography and bird watching. At Shankara Rest Camp they have 6 fully equipped self catering chalets & 15 camping facilities with electricity.
Outdoor relaxing facilities with river view, swimming pool, BBQ areas and free parking. For the bird lovers, they have more than 90 different species of birds residing for example the Sharp tailed Starling and Sousa's Shrike nearby. We offer sunset cruises, hippo, crocodile & otter viewing and fishing trips. They are well known for our successful fishing trips. Some of these activities prove that this is one of the best 5 safari lodges in Khaudum park.
Guides that have more than 25 year experience, knowledge of the river system and fishing methods and is well known all over the world. Tiger fish, many fish species and catfish are the most popular amongst the anglers. Biggest fish caught and released was Tiger 8.5 kg, Nemwe 3.5kg and Catfish 14 kg.
4. Kayova river lodge
The lodge is 94.51 km from the national park. Kayova River Lodge is situated in the beautiful Kavango region in Namibia. It is set on the border of Angola and is the ideal getaway for nature lovers. There are thatched-roof bungalows in this lodge. Each one of the air-conditioned bungalows have two bedrooms and en-suite bathrooms. Guests can relax in the lodge's bar, on the outside terrace or next to the swimming pool. Making it one of the best 5 safari lodges in Khaudum park.
There is also a African-themed restaurant that serves local and international cuisine while guests look out onto the river. There are so many activities to enjoy at this lodge. Guests can view the hundreds of bird species, the wide variety of game, and go fishing or book a tour or a cruise.
5. Rainbow River Lodge
The lodge is 133.67 km from the national park. Rainbow River Lodge lies on the banks of the Okavango river in the North of Namibia near Bagani and Divundu. They have 27 en-suite chalets and 20 riverside campsites with power points, ablution blocks, hot water and grass areas. There are 84 bird species and two game parks nearby, Mahango and Buffalo parks. In the parks you can see four of the big 5. We do fishing charters.
We do boat trips on the river to Popa Falls, you can see hippos, crocodiles and birds. Guided village walks to the local people. Bird watching, fishing, swimming in our pool or relaxing on our sun deck complete the menu. A restaurant and bar facilities available. One can expect quality service, accommodation and food at very reasonable prices. All our activities were rated at a high standard and are very popular. This is truly Africa.
Mid- range accommodations
These are accommodations that are made for the the guests or tourists that are willing to live luxuriously in Botswana but are not willing to pay huge amount of wages to do it. Accommodations near Khaudum park include;
1. Shametu River Lodge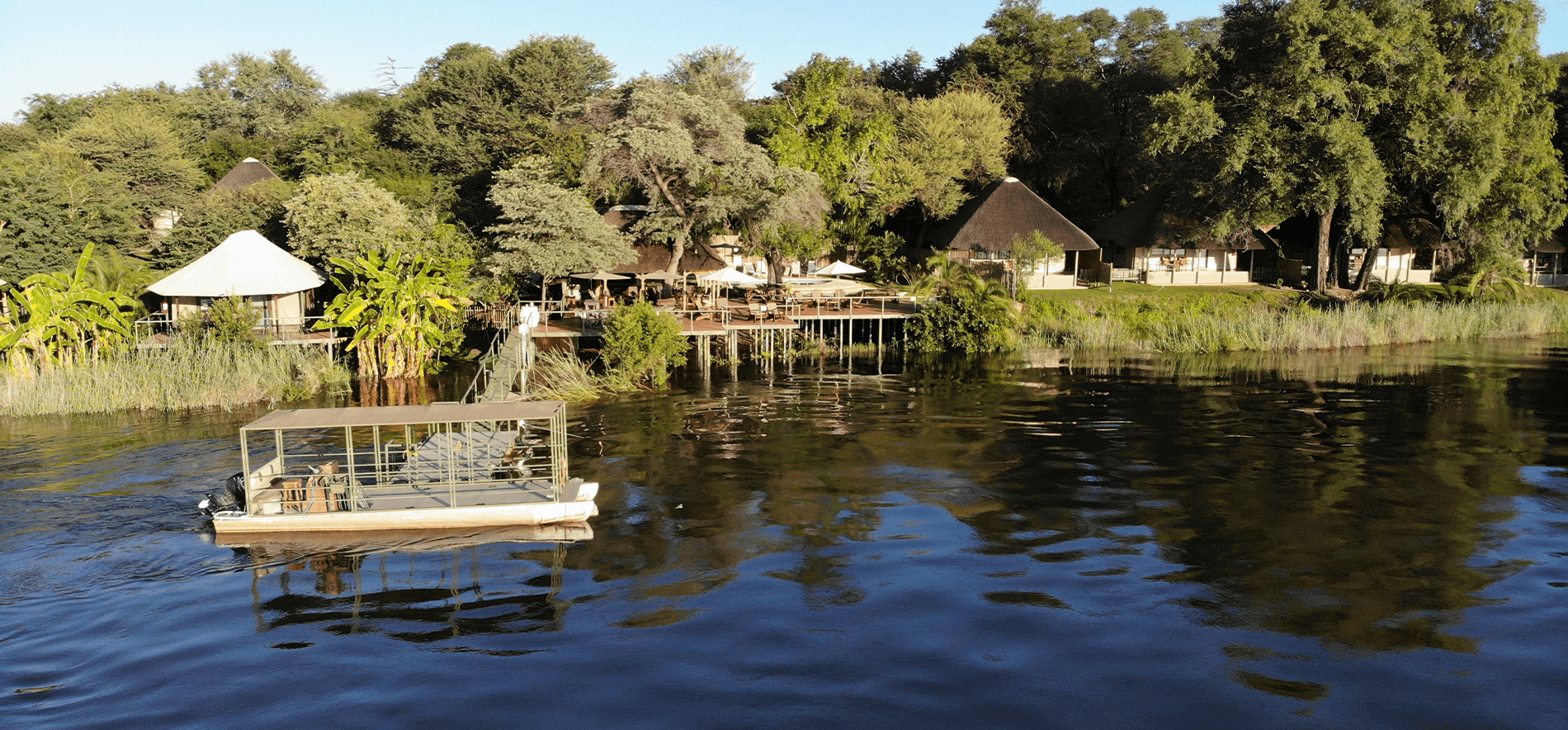 This lodge is 135.54 km away from the national park. Shametu River Lodge is in close proximity to the Botswana Mohembo border which is the gateway to the well-known Chobe Game Reserve in Botswana where you can relax and be peaceful with the most amazing view of the Popafalls. Shametu River Lodge offers four different types of accommodation:
four Luxury Chalets, four Luxury Tents on the riverfront, seven Standard Chalets; one wheelchair-friendly unit, and one family self catering unit, as well as seven Campsites on grass plains with shaded trees, with each their own bush kitchen, ablution and electricity. The property also has a restaurant, bar, swimming pool, lounge area, Wi-Fi, and wooden deck with beautiful views over Popafalls. This makes Shametu one of the best 5 safari lodges in Khaudum park.
2. Nkwazi lodge
The lodge is 135.54 km away from the national park. Nkwazi, an African-style lodge, is a secluded paradise in a tranquil environment, that is tucked away among lush riverine vegetation on the banks of the perennial Kavango River. Situated 21 km East of Rundu, the accommodation can be reached by almost all modes of transport, from bicycles to Overland trucks.
Activities that are done around and in the area include bird watching, traditional dances, sun downer boat cruises on the Kavango River and guided community village and school visits. One can use this to their advantage because it is one of the best 5 safari lodges in Khaudum park.
3.Mobola Lodge
The lodge is situated at 124.7 km away from the national park. At Mobola Lodge one can enjoy the absolute beauty of the Okavango River as well as the uniqueness of the indigenous fauna and flora of this region in Namibia. A comfortable stay and private atmosphere are promised, with the sweet serenades of the bush and rushing river to keep you company. This alone makes it one of the best 5 safari lodges in Khaudum park.
Self-catering accommodation is offered in three thatched bungalows and in six powered campsites. Mobola Lodge offers activities such as fishing trips on the Okovango River, tours to traditional villages, quests to the beautiful islands and action packed Mobola rapids. Drives to Buffalo Park, Mahangu Park and the Popa Rapids are all within short driving distance.
4. Tucsin Tsumkwe Lodge
The accommodation is 83.87 km away from the national park. Tucsin Tsumkwe Lodge offers 23 en-suite accommodation units. The lodge is your ideal base from where to explore Bushman lands pristine wilderness and abundant wildlife within the Nyae Nyae Conservancy and Khaudum National Park.
Half or full day Bushman Village activities add to the cultural aspect of this unique area. Tucsin Tsumkwe Lodge also offers six camp sites with barbecue facilities, communal ablution blocks with hot and cold running water. Each camp site has its own electricity points. This is beneficial to clients because it has some of the attributes others do not have like electricity making it one of the best safari lodge in Khaudum park.
5. Divundu Guest house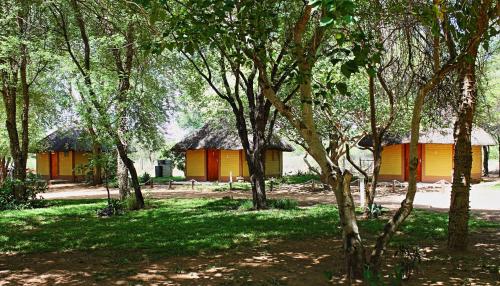 The guest house is 133.97 km away from the park. Divundu Guest House offers budget accommodation where the Main Highway crosses the Kavango River in the west end of the Caprivi Strip in Namibia. It is only minutes from the Popa Falls, as well as the Mahangu and Buffalo Game Parks. There are 4 luxury rooms on the river, 6 private Bungalows with thatched roofs, 30 Backpacker Rooms, and six grassy Campsites available.
Guests can enjoy delicious cuisine in the restaurant or coffee, or peruse the craft center. Activities in the area include game park drives, river rafting and guided cultural tours to Mbukushu homesteads. This is also one of the best 5 safari lodges in Khaudum park because of that.
Budget option accommodations
These are accommodations that are made for guests or tourists that are not willing to pay huge amounts of money or stay luxuriously while in Botswana. These accommodations include;
1. Shawrimbo river camp
Shawrimbo is an accommodation in the tranquility of nature in one of our self-catering pole and canvas chalets overlooking the river. Capturing the breathtaking sunsets from your porch. The Chalets have beds with mosquito nets , extra camp beds for two children can be utilized on request, Each chalet has 12 v solar lighting, en-suite bathroom with hot water, and a fully equipped kitchen.
Exclusive shaded camp sites with separate ablution block. All these are provided making it one of the best safari lodges in Khaudum park.
2. Ndhovu Safari Lodge
This is an accommodation that along the Caprivi strip in Namibia that offers land mark view, family, and non-smoking rooms with features that include, being safe and wide. Other amenities include pool, fishing, BBQ activities and many more. Making it one of the best 5 safari lodges in Khaudum park.
When to visit Khaudum park
The park can be visited throughout the year depending on tourists timetables or schedules, but the best moths to visit Khaudum national park in Namibia is between April and September/October which makes up the dry season. This is the season when the birds migratory birds and animals all look for water because of its scarcity and join in one place to all share the water.
How to get to Khaudum national park
Khaudum park is isolated and situated in the Kalahari  desert at the west of the Caprivi strip in the northeast of Namibia, it is a very remote and inaccessible park but is home to  some magnificent animals. Located 796km northeast of Windhoek. If you are planning to travel by road, you should have a 4×4 vehicle.
The sandy roads are challenging and self drive should only be undertaken by travelers who have a lot of experience with the expeditions. The tours begin in Windhoek. In Windhoek, there is an airport called Hosea Kutako International Airport that you land on after your flight, which is found 40km east of the city.
Accommodation in Khaudum national park
Accommodation in Khaudum national park is based on mainly camping because visitor facilities are not common in the area and if one is willing to live luxuriously, you have to pick a place that is not in the park.
Camps in Khaudum national park
 Onguma Forest camp; The camp provides accommodation, free breakfast, free WiFi, pool activities, air conditioning and others all at a price of USh 1,390,042.
Nhoma Safari Camp; The camp is a small activity oriented, tented camp of Namibia on communal land of the Ju|'hoan San. Offering restaurant, breakfast and others.
Other accommodations near Khaudum national park
 Kololo Guest house; Set 2.8km from Katima Mulilo, offering restaurant, bar and air conditioning with a patio and free WiFi all at a price of USh 164,992.
Namushasha River Lodge, Gondwana collection Namibia; Bordering the Namushasha river, this laid back lodge is 12 minute walk from Namushasha heritage center and 48 km from horseshoe viewpoint. Offering services like accommodation, restaurant.
In conclusion
Kubwa Five Safaris is the only one that can make all this happen if at all you are interested in going for a trip similar to this. Given that we are the ones that took the time to gather for you all this information.
Hits: 21