Best 5 Reasons to Visit Table Mountain National Park
The best 5 reasons to visit Table Mountain National Park in South Africa include; Hiking, Sightseeing, Beaches, Nature and Forest Walks.
Have you known it before that Table Mountain National Park is famous for its 900 different species of fynbos with a unique and urban western natural reserve stretching from north of cape town to southwestern part of cape of Good Hope.This is a natural heritage site and a haven of magnificent mountains plunging into crystal seas fringed with bleached white sand of the cape peninsular.
The mountain is 1086m above sea level and is reachable by cableway, bicycle, automobile and it is one of the parks with richest flora in the region. And is recognized as one of the worlds most remarkable attractions with historic, cultural and recreational features like beaches,
1. Hiking in Table Mountain National Park
The park is located near the city hence makes it easier for the visitors to feel safe Walkers and hikers choose to take varying routes from the light strolls to the tough hikes on top.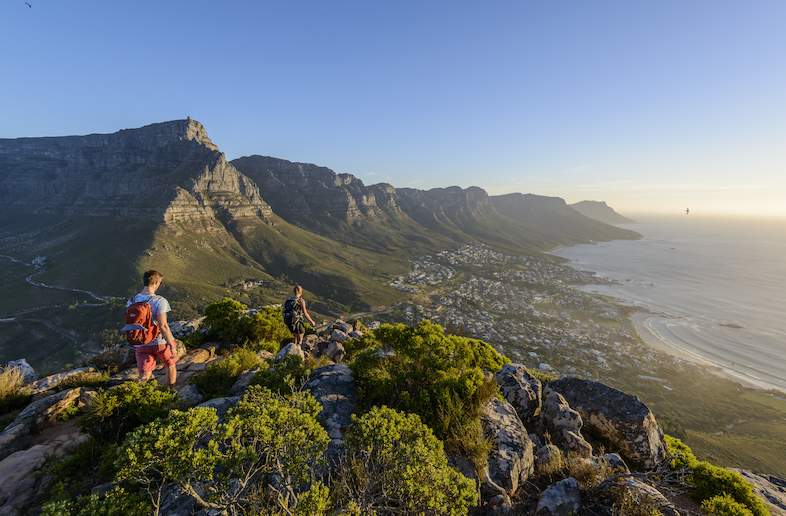 Some of the easier trails include; Constantiaberg, the silvermine which are easier to climb till to and there are some tricky plains are difficult to climb and they include skeleton gorge, platteklip among others thus making it interesting and very special.
You can use the cable car route  to reach up the famous mountain and there are various hiking trails that lead up to the mountain. The routes depend on fitness with  Plattes as it is known by the locals, and thus making it easier to climb thus experiencing the nature and the freshness of African wilderness
2. Sight seeing in Table Mountain National Park
Did  you that While at the top of the mountain, you get to see the whole city of Cape Town and the views include; Upper Cable Station, Granite and Malmesbury ancient rocks, the famous Robben Island, Signal Hill, Cape Town Stadium, Sand Dunes at Duinefontein, Molten Reservoir, Foreshore, Castle of Good Hope, District Six, Table Bay, Holland Mountains and Devil's Peak.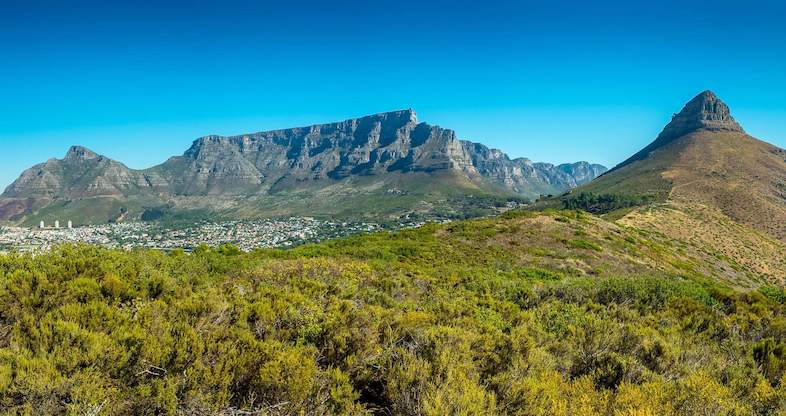 Apart from viewing the city, you will also have have a chance to look at various wild animals like porcupines, mangooses, snakes among others, the different bird species like jackal Buzzard, cape siskin, somber bulbul among others, the beaches around plus the rugged nature of rocks which are beautiful and amazing to look at.
3. Nature in Table Mountain National Park
Have you known it that Table Mountain is one of the new 7 Wonders of Nature. In Cape Town, you will feel privileged to be seeing this landmark oftenly, from wherever you are in the city. it is not only beautiful to admire, but also to explore, and hiking up the mountain and spending some time at the top of the mountain to gain experiences
To all nature lovers globally, you will definitely love what Table Mountain has to offer. you will get a chance of enjoying wonderful views of the rocks, and darting along the rocks, lizards sunning themselves, butterflies flying past.
And lucky enough can even spot a porcupine digging for bulbs. and also experience the birds from the large Verreaux Eagles to the small colorful sunbirds with in the park and other activities like biking diving among others and plant species with amazing flowers thus making the destination unique
4. Beaches in Table Mountain National Park
South Africa has various known beaches and Cape Town's famous beaches, characterized by bleached-white sand and azure seas which  attract hundreds of people through out the year. Regardless of if you're into sun tanning, swimming or surfing, Cape Town has a beach for you.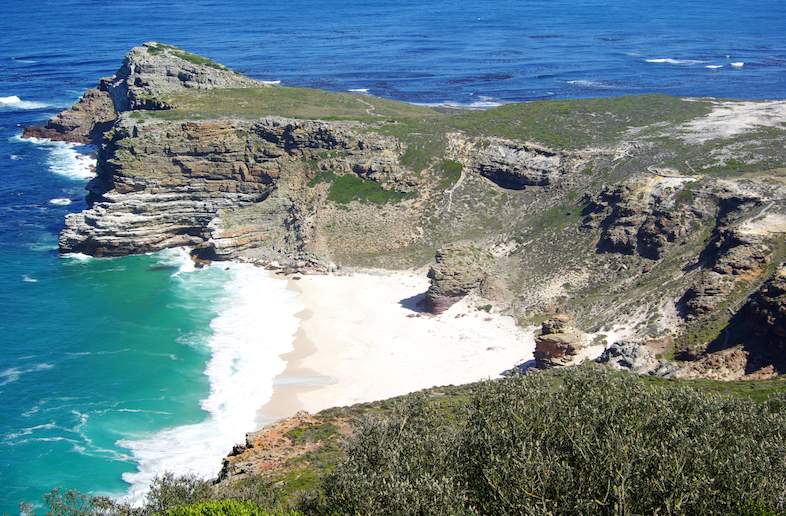 In addition along the Atlantic seaboard you will find the popular Camps Bay, Clifton and Llandudno beaches and in the south you will find the quieter beaches of Noordhoek, Scarborough and Kommetjie.
Inside the Cape Point Nature Reserve there are wild and more secluded beaches on both the Atlantic and False Bay sides, all of which are popular for surfing water based activities.
5. Forest Walks in Table Mountain National Park
The park has has various vegetation which favor walking safaris where the activity is carried out by experienced guides and armed personnel's to ensure security of the clients and the visitors are expected to carry water and put on strong foot ware.
A stroll through one of Cape Town's lush Afromontane forests is a relaxing and magical experience of the wilderness. And the term used to refer plants and animal species common in the mountains of Africa is termed as "Afromontane" including think cool, shady paths, overhanging branches and tree canopies creating an otherworldly scene.
The most popular forest walks include; Orange Kloof in Hout Bay, Echo Valley and Spes Bona on the Muizenberg Mountains.
When to visit Table Mountain National Park
The best time to visit Table Mountain National Park is during the dry season from November to February when there is limited rainfall and the temperatures are moderately hot with breeze weather.
The chance of seeing  animals Table Mountain National Park and flora increase manifold in summer. And these these months are perfect  in scuba diving, hiking, wine valley tour and spotting penguins and walking safaris.
During rainy season the park in accessible because the roads are rugged and muddy and it is difficult to carry out all the necessary activities as required  and the rate at which malaria is spread is high
The park is open through out year and all the seven days of the week approximately from 7am to 5pm the rates are all inclusive including activities like sight seeing, swimming, Wi-Fi among others
How to Access Table Mountain National Park
You can access the park through Cape Town which is the nearest city and airport to Table Mountain National Park. Lying at a distance of 25km from the airport, one needs to hire private vehicle to reach the park gate.
Many parts of the park are accessible via car  and to reach the top one has to either trek upslope or stop at the Cable Car station at Kloofnek Road and avail the ropeway thus accessing the park.
Accommodation In Table Mountain National Park
Did you know that table mountain has various rest camps and cottages with many guest houses and hotels including the camping sites for those who love adventure there are many stay options in Cape Town and people generally visit the national park for a day trip.
But to enjoy perfect rejuvenation amid  some of the accommodation facilities include Eland and Duiker self-catering cottages, Orange Kloof Tented Camps, Silvermine Tented Camp, Wash House and Wood Owl Cottage.
Hikers can sleepover at the beautiful cottages on top of  the mountain which can accommodate over 14 guests in the rooms which are fully equipped, self catering services, dining areas and communal bathrooms among others.
Conclusion
The park is strategically located with various attractions like the beaches, sight seeing, forest walks among others
For more information you can make your booking with kubwa five safaris for more benefit and experience.
.
Hits: 5