Best 10 Reasons To Visit Chobe National Park In South Africa
The best 10 reasons to visit Chobe National Park are; Elephant haven, Hippos, wildlife, beautiful accommodation, bird watching and spectacular scenery. The park is a real wildlife haven and one of the best national parks in Southern Africa in northern Botswana near the vast, inland Okavango Delta.
It's known for its large herds of elephants and Cape buffalo, which come together along the Chobe Riverfront in the dry months. Hippos, Lions, antelopes and inhabit the woods and lagoons around Linyanti Marsh. It's covering 4,500 square miles of unspoiled wilderness.
 There are a number of other reasons to visit the park for example; Diversity of Wildlife, Destination for birdwatchers, Serondela Scenery is Spectacular, Fishing, Chobe River, Safari by Land and Water and so many others. Here are the 10 best reasons to visit Chobe National Park;
1. Elephants in Chobe National Park
Chobe National Park is haven to large herds of elephant population numbering in the thousands, and these most gather at Serondela area. This gives one chance to view these animals at the Serondela are where the most gather. About 120 000 live in and around Chobe National Park, and inconceivable numbers of these gentle giants can be seen crowding the banks of the Chobe River.
Chobe is also one of the best places in Africa to view the most dramatic predator action for example in Savuti region is where lions regularly clash with hyenas and powerful prides famously take down Africa's biggest game like buffalo, giraffe and even elephants.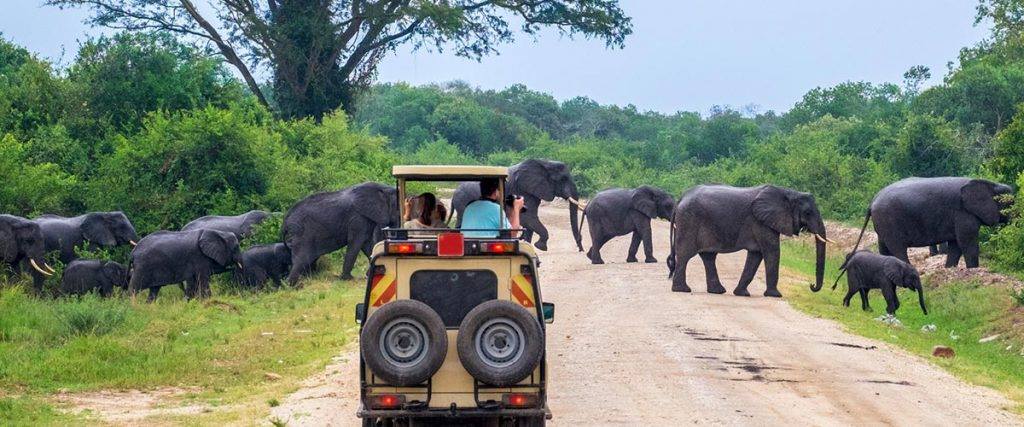 2. Hippos at Chobe National Park
Hippos spend the day in water and come on land at night to graze; it's at Serondela area of Chobe National Park world where you can see hippos on land during the day. But here on the Chobe riverfront, hippos are in fierce competition with elephants, Cape buffaloes, and other herbivores for food
3. Chobe Riverbank is an Ideal for Wildlife Enthusiasts and Diversity of Wildlife
In addition to elephants and hippos, the Serondela area of Chobe National Park is a great place to watch lion prides on the hunt, herds of Cape buffalo grazing, and lone crocodiles sunbathing.
Animal diversity here is truly outstanding. Antelopes are abundant, including kudus, bushbucks, impalas, and pukus, red lechwes, sables, roans, African wild dogs, leopards, zebras, giraffes, wildebeest, hyenas, black-backed jackals, warthogs, and baboons.
4. Beautiful luxury accommodation in Chobe National Park
Beautiful and luxury accommodation is available at Chobe National Park (except in the Nogatsaa area), as well as in nearby in Kasane. These include Ngoma Safari and Muchenje lodges in the west in Chobe Forest Reserve, Chobe Game Lodge within the park itself, and Chobe Safari and Cresta Mowana lodges in Kasane town
5. Destination for bird watchers 
Over 500 species of birds including species of hornbills, kingfishers, raptors, bee-eaters, plovers, herons, storks, ibises, waterfowl, ox peckers and the Giant King Fisher to Bee-Eaters and the remarkable Fish Eagle. There is something enchanting about listening to the beautiful sounds that fill the air and turn into a melodious choir.
Many birders and photographers will adore the unique angles offered on boat safaris. Bird watching on the Chobe Riverfront is spectacular throughout the day, not just in the early morning and late afternoon hours.
6. Spectacular Serondela Scenery at Chobe National Park
The Chobe River itself is quite beautiful, with grassy islands in the center and scenic shores on both sides. The location of the park is near the northern border, this makes it easy for one in the area select of the neighboring countries to stay in when visiting the Serondela area of Chobe National Park.
7. Spectacular Sunsets at Chobe National Park
The Chobe sunsets are simply magical. Sit back on the deck of the luxurious Zambezi Queen or one of its smaller sisters, the Chobe Princesses and drink in the views. Celebrating the sunset, with drink in hand on one of these sublime houseboats on the Chobe River is incomparable. It's hard to beat sundowners in the Chobe.
8. Fishing Activities at Chobe National Park
Catching the impressive tiger fish is every fisherman's dream. Chobe is a prime location for fishing with over 100km of fishing waters to explore in the Chobe and Zambezi rivers as well as the Kasai Channel. Every fishing trip is a thrilling affair with an opportunity to snag a diverse selection of species hiding in the underwater world.
9. Chobe River at Chobe National Park
The Chobe River which flows from Angola and into Botswana, in the northeast border of the park, is one of the major water sources for the animals of Chobe. The river has its mouth in Zambezi river having a length of 731km. the basin size is 96,778 km2 (37,366 sq. mi) The waterfront hosts various water-loving birds and animals, and serves as a watering hole for the bush animals.
10. Safari by Land and Water                                                                                                                   
The Chobe River fosters a unique ecosystem with one of the densest wildlife concentrations in Africa, both on land and water. By spending half the day exploring the Chobe riverfront by boat and half the day by 4×4, you'll see a huge array of aquatic, woodland, and savanna wildlife.
When To Visit Chobe National Park
The park is always open and accessible for visitors all year long. But the best time to visit between April to November. These dry months are ideal for bird watching, game viewing, sun bathing, foot safaris and movements at large.
How To Access Chobe National Park
Getting to Chobe National Park is so easy because of the well established Air and Road network systems. The good news is that because of the park's strategic location, it can be accessed from all sides.
By Road
I recommend you to use a 4×4 wheel drive vehicle whether private or public . This  is because such cars are strong enough and can have a firm grip on the sandy terrains and on off-road drives. Kasane town is the one closest to Chobe National Park and it is a 2 and a half hours drive from the park.
If you are coming from central Botswana in Maune, you can access the park from the Northern direction via Moremi National Park. I encourage you not to drive at night when at the park so that you do not get fatal encounters with the wild predators.
By Air
 You can book a flight from Kasane airport to Chobe however it is not a direct flight, you would make  two stop overs from Livingstone to Mansa airports in 20hrs and 10 minutes.
Where to stay/ Accommodation at Chobe National Park
You do not have to worry about where you will be staying when you come to Chobe National Park. This is because there are so many hotels, lodges and inns which are at your disposal for you to choose from. These offer three different types of accommodation. These are; Luxury, Mid-Range and Budget accommodation.
Luxury Accommodation at Chobe National Park
This is for clients who are willing to spend like they are on a spending spree without any tight budget to hold them behind. Examples of such places include;
Savute Elephant Lodge; It is among the 5 top best 5star hotels in the country and it is 43.4km away from Chobe National Park. It has a beautiful view and a posh environment.

Chobe Game Lodge; It is a lovely 5 star hotel with a luxurious display of beautiful spaces. It is just 120.2km away from the park.

Jackalberry Chobe; This lovely place with spectacular views of the water and forests lies 131.8km away from the park.
Mid-Range Accommodation at Chobe National Park
This is for guests who are willing to spend but in a sparing mannerism. Examples of such places include;
Sanctuary Chobe Chilwero; These are lovely cottages with an outdoor swimming pool, a spa and providing river cruising services.

Camp Savuti; It is a nice place situated just 10.3km away from the park. It will give you a wild sleeping experience because you will be surrounded by trees.

Muchenje Safari Lodge; This is a beautiful 4-star hotel with great food and a lovely group of staff members. It is also just 10.3km away from the park.
Budget Accommodation at Chobe National Park
It is the cheapest form of accommodation. It is ideal for people who are touring in very large numbers and groups because it is very affordable. Examples include;
Elephant Trail Guesthouse and Backpackers; It is beautiful, Affordable and in a quiet place to ensure that you rest well.

Chobe River Cottages; They are simple but ideal for large numbers. The rooms are spacious enough for sharing. 

Bananyana Backpackers Camp; It is a simple place with good services and in a quiet place.
You can now make hotel bookings and payments online. This is both convenient and time saving. I encourage you to book at least a month before you travel so that arrangements are made in time. If you make bookings late, these hotels usually run out of space and you might not get the place of your choice.
My Conclusion about Chobe National Park
The 10 best reasons to visit Chobe National Park are just a fraction of the many lovely things to see at the park. Please come and breathe fresher air and take your whole being (Mind, body and Soul) on a wild thrilling adventure.
Hits: 16