Top 9 Best Hotels And Lodges In Tsavo West National Park In Kenya.
we introduce to you the top 9 best hotels and lodges in Tsavo West National park in Kenya and these include a number of luxury, mid-range and Budget hotels that can cater for your needs without and doubt of the expenses. You can find what for what suits for  your desires in these hotels
Luxury Hotels Hotels In Tsavo West National Park
Salt Lick Safari Lodge
Salt Lick Safari Lodge is inside Tsavo West National Park in Kenya. The entire lodge is on high stilts above watering holes and feeding pastures. This Lodge offers a spectacular view of the wildlife from above.
This Lodge is in the midst of the Taita Hills Sanctuary, a private wildlife conservancy. Tsavo West National Park is one of the world's largest game reserves. Accommodation at the Salt Lick Safari Lodge makes the Lodge, earlier operated as Sarova Salt Lick Game Lodge, the perfect place to explore the natural environment.
This Lodge is one of Kenya's flagship lodges, famed for its warmth, vibrancy, and legendary hospitality. Salt Lick Game Lodge is a favorite among luxury travelers. It is a luxurious safari escape in the heart of the Taita Hills Wildlife Sanctuary overlooking a waterhole and the vast Tsavo plains
Large numbers of wildlife come to drink at the waterholes; Salt Lick safari Lodge provides a rare opportunity to view animals at close proximity in their natural habitat. The lobby, restaurant, and terraced bar all provide excellent views and photographic opportunities.
Interestingly, there is an underground tunnel and bunker with ground-level windows. It provides unbelievably close yet safe access to a variety of wildlife as they drink water. Additionally, the waterholes have powerful floodlights next to them as it gets dark, to make sure that you witness all the activity.
Accommodation
To begin with Salt Lick Safari Lodge has spacious and comfortable double rooms. These rooms give you a chance to enjoy breath-taking views of wildlife from the comfort of your room. To add to the charm and intimacy, the soft, fine linen, huge beds and thick white towels quietly whisper romance.
All bedrooms have mosquito netting and a ceiling fan. In addition, each room has electric current:
220 volts
50 cycles AC
shaver outlets 110/220 volts
50 cycles AC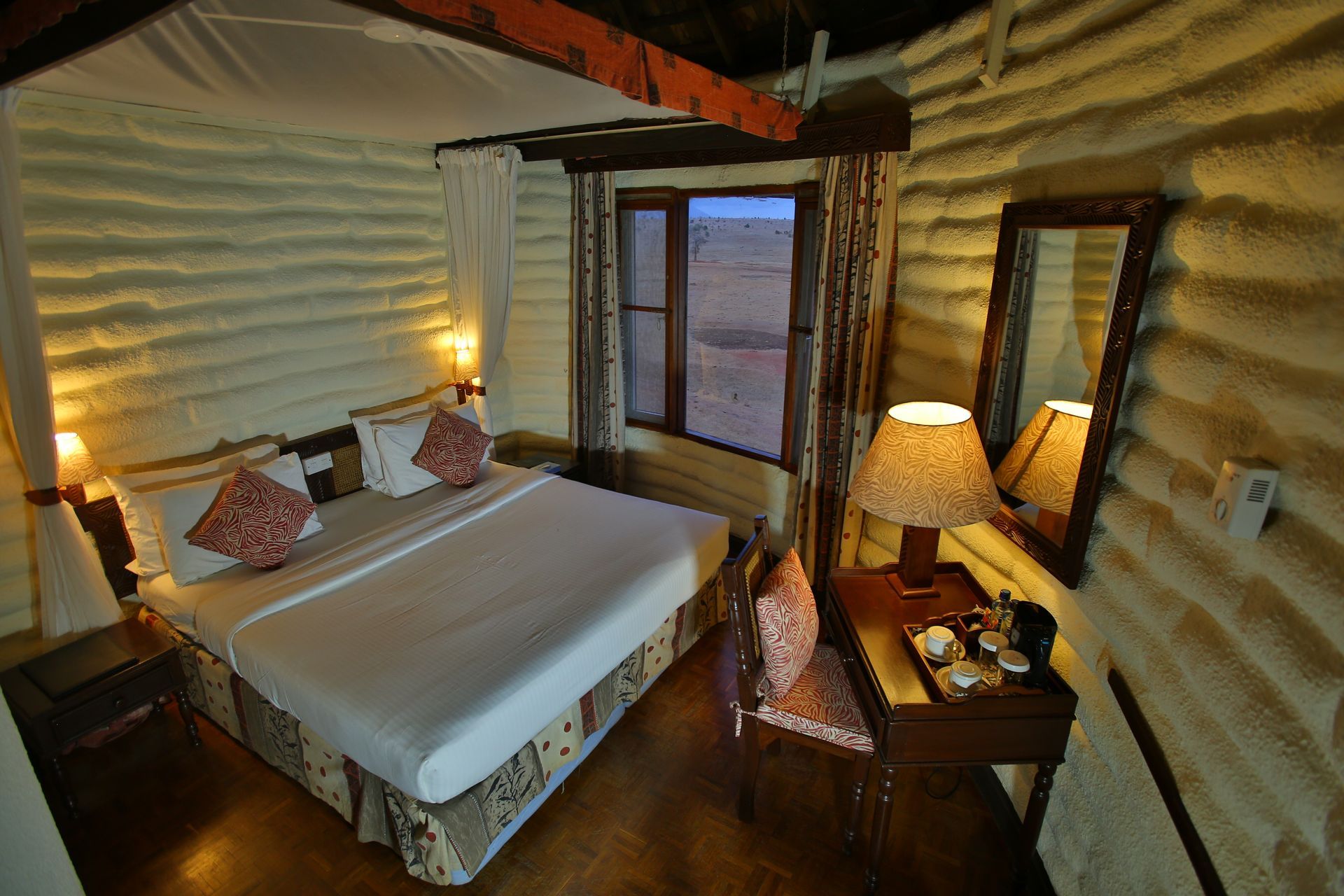 Additionally, the Lodge offers luxurious accommodation and facilities. Moreover, it is the perfect place in an unforgettable setting to explore the surrounding natural environment.
Kilaguni Serena safari lodge
To begin with, Kilaguni Serena Safari Lodge is one of the Luxury accommodation in Tsavo west National park located in Kenya's Tsavo West National Park. It is a 30-minute drive from the main Mtito Andei Gate. The local airstrip is less than one kilometer from the lodge.
Kilaguni Serena Safari Lodge in Tsavo West National Park immerses you in stunning beauty and exhilarating adventures while surrounding you with every modern comfort. Arriving guests are enchanted by our classic stone design and views of elephants, buffalo and other plains game drinking and cooling off in our water hole.
Accommodation
Kilaguni Serena Safari Lodge includes 56 guest rooms including five suites that feature remarkably large living areas, ranging from our Standard Rooms to deluxe Suites and the resplendent Kilaguni Suite.  Greet the morning with a bush breakfast or sip traditional sundowner cocktails at Lion Rock. Relax on the garden sundeck by our swimming pool.
Savour seasonal, locally sourced cuisine in the dining room overlooking the water hole. Unwind in a day bed at the stone-built bar; sipping a perfectly mixed drink while taking in marvellous views of the Chyulu Hills.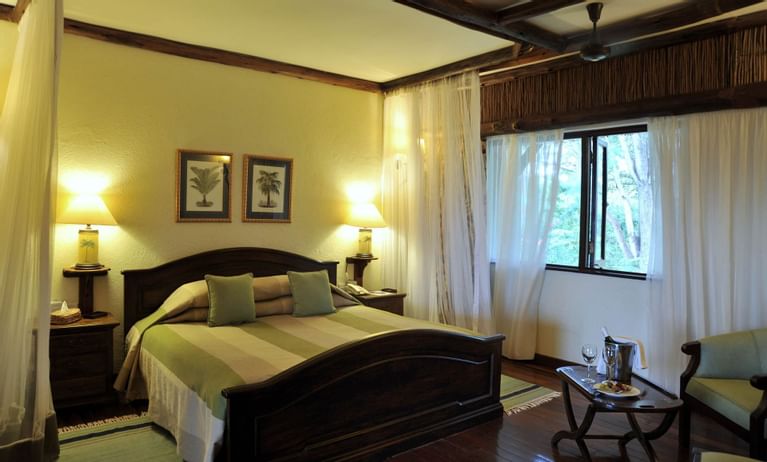 Kilaguni suite
Our resplendent Kilaguni Suite is located in the suites building with stunning views over the water hole and the Chyulu Hills.
Suite
Our five spacious suites are situated in their own private building with stunning views over the water hole and the Chyulu Hills.
Double/twin room
Our Double or Twin Room is beautifully designed and decorated to offer a unique blend of modern comfort and traditional Kenyan ambience and warmth. They consist of 25 Standard rooms and 23 deluxe rooms with either king-sized beds or 2 single beds
Triple room
Our Triple Room is beautifully designed and decorated to offer a unique blend of modern comfort and traditional Kenyan ambience and warmth.
Lavender Garden Hotel
Lavender Garden Hotel is located in Tsavo and features a bar, a shared lounge and a terrace. Among the facilities of this property are a restaurant, a 24-hour front desk and room service, along with free WiFi throughout the property. Free private parking is available and the hotel also provides car hire for guests who want to explore the surrounding area.
A continental breakfast is available daily at the hotel.
Guests at Lavender Garden Hotel will be able to enjoy activities in and around Tsavo, like hiking and cycling.
Most popular facilities
Outdoors
Food & Drink
Special diet menus (on request)
Breakfast in the room
Bar
Restaurant
Cleaning services
Daily housekeeping
Ironing service Additional charge
Dry cleaning Additional charge
Laundry Additional charge
Mid-Range Hotels In Tsavo West National Park
4. Lion Bluff lodge and campsite
Lions bluff is a Mid-range accommodation in Tsavo west national park located in the Lumo community wildlife sanctuary, between Tsavo West National Park at the coast
Lion bluff is an intimate and beautifully designed  mid-range safari lodge made of sustainable timber canvas and traditional coconut thatch and has an open terrace with magnificent views of Mount Kilimanjaro, stunning panoramic views over the golden green Tsavo Savanna and the Taita hills. The lodge offers day or night game drives and bush walks where you can spot many different types of animals.
Accommodation
Lions bluff lodge has 14 traditionally-built en suite bandas. Additionally, these have individual terraces that provides outstanding views of the plains below and Mt. Kilimanjaro.
Each room has either double or twin beds and one family unit. For the more adventurous tourists, Lions Bluff has a campsite. The Cheetah campsite which has;
water
kitchen room
showers and toilets
wood fuel and leveled areas to mount the tents
Campers can also access the lodge's stunning  dining area that overlooks an ancient elephant migratory corridor. Additionally, you can view the small waterhole visited by herds of elephants among other animals. You can enjoy all this while having your meals. Also, there is a restaurant that caters to all food preferences and a free parking area
5. Voyager Ziwani Tented Camp
Voyager Ziwani is today famous for being in 'big game country' that is one of the biggest national parks in the world, Tsavo West.
To begin with, the Tented camp is a Mid-range accommodation in Tsavo west national park situated in the shadow of Mount Kilimanjaro, on the edge of one of Kenya's least explored parks. Located on 30,000-acre private farm on the western edge of Tsavo West National Park, the camp sits on the edge of a small secluded dam on the Sante River. Furthermore, its environs are home to hundreds of basking hippos, while a short drive will deposit you among the big game of one of Kenya's wildest national parks.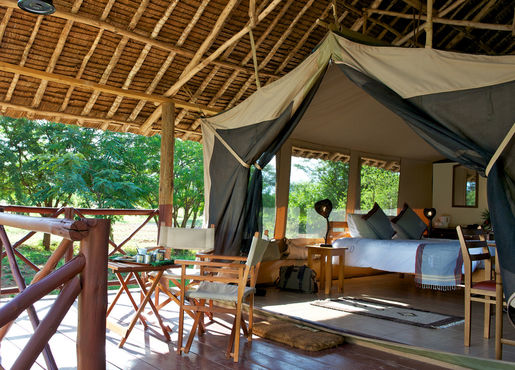 6. Ngulia Safari Lodge
Built in 1969, the Ngulia Safari Lodge stands within the Tsavo West National Park, on the Ndawe Escarpment overlooking the Ngulia Rhino Sanctuary. Tsavo lies some 232 kms from Nairobi and can be reached by road or air (three air strips).
Accommodation
The Lodge has 52 standard rooms, all with bath and shower and a balcony with a view of the wilderness and floodlit water holes.
Dining and bars
The main buffet restaurant has interior and exterior dining spaces and an open terrace with a view of the water hole, which is visited by a leopard most evening (bait is put out in a tree overlooking the water hole). There is also an interior and exterior bar and a new Leopard View bar, immediately adjacent to the waterhole.
The lodge also welcomes children.
Budget Hotels And Lodges In Tsavo West National Park
7. Rhino valley lodge
Rhino Valley Lodge is a tented Budget accommodation in Tsavo west national park set against the backdrop of the rugged but scenic Ngulia Hills of Tsavo National Park, the Rhino Valley Lodge offers the most idyllic view of the pristine Tsavo West National Park which teams with thousands of wildlife including rhinos.
These can be viewed all year round from the verandas of the Rhino Valley Lodge bandas as they frequent the water pond just a few meters below the camp.
Accommodation
The lodge has 6 standard rooms, and a campsite for discerning traveler. The self-catering bandas tastefully furnished with rugged twin beds, a well-equipped kitchenette, and a complete bathroom suite will provide with the comforts of home away from home.
The Tsavo Rhino River Lodge has modern gourmet restaurant with an elaborate menu specifically designed for those who love the out outdoors.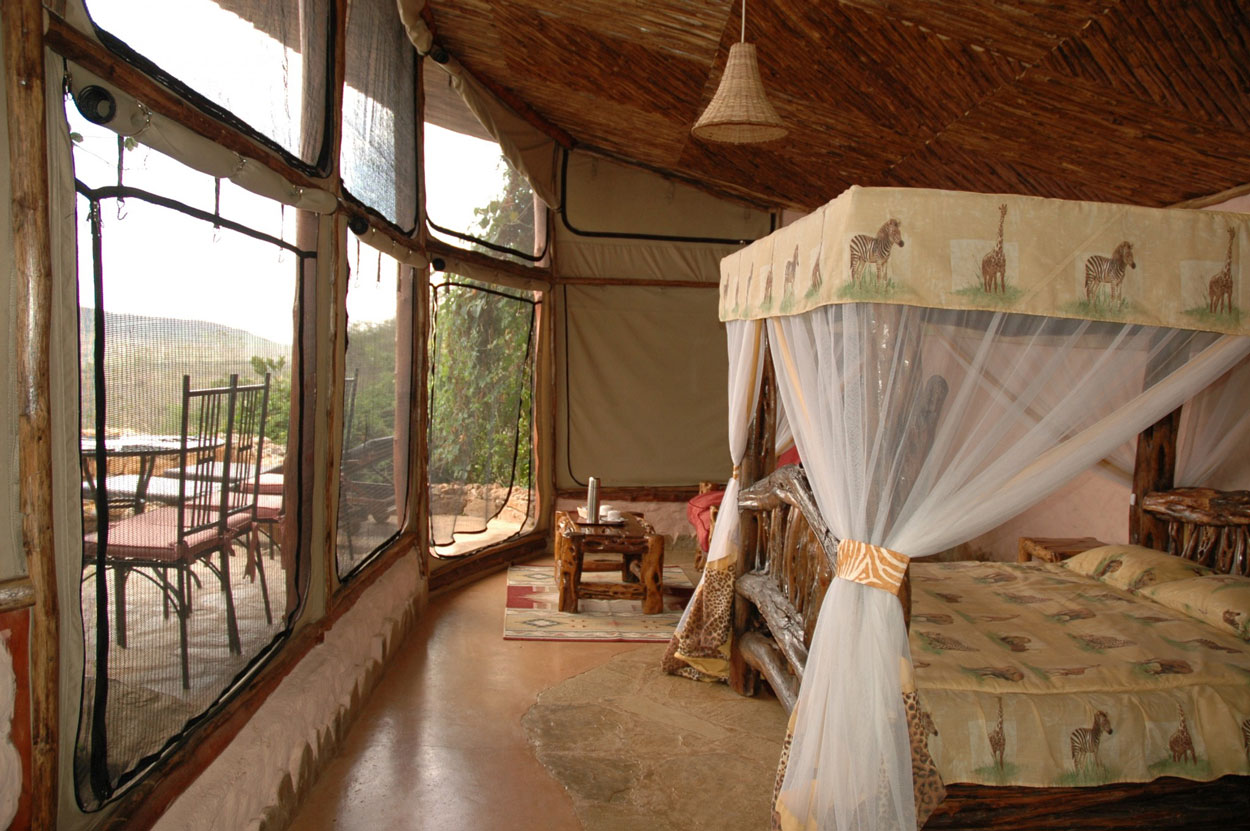 There is a stocked 'tree bar', another extra-ordinary experience under wide starry tropical skies and in the warmth of a campfire.
Guests can enjoy free breakfast, an on-site restaurant, and a lounge during their stay.
8. Kitani Catering Bandas
The Kitani Bandas are self-catering units located in Tsavo West National Park the largest game reserve in East Africa which is the largest game reserve in East Africa. The lodge is 5 kilometers from the Mzima Springs and 2 kilometers from the poacher's lookout.
Kitani Bandas are now affiliated to the nearby Severin Safari Camp. Being a short distance to Mombasa and Voi, the guests can easily tour these towns for leisure and other many sites and places to visit.
Guests are allowed to use the free WIFI and the pool & gym at the nearby camp area. You will also find a private parking lot directly beside your banda as well as a room steward.The Kitani Lodge is situated about 1,5 km away from Severin Safari Camp. Amongst others you will find the reception, the Out of Africa Restaurant, the Thorn Tree Bar and the KENBALI SPA here, which all can be used – partly for a surcharge.
The Kitani lodge offers 8 bandas. The little houses have kitchenettes with tables and chairs, plates, pots, cutlery, glasses and cups and a herd with a gas and a washing basin. Each has its own bathroom equipped with towels, running cold and warm water, toilet and shower. Also, there are three beds per banda with clean white bed linen and mosquito nets.
A baby bed can be provided on prior request. Due to its proximity to Severin Safari camp about 1.5 km away guests can have their meals from their restaurant and refreshments in the Thorn tree bar.
9. Kiwanjani Eco lodge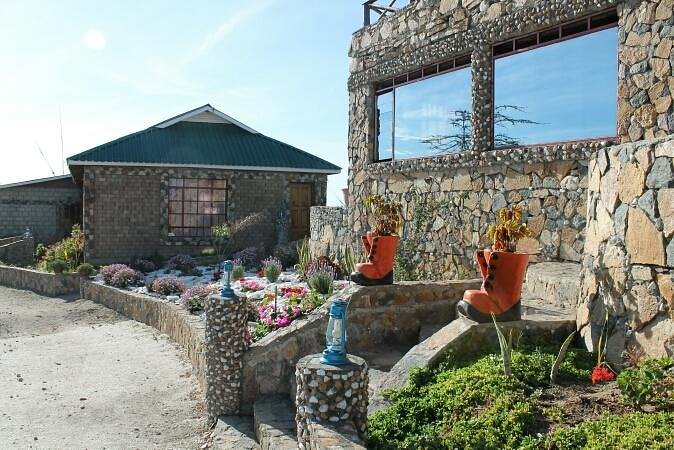 To begin with, Kiwanjani Eco lodge is in the middle of the two Tsavo (east and west) and is the perfect choice for any visitor looking for a wildlife and bush experience in a remote part of Kenya. Additionally, the lodge has magnificent wild views of the game reserves. Therefore, it is ideal for game visits, nature walks and bird watching. Furthermore, the secluded and spacious thatched cottages are a reflection of contemporary Africa. They portray a combination of the traditional African building style with the modern luxuries to create a true eco lodge in all aspects.
Kiwanjani Eco lodge has thatched cottages that can accommodate 12 guests at any one time.
Additionally, all the rooms are en-suite with a toilet, bathroom and private veranda. All these are overlooking an animal waterhole where elephant and buffaloes drink water.
The bathrooms are large and spacious with overhead showers, flush toilets and wash basins. Also, guests can enjoy night game drives for a better opportunity to view the nocturnal wildlife.
Hits: 3