TOP 5 BEST HOTELS AND LODGES IN LIVINGSTONE
Livingstone proffers stylish hotels and lodges and also wide range of accommodation options to use as a base for exploring the area including bed and breakfast. Livingstone comprises of different kinds of hotels and lodges that is to say; luxury, midrange as well as budget hotels.
Luxury Hotels in Livingstone
Royal Livingstone Hotel
Livingstone offers different property amenities which include; Free parking, Wi-Fi, Baby sitting, Spa locker rooms, Pool, Airport transportation. There are over 173 rooms at the hotel that is to say; 80 twin rooms, 54 king rooms, 3 luxury suites and 1 presidential suite and all of the them have en-suite bathrooms and a private varanda.
Royal Livingstone Hotel is situated next to the Zambezi River, and a short walk from the Victoria Falls entrance. The guest can immediately see the Zambezi River across the rolling lawns.
Protea Hotel by Marriott Livingstone.
Protea Hotel is the favorable place for leisure tourists to be amused by sightseeing, or corporate tourists wanting to conduct business in Livingstone. At Protea Hotel by Marriott Livingstone all rooms are fitting with a flat screen TV with satellite channels. Each room has a private bathroom with a bath.
Protea Hotel by Marriott Livingstone offers different facilities and these include; swimming pool, nearby golf course, Park, Restaurant, Hotel Bar, Conference venue as well as amenities like Writing desk, Satellite TV, Internet Access, Telephone, Housekeeping, Air Conditioning and Coffee making facilities.
Chikunto Safari Lodge
Chikunto has four luxury tents and one of family tent each built on raised decking Chikunto Safari Lodge is situated in the South Luangwa National Park less than an hour's drive from the National Park's Mfuwe gate.
Property amenities offered at Chikunto Safari Lodge include; Pool, Free breakfast, Mosquito net, Spa, Free parking, Free internet and also children activities. The lodge also provides different kinds of food and drinks that is to say; Kid meals, Continental and Buffet breakfast options are also available every morning at Chikunto Safari Lodge.
Neelkanth Sarovar Premiere
Neelkanth Sarovar Premiere is an all in suite business hotel in Lusaka. It is situated in Lusaka a 5 minute. Neelkanth Sarovar Premiere has a fully equipped fitness center, a plush pool amidst Serene outdoor settings, and a spa where one can relax and have fun.
Rooms at Neelkanth Sarovar Premiere are;  The Executive Twin Suite Room which is facilitated with comfortably cushioned twin beds, separate living area, kitchenette and workspace, Deluxe Suite Room whereby it is accompanied with a comfortable king bed, sofas, modern amenities like large wardrobe, washing machine for TV and also Premium Suite Room.
Midrange Hotels in Livingstone
Fawlty Towers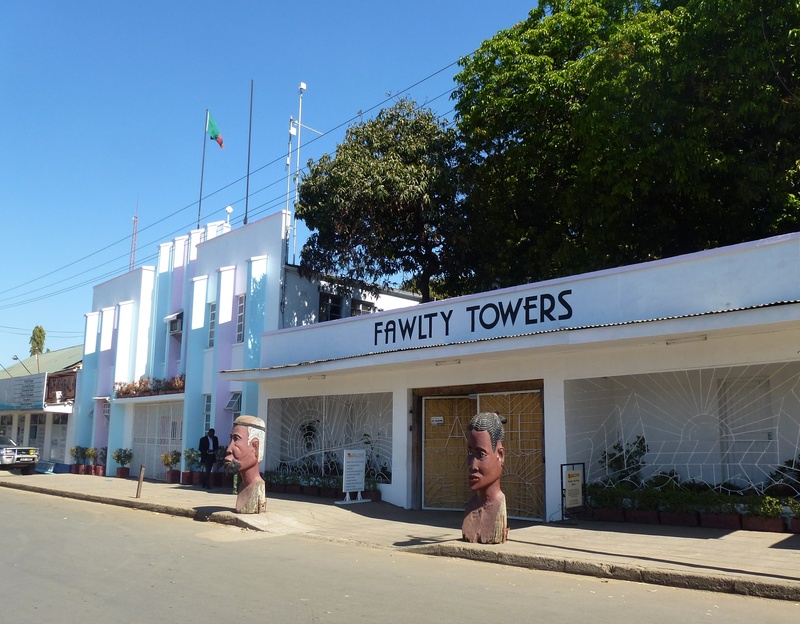 Fawlty Towers offers different facilities and these include; family rooms, free parking, swimming pool, free wifi, restaurant. It is usually provides information at the reception to assist the travelers to get around the area.
Rooms at Fawlty Towers include; Standard double room, Deluxe Double Room, Budget Twin Room, Economy Quadruple Room, Bed in 4 Beds Mixing Dormitory Room, Bed in 6 Beds Mixed Dormitory Room, Bed in 8 Bed Mixed Dormitory Room, Standard Twin Room, Deluxe Twin Room and also Twin Room with Garden View.
Chrismar Hotel Livingstone
Chrismar Hotel Livingstone offers the following amenities; Parking and transportation, Internet, food and drinks that is to say free full breakfast daily. A tourist who is willing to visit Chrismar Hotel will have a private room with all the hotels' amenities.
Trench Town Lodge
Trench Town Lodge offers different facilities that is to say; free parking, coffee maker in all rooms, free parking, family rooms, free Wi-Fi and so many others. All rooms at Trench Town Lodge contains spacious, bathtub, bathroom as well as in and outdoor shower and the rooms within Trench Town lodge include Deluxe Double Room, Premium Apartment, Family Room.
Trench Town Lodge is situated in Livingstone 8miles from Victoria Falls and 1.7 miles from Livingstone Museum, Trench town lodge provides accommodations accompanied with Wi-Fi
Budget
Tabonina Guest House
Tabonina Guest House is one of the seven natural wonders of the world which is set in a beautiful mango tree garden. This guest house do offers amenities which are; outdoor, lounge, coffee maker, free parking, free toiletries, flat screen TV, and cable or satellite TV.
Activities within Tabonina Guest House include; Bike tours, Horse riding, Cycling, Billiards, Golf course, Fishing.
Cypress Executive Lodge.
Cypress Executive Lodge is 1.5Km from Victoria Falls and 6.1 Km from Railway Museum. It offers first class facilities in Zambia at a very affordable price value for one's money. It also provides full hospitality package ranging from food, accommodation as well as tour packages that is to say safaris. Property amenities offered are; Non smoking rooms, Restaurant, Laundry service, Airport transportation, Free internet, Air conditioning, Breakfast, Ironing and many more.
Available Rooms at Cypress Executive are; Deluxe King Room, Deluxe Queen Room, and Budget Twin Room. At Cypress Executive Lodge, wireless internet access keeps you connected in each room and satellite programming is available for your entertainment.
Crown Palace Inn
Crown Palace offers family amenities and these include; Laundry facilities, Tea maker, Private rooms, Fridge as well cleaning amenities like Hand sanitizer, Personal protective equipment. Rooms at Crown Palace Inn are; Classic room, Deluxe room and Superior room.
Limefield House
Limefield House has a shelter with a tiny park confined by Walmersley Road to the East, Pigs Lee Brook to the North and West and the open fields to the South. Limefield is located Southeast of Breich and Southwest of Hardwood Water in Livingston. It offers different facilities like Free Wi-Fi, Free parking, Pet allowed, and Champagne. Rooms available are; Deluxe Double Room, Twin Room, and Deluxe Family Room.
White Rose Lodge
White Rose Lodge is a wonderful home offering different facilities and amenities that is to say; sun umbrellas, free private parking, pets are allowed, breakfast in the bed, shared kitchen, shuttle service, outdoor fireplace, air conditioning, balcony, laundry, coffee machine, free toiletries, parking and many more. Activities and entertainment done at White Rose Lodge are open air bath, themed dinner nights, Sun umbrellas and hot tub/Jacuzzi.
Hits: 56