TOP 10 BEST REASONS TO VISIT GOMBE NATIONAL PARK IN TANZANIA
The Top 10 best reasons to visit Gombe National park in Tanzania are , chimpanzee tracking in Gombe National park, bird watching in Gombe National park, primates, mention but a few.
Gombe National Park is located on the western part of Tanzania at the Tanzania-Congo border. Gombe national park is most famous for being the home to the most endangered primate on earth the chimpanzees.
She is the resident primatologist who spent many years in its forests studying the behavior of the endangered chimpanzees. Gombe national park is seated on the wild shores of Lake Tanganyika, filled with extensive an untamed lush forests and clear lake views.
Gombe is the smallest of all the Tanzania's national parks: a fragile strip of chimpanzee habitat straddling the steep slopes and river valleys that hem in the sandy northern shore of Lake Tanganyika. Its chimpanzees habituated to ease tracking them.
They were made famous by the pioneering work of chimpanzee chief mother Jane Good all, who in 1960 founded a behavioral research program that now stands as the longest-running study of its kind in the world. The matriarch Fifi, the last surviving member of the original community – that was only three-years old when Good all first set foot in Gombe is still regularly seen by visitors.
The most visible of Gombe's other mammals are also primates. A troop of beachcomber olive baboons, under study since the 1960s, is exceptionally habituated, whereas the red-tailed and red colobus monkeys, the latter regularly hunted by chimps, stick to the forest canopy.
Besides chimpanzee, there are other primates living in Gombe national park like the lush tropical forest that include: Vervet and colobus monkeys, baboons, forest pigs and small antelopes inhabit the dense forest, in addition to a wide variety of tropical birdlife. Below are a few of the attractions available at Gombe national park.
1. Chimpanzees Trekking in Gombe national park
Many tourists in Gombe National park are attracted by a  spectacular trek through forest lands and lakeside exploring the chimpanzee habitats and similar primates.
These are among the biggest attractions in East Africa. They are best referred as the humans relatives due to their genes resembles with just the about 3% to seal 100% full percentage, chimpanzees are the best primates ever to track. An encounter with chimpanzees makes the big deal and in fact compliments the whole Tanzania safari in the land of the natural beauty.
Best used for research by the Chimpanzees best caring mother Jane Goodall, this is the big deal for you to track gorillas from if you missed it in Kibale forest national park in Uganda or Nyungwe Forest National Park in Rwanda. Chimpanzee's habitats in Uganda are countable thus make it count and have an encounter with them when you come closer to them.
2.Bird watching in Gombe national park
Over 200 species of birds can be found here, particularly along the lake shore including the African fish eagle, Livingstone's turaco, Palm-nut vulture, Kenya rufous sparrow and the African paradise flycatcher.
There are multiple activities and things to do in Tanzania that can be added to your safari including walking safaris. Here are some other activities which visitors can consider during their visit:
The variety of bird life here makes Gombe Park the favorite visited bird watching destination by bird watchers. Over 200-odd bird species range from the iconic fish eagle to the jewel-like Peter's twin spots that hop tamely around the visitors' center. You cannot miss out on seeing your last dream bird species or the most looked out for bird species because this is the home for the abundance of birds with many being endemic to this place alone. This is because the lush tropical rainforests and the extensive give them venue to put up their nests thus accommodating a variety of bird species.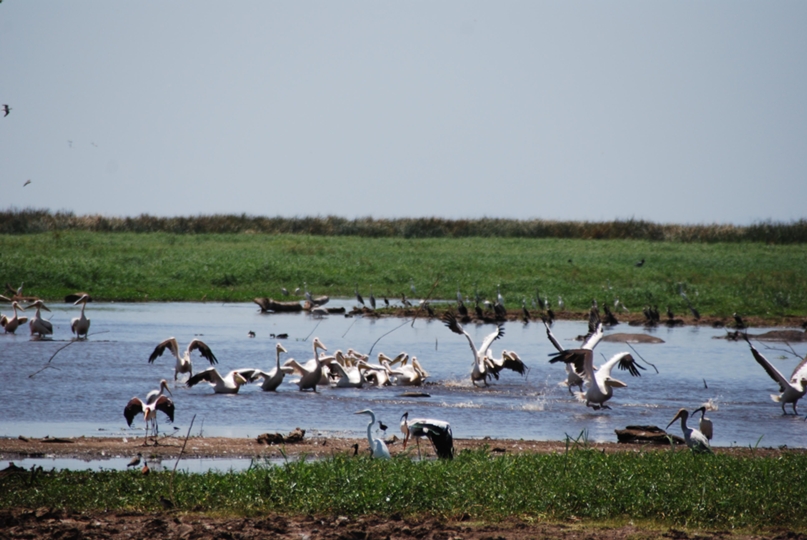 3.Primates in Gombe national park
Visitors will be interested in  avariety    and numbers of chimpanzees, monkeys and different primates they will encounter up close including beachcomber olive baboons, red colobus monkeys, red-tailed monkeys, snakes and the occasional leopard and hippo.
Bushpigs can also be found here, a member of the pig family that inhabits forests, woodland, riverine vegetation and cultivated areas.
A chimpanzee swings from the tree branches as his brothers play in the leaves in Gombe
National Park
The green colour of lush forests at Gombe Park offers habitat to the several of the wildlife. Not only does Gombe national park hendowed Gombe national park.
4.Vegetation  in Gombe national park
ave the chimpanzee member of the primates family but also a home to other primates in the monkey family like the olive baboons, the vervet monkeys, colobus monkeys and several theirs. The monkey family members identified here will keep you entertained during your nature walk or forest walk in the beautiful well-
Characterized y the tropical rain forests, tall and evergreen trees,  a home to different tree species, and greenish  plant life, Gombe national park is the original some for all you need in the Tanzania East African safari and other African safari. There is the whole a lot to do at this park. They include the nature walks, forests walks and several others.
There are more rationale to find East Africa as he best ideal place for an African safari or east African safari. Would you love to travel to East Africa for a thrilling experiential; safari, talk to us or ask us at Jewel safaris any question and we surely will make it timely to respond to you.
Gombe, in general, is less crowded compared to other parks and most wildlife viewing is completed on a hike, a different take on wildlife viewing compared to vehicle safaris in most wildlife parks.
5.Walking safaris in Gombe national park
Many tourists  have been attracted by the  nature walks in Gombe national park by  exploring the wildlife with a local safari company or tour operator on foot, an authentic and economical means of exploring the wildlife that is  to say tourists in process encounter different wildlife animals such as elephants,giraffes, warthogs and among others, also tourists at Gombe  national park are also in in position of viewing  kakombe and Mkenke waterfall and other incredible wildlife animals, visitors can head out to Kakombe trail and Mkenke valley and explore the gorgeous natural features around Kakombe and Mkenke waterfalls.
6.Boat cruise in Gombe national park
Many visitors at Gombe National park are also attracted by the luxury boats on mountain Tanganyika and such luxury boats include  speedboats whereby many tourists in Gombe National park feel Lake Tanganyika's breeze while savoring a view of the Great Rift Valley slope.

7.Mountain safari in Gombe national park
Many visitors in Tanzania are attracted by different mountain activites in the park forexample,treking  the  wonderful mountain with magnificent views of the rift slope falling westwards into the lake
.
8.Accommodation at Gombe National Park
Accommodation is also excellent with numerous options from tented camps, luxury lodges to camping grounds.
Gombe NP offers a good selection of accommodation to suit all budgets and tastes.
For a luxury experience, the Gombe Forest lodge and Mbali Mbali Gombe Lodges in the heart of the park offer peace and quiet in the lush shade of ancient forest trees just off the shores of Lake Tanganyika.
Newlyweds may also indulge on a Tanzania honeymoon safari where they'll receive a lot of extra pampering as well as those on luxury safaris to ensure they're feeling the love and top notch service of a Tanzania safari.
Gombe has a number of hotels nearby including the Imperial Hotel in Kigoma.
Mbali mbali Gombe ,it has seven luxurious tents and it accommodates 14 tourists.
Tanganika Hotel, its located on the shores of l Tanganika in kigoma
Kigoma Hilltop Hotel,  its located on the hill top with the clear view of lake Tanganika
How to get there in Gombe national park
The main path to reach Gombe national park is by whereby a tourist have aflight directly to Dar es salaam then to kigoma and it takes 40mintues while by road transport takes 22 hours to reach the park.
Hits: 20