Best 8 Reasons To Visit Gishwati Mukura In Rwanda
The best 8 reasons to visit Gishwati Mukura National Park in Rwanda are; Bird watching, Wildlife, Primates, Vegetation, Trails, Biking and Cultural experience. These will make you fall in love with chimpanzees, forests and wildlife at large. Most of us have beautiful memories of fairy tale stories about forests, wildlife and nature which were told by our parents as we were growing up. These played a big part in spicing up our childhood days.
Well known for harboring chimpanzees and other primates, walking through the park's awesome forests will make you feel like you are experiencing a real life fairy tale to say the least. You will be able to fall in love with forests in a way you have never imagined. The park is located in the North Western part of Rwanda at a total surface area of 34 square kilometers and a visible neutral-zone of about 30 miles.
Surprisingly, this park was once two independent rain forests (Gishwati and Mukura forests) which were integrated to form a National Park in 2015. Gishwati is the largest of the two and years ago it was flourishing with trees, birds and several animals. But due to the effects of the 1994 genocide, the once very attractive forest was left degraded and deprived of its natural initial beauty through deforestation tendencies and clearing of huge portions of the forest for resettlement purposes.
On the other hand, Mukura had already been set apart as a forest reserve for more than 50 years however, it also fell victim to the genocide aftermath which in turn reduced its worth close to nothing. All hope was not lost because several years later, thank goodness that the Rwandan government realized the need to preserve and restore the two forests alongside the several chimpanzees which resided in them hence the establishment of the smallest and newest National Park in the country and Africa at large.
After deliberate care, dedication and reforestation, in 2020 (during the Covid 19 pandemic saga) the Gishwati side of the park was fully restored and rendered ready to receive touring groups. However, Mukura's side of the park remained and still is inactive and up to this day, it not yet been opened to the public until further notice. This means that all of your touring, trekking, sight seeing, birding and other activities will take place in Gishwati.
Here are the best 8 reasons to visit  Gishwati Mukura National Park;
1. Bird Watching / Birding at

Gishwati Mukura National Park
 Birds and forests are like two beans in a pod because they compliment each other. It is to no surprise that Gishwati and Mukura are home to over 232 and 163 recorded bird species respectively. Among these are 20 indigenous Albertine rift valley species, water and forest birds. Examples include; The black-faced apalis, Rwenzori Turaco, Grey crowned crane, Rwenzori Batis, Strange weaver, Abyssinian ground-thrush, Grauer's swamp warbler, Purple-breasted sunbird and so many more.
Bird watchers will be pleasantly surprised by the incredibly large numbers of birds to see while at the park. And they all come with unique features, colors and sounds. The park has well established trails which when even on foot, will give you a close up view of the birds, remember to carry your camera to take as many pictures as you want. I am so sure that your family and friends back home would love to see the birds as well.

 2. Wildlife at 

Gishwati Mukura National Park 
Gishwati is harbors various animal species, although they are not very many in numbers, these beautiful animals can randomly be spotted as you tour through the park. Examples include; Chimpanzees, River hogs, monkey species (especially Blue, Golden and L'Hoest's monkeys), Olive baboons, Southern Tree hyrax, butterfly species, serval cats, Giant pouched rats, several reptiles like snakes and amphibians like frogs among others wildlife species can all be found at the park. It is fascinating to see different forms of wildlife perfectly and harmoniously co-existing in the wild.
3. Primate Species at Gishwati National Park
The park is a dwelling place to 20 chimpanzees. These are habituated which simply means that they are trained and taught by professionals to feel comfortable and unbothered when they get into close contact with human beings. This accommodative nature has promoted Chimpanzee Trekking Activities at the park.
Tourists put this among the top must-dos while at the park. This is done very early in the morning. With the guidance of trained park rangers who are familiar with the trails within the forest, you will be able to find the Chimpanzees, spend time with them, take pictures with them and learn more about their way of life and survival in the wild.
Other than Chimpanzees, the park is home to several other primates, examples include; Golden monkeys, Olive baboons, Blue monkeys, L'Hoest's monkeys and other primates. These too can be seen when chimpanzee trekking and Monkey tracking.
4. Vegetation And Climate at Gishwati National Park
The park lies between 2000 t0 3000 Meters high in altitude and is comprised of rain forests with montane vegetation and shrubs. This comes with over 60 different indigenous hard wooden and Bamboo tree species such as; Symphonia globilifera, Ficus sp, Strombosia and many more.
The Park lies directly under the equator, this ensures ample rainfall and enough sunshine which has contributed to its beautiful "ever green" appearance. The tropical climate and vegetation at the park combine to give you breath-taking views and perfect weather (77 and 64 degrees Fahrenheit during day and night time respectively ) which is totally worth your visit.
5. Trails and Nature / Forest Walks at Gishwati National Park
Trails
The park has several trails which you can walk through with the guidance and supervision of guides and park rangers. Some of these include;
The waterfall Trail; This leads to the waterfall in Gishwati, it is 4 miles long.

The Matyazo Hill Trail; This is 2 miles long and it involves a steep uphill hike. You are assured of a lovely overview of the forest and other features.

The Umushwati Trail; This goes through the center of the park and it is 5 miles long. When walking on it, you can connect to any of the other trails. Nothing will escape your eyes if you embark on passing through those trails when you visit the park.
Nature/ Forest Walks at Gishwati NP in Rwanda
Nature walks in the park are so much fun because you get an opportunity to see the different tree species, animals, birds and various plant species up close. These involve you waking up earlier than you normally would, you take a quick breakfast and after, the tour guide gives you a briefing about the trails you are going to take and how long it will all be, from here you will embark on the nature walk through the forest. This will enable you to take clear pictures and to see even the smallest animal and insect species which you would have missed seeing had you been at a distance.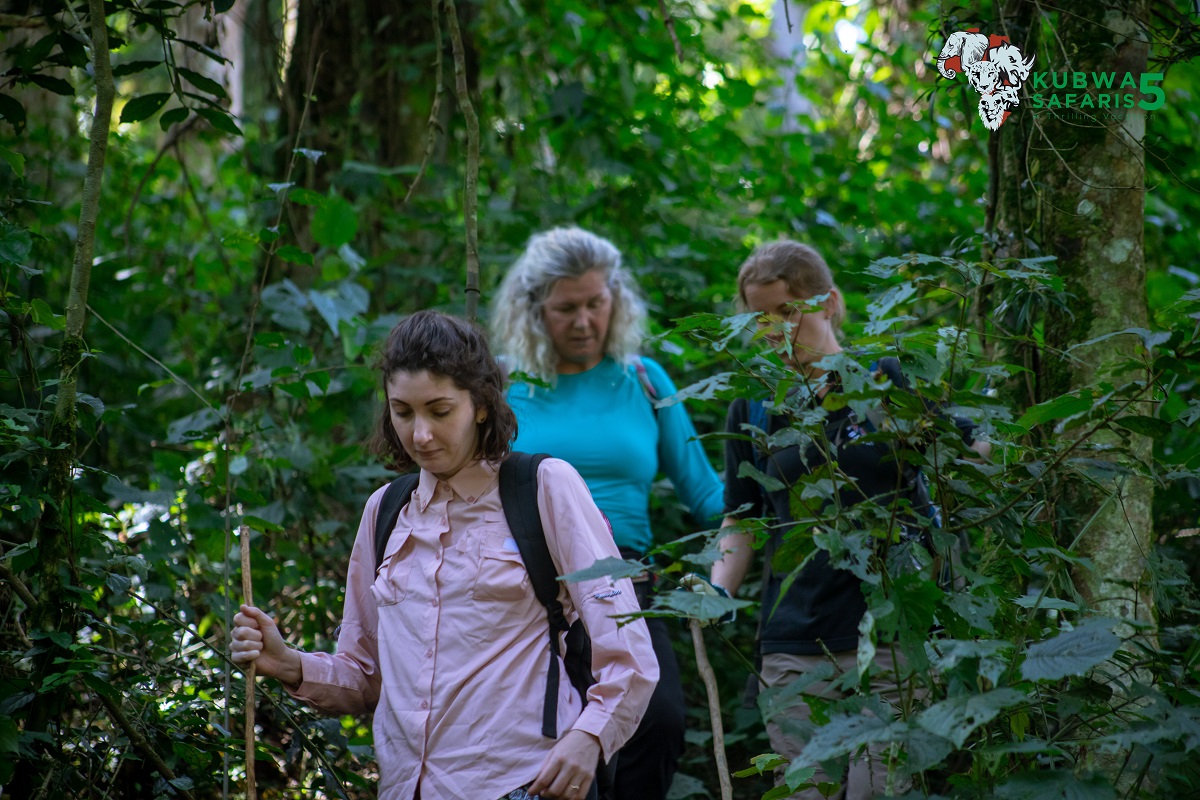 6. Biking Experience at Gishwati National Park
This is one of the main reasons as to why tourists come to this park. The biking experience happens just outside the park. It will have you cycling along the shores of Lake Kivu and into neighboring Nyungwe Forest National Park and beyond. The rush of fresh air as it sweeps across your face will be unforgettable for you and the people you get to cycle with. Come and stretch your legs as you take in the forest and Lake views while sitting on your bike. 
7. Cultural Experience at Gishwati National Park
I am always fascinated when I get an opportunity to learn from cultures outside my own and I am certain that you will love it too. You will be able to interact with the locals who stay around and within the park. Their unique lifestyle, languages and survival skills will intrigue your mind. This is all made possible at this park.
8. The Works Of The Forest Of Hope at Gishwati National Park
This was one of the major foreign organizations which saw to it that Gishwati Forest got a second chance at flourishing after the effects of the 1994 Rwandan genocide. They not only restored the park but also saw to it that the  people who were victims of those mishaps acquired different skills to survive on.
The Organization encouraged female crafters, local farming practices, bee-keeping and so many other activities which the locals can be apart of to earn a living (source of income). It is through such projects that their basic needs are able to be met. You are more than welcome to visit and see how they are coping with life after having experienced trials and tribulations.
Other than the best 8 reasons to visit Gishwati Mukura National Park in Rwanda, there are so many other reasons for you to visit this park and you will find them out once you book a tour with touring companies like Kubwa Five Safaris to take you through Gishwati Mukura National Park.
When to visit Gishwati Mukura National Park
Since the official re-opening of the park in 2020, you are free to visit whenever you want because the park is operates all year long. But due to the tricky rainy season in Rwanda (September to November and March to May) which interferes with movement and accessibility to some parts of the park (slippery and impassable roads), I encourage you to book your tour during the dry season which is between June and August and December to February.
How to get to Gishwati Mukura National Park
You can access the park either by road, water or air transportation means.
By Road
The park is almost 84 kilometers from Kigali therefore, you can either use private or public means like a bus, taxi or van to get to the park in about 3 and a half hours. Endeavor that whatever vehicle you use, it is 4×4 wheel drive. This is simply because the roads to the park are still underdeveloped and are hard to pass through.
By Water
The fact that the park is located in North Western Rwanda in the Kivu region, You can set off from Kigali to Kivu in a car then you sail in a boat on Lake Kivu and after hope onto already arranged cars to take you to the park. The added advantage here is that you get to enjoy the cool breeze on the lake as you make random sightings of  water dwellers like fish, hippos and others.
By Air
You can book a chartered flight at Kigali International Airport to Gisenyi Airport (it is in close proximity from the park) from which you use taxis or private 4×4 wheel tour vehicles that can take you to the park. Regardless of the means you choose to use to get to the park, a lot of fun adventuring awaits you.
Where to stay at Gishwati Mukura National Park(Accommodation) 
You do not have to worry about where you will be staying when you come to visit the park, this is because there are several hotels, lodges. inns and camps at your disposal. These can be found in areas surrounding the park and they provide 3 different types of accommodation for example; Luxury, Mid-range and Budget accommodation. The most common accommodation provided by areas around the park is Mid-range and Budget as shown below;
Mid-Range Accommodation at Gishwati Mukura National Park
This is for guest who are able to spend but not extravagantly. Places offering this include;
INZU Lodge; It is a 3-star hotel found 13.5 Kilometers away from the park. It comes with a beautiful view of Lake Kivu, a restaurant, tents and bungalows made from bamboo. You will love it.

Palm Garden Resort; This is also 13.5 Kilometers away from the park. According to its former guests, this hotel offers very good services, good food, friendly staff members and also comes with the lovely lake view.

Ubumwe Hotel; It is roughly 17.7 Kilometers from the park and is so affordable compared to hotels of its type. It is just a 3 minutes drive from Rubavu Public Beach.
Budget Accommodation at Gishwati Mukura National Park
This is for guests who are within a strict and tight budget. It is also the most affordable type of accommodation. Examples include;
Fanad Hotel Gisenyi; It is 17.7 Kilometers away from the park. It is a lovely 2-star hotel with good hygiene.

Donate Guest House; This place is ideal because it has spacious well-maintained rooms which are relatively cheap. It is 16.3 Kilometers from the park.

Musanto Hotel; It is affordable and just 13 minutes walk from Rubavu Public Beach. This hotel is 15.5 Kilometers from the park.
Due to great technological advancement, You can book your stay (or even make changes if you have already booked) online. This makes preparations easier. I encourage you to make your bookings not less than a month before you tour. This will enable you to secure a place which will not be occupied by anyone else as long as you already booked. 
At the park there is Forest Of Hope Guest House which is on a hill. It provides three meals a day and is affordable.
There is also the Gishwati Lodge which was recently constructed in the park, it can host a maximum of 12 people because each of its 6 cottages can accommodate 2 people.
My Conclusion about Gishwati Mukura National Park in Rwanda
Regardless of how young Gishwati Mukura National Park is compared to other parks all over Rwanda and Africa at large, this beautiful place is worth a visit from you. It is both beautiful and memorable. Visiting her will be your way of consoling her from the abuse in form of deforestation and soil erosion which she incurred years back. Please come through together with your beloved family members and friends.
Hits: 2