5 Best Safari Lodges In Namib Naukluft National Park In Namibia
The 5 best safari lodges in namib naukluft national park vary ranging from luxury, mid range and budget offering different services which include; accommodation, restaurant, bar, entertainment among others in Namibia.
The Namib-Naukluft Park is a national park in western Namibia that straddles the Great Escarpment's escarpment and the Atlantic Ocean's coastline. It includes a portion of Sandwich Harbour's lagoon, the Naukluft mountain range, and the Namib Desert. Namib naukluft national park is one of the best game reserves in namibia and namibia resorts and lodges are well explained here.
Due to the chalet or campsite accommodations, rock pools during the rainy season, and mountains that visitors who prefer camping can rest assured that the bathrooms are cleaned on a regular basis, the Namib Naukluft Park is one of the most impressive and distinctive sites with an unforgettable experience. All visitors are welcome to the restaurant, bar, and the natural rock pools.
Petrified dunes and open spaces are hallmarks of the Namib-Naukluft National Park. The mountain zebra population of Hartmann was the reason the park was initially created. Visitors can thus see these animals while hiking and delight in their eccentric characteristics. Accommodations in this blog are some best safari lodges in namibia
Best 5 Luxury Lodges In Namib Naukluft National Park
Below are luxury lodges namibia
1. Kulala desert lodge In Namib Naukluft National Park
Kulala 
Desert 
Lodge 
is 
located 
in 
Namibia's 
Namib
Desert, 
one 
of 
the 
oldest 
deserts 
in 
the 
world, 
in 
the 
37 
000-hectare 
Kulala 
Wilderness 
Reserve 
at 
the 
foot 
of 
the 
magnificent 
Sossusvlei 
Dunes. 
The 
only 
private 
gate 
used 
by 
Wilderness 
Safaris 
provides 
access 
to 
the 
sand 
dunes.
23 thatched and canvas rooms with flat rooftops for sleeping under the stars make up the rustic, cozy lodge. Each room is built on a wooden platform. A wraparound veranda overlooking a waterhole, living and dining areas, and a pool are all found in the main area. The old tree trunks that are being used as pillars in some places are eye-catching and serve as yet another aspect that draws you further into nature.
2. Moon Mountain Lodge In Namib Naukluft National Park
Moon Mountain is 56 kilometers north of Sesriem, Lodge is a luxurious tented lodge with spacious, airy rooms, each with a splash pool, providing relaxation and respite with unending views of the desert landscape. It is located at the foot of the Naukluft Mountains. For guests who prefer single beds, there are four conventional twin rooms with en suite shower and WC; these rooms lack splash pools.
Each of the 17 lodging apartments at Moon Mountain Lodge features an own swimming pool. This establishment's main draw continues to be the breathtaking view of the neighboring mountain range and desert environment. Each unit is also uniquely designed. There are separate private bathrooms in the Executive Suites. Separate deep soaking bathtubs, twin sinks, and handheld showers with rainfall showerheads are all included in the bathrooms.
3. Namib Naukluft Lodge In Namib Naukluft National Park
The lodge satisfies the needs of the lone traveler. Because of the striking granite hills that surround it and provide a natural windbreak to the east, its architectural layout allows for harmony with the environment. From the main veranda and every room, take in the breathtaking view of the wide open plains.
The main structure has a cozy salon where you can view regional home accents as well as original artwork, prints, and hand-woven carpets created by regional artists. The atmosphere of a really spectacular desert evening is enhanced by the traditional meals that are served on the veranda or made by the chef on the open fire in the lapa. The fireplace in the winter and the bar provide a warm wrap-up of an exciting day.
4. AndBeyond Sossusvlei Desert Lodge In Namib Naukluft National Park
The lodge is located deep within the Namib, the oldest living desert in the world, within andBeyond Sossusvlei Private Desert Reserve. The total calm and exceptional clarity of the light make this place one of Africa's most captivating panoramas. It is surrounded by an ocean of dunes, rocky outcrops, and gravel plains. With the concession abutting the NamibRand Nature Reserve's International Dark Sky Reserve, the night skies are absolutely gorgeous.
At Sossusvlei, 10 exquisitely furnished stone and glass suites spaced out along the curvature of the escarpment open onto constantly shifting vistas, combining sustainability with uncompromised luxury. Each huge, air-conditioned suite features a living area with a fireplace, a wide retractable skylight above the bed, an ensuite bathroom with a glass-encased rain shower with 180o desert views, and a private terrace with a plunge pool.
Families or social groups might consider the two-bedroom Star Dune Suite. The split-level guest area is a brilliant work of art made of steel, glass, and rock. Folding back large glass panels reveals unhindered views of the desert. A central island bar, cozy sitting area, walk-in basement, interactive kitchen, and rim-flow pool are among the inviting facilities. Numerous shaded, secluded spaces, a gym with a sunrise view and a health center with both a treatment room with a private spa bath and a separate wet-room spa are other distinctive features.
5. Wilderness Safaris Little Kulala Lodge In Namib Naukluft National Park
Little Kulala is the nearest luxury camp to the majestic Sossusvlei dunes because of its exquisite fixtures, soft colors, and use of natural light to mix with the timeless desert environment. In addition to excursions to the dunes, game drives and walks in the Kulala Wilderness Reserve give visitors the chance to witness the unadulterated grandeur of the Namib and provide views of animals and vegetation that have adapted to the desert, from the awkward ostrich to the endearing bat-eared fox.
As stunning sundowners take in breathtaking views that reach endlessly to the horizon, accommodations, family treks, and drives in nature, a "star-bed" provides sleep beneath some of Africa's clearest skies, a visit to Sesriem, a journey to Sossusvlei through a private gate, a stay on a deck, quad-biking, and massages.
Best 5 Mid-range Safari Lodges In Namib Naukluft National Park
1. Namib Outpost Lodge In Namib Naukluft National Park
Namib Outpost in Sesriem offers lodging with an outdoor pool that is open all year long, free WiFi, a restaurant, and a bar. Free parking is available. Some apartments have air conditioning, a patio or balcony, and a seating area.
Free wifi access, a pool, free breakfast, mosquito nets, a non-smoking hotel, laundry facilities, and more are all available. Room amenities include air conditioning, a minibar, a refrigerator, and several room types including non-smoking suites.
2. Desert Quiver Camp In Namib Naukluft National Park
The reasonably priced self-catering apartments come with an en-suite toilet, a covered terrace with a kitchenette, a barbecue, power outlets, and a nearby parking space. Two little children under 12 can stay for free in each twin-bedded bedroom's fold-out sleeper couch when they share a room with their parents.
The main building's amenities include a fully stocked and attended bar with a large screen television, a dazzling swimming pool, and two shared boma spaces that are ideal for traveling in groups. The neighboring Sossusvlei Lodge restaurant serves meals.
The neighboring Sossusvlei Lodge Adventure Center offers a variety of activities to enjoy the area's natural beauty, including Guided Excursions to Deadvlei and Sossusvlei, Elim dune walks, Sundowner Trips, Hot Air Ballooning, Scenic Flights, and more. The neighboring Sossusvlei Lodge restaurant serves meals. The Sossus Oasis Service Station, 4 km away, has a fully supplied shop, a gasoline station, and a tire shop.
3. Greenfire Desert Lodge In Namib Naukluft National Park
The Comfortable Greenfire Desert Lodge, in southern Namibia is the perfect sanctuary for self-drive guests or smaller groups of travellers. Within the Greenfire philosophy of offering a unique experience at a realistic price.
The lodge itself offers six spacious, well-appointed en-suite rooms. There is a central lounge and dining area, built of local stone to ensure warmth in winter and cool in summer. All rooms have a splendid west-facing view over the surrounding desert. A terrace and sparkling swimming pool complete the package.
During your stay with us you will have the opportunity to enjoy walks as well as open vehicle drives both during the day and at night, our ranger will show off the multitude of desert adapted fauna and flora that inhabit the reserve.
4. Hammerstein Lodge In Namib Naukluft National Park
The Hammerstein Lodge is tucked between the Nubib and Tsaris mountains, halfway between Swakopmund and Lüderitz. Given that Sesriem is only 60 kilometers away and that the lovely Sossusvlei region is nearby, we provide the perfect place for tourists to Namibia's south to pause.
Self-catering bungalows or housing with dinner, bed, and breakfast are available to guests. For any more guests, we have three campsites that can be used in conjunction with the accommodations. Each room has an en suite bathroom, a double or twin bed, and a fan. We have a gorgeous yard and a lovely pool. A dining room, bar, bistro, lounge, and braai area are also present.
A visit to Hammerstein Lodge is a wonderful experience because of the combination of our wide landscapes with outcrops of enormous granite boulders and encounters with wildlife in their natural habitat. The granite boulders with bushman drawings a few kilometers from the resort make me think of a giant's playground.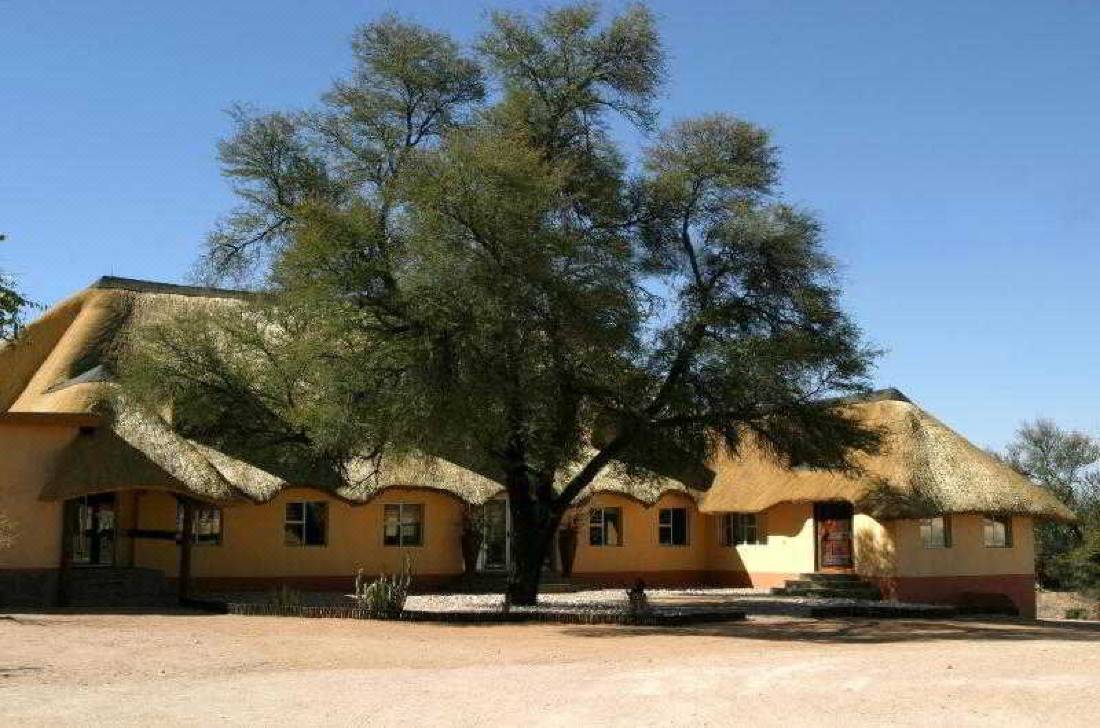 5. We Kebi Safari Lodge In Namib Naukluft National Park
We Kebi means "invitation" in the San Bushmen's nearly extinct language, keeping with the custom of the San people of the desert, who have roamed the plains and mountains around We Kebi for countless years. We cordially invite you to visit and take in the seclusion, seclusion, and tranquillity of We Kebi Safari Lodge.
Visitors to have the chance to enjoy private, opulent lodging in a genuine African environment. Every one of our luxury, free-standing chalets with en suite bathrooms has a pavilion and a 180-degree unimpeded view of the surroundings. To reach the renowned Sossusvlei dunes, take the C19 for an hour from We Kebi. Come visit us as one of our guests.
Best 5 Budget Safari Lodges In Namib Naukluft National Park
1. NamibRand Family Hideout In Namib Naukluft National Park
On the private NamibRand Nature Reserve, there is a rustic yet cozy refurbished farmhouse that is fully prepared for self-catering parties of up to 10 people. There are also 3 campsites available. Set out on foot or by 4×4 into the flaming red dunes for a close contact with the intriguing array of Namib Desert fauna and plants while taking in the breathtaking vistas of the huge plains and ancient blue mountain ranges.
The kids will enjoy chasing after beetles and lizards that scamper across the sand dunes or dune-boarding in the limitless open areas. Numerous bird species, as well as Oryx, springbok, bat-eared fox, porcupines, and other wildlife, are drawn to a small watering hole that is only 20 meters from the verandah. There are countless options for daytime and nighttime photography due to the outstanding surrounds and air clarity.
2. Naukluft Campsite In Namib Naukluft National Park
East of Solitaire, between the Naukluft Mountains, is where you'll find the Namib Naukluft Campsite. Petrified dunes and wide landscapes can be found here. The Naukluft Campsite has rock ponds during the summer and is surrounded by gravel canyons. The Naukluft Park, also known as the Naukluft Zebra Park, is located here.
The Cape Mountain Zebra is frequently seen in this region which has grown to be a favorite beginning and finishing location for hikers who like the Naukluft region's paths. Friendly staff members work at a peaceful camp. There are no set locations where you can choose the ideal spot based on arrival time. The campsites are tidy, and camp cleaning and trash collection occur. On-site amenities include a kiosk and a small office.
3. Camping Namib Desert Lodge In Namib Naukluft National Park
Near Solitaire is the Namib Desert Campsite. Campers have access to the restaurant, bar, pool, and activities in the main lodge. Namib Desert Campsite, 60 kilometers from Sesriem and Sossusvlei, is a quiet escape away from the bustle of the bigger campsites. Visit Sossusvlei's golden sands, then come home to the utter silence of the Namib. For those who would want to indulge in lodge luxuries, such as a cool pool and a delectable meal, Namib Desert Lodge is a 5 kilometer drive away.
Stretch out in your camp chair and take in the view of the historic ridge of fossilized sand dunes if you're a nature lover who has had enough of civilization. The best part of this straightforward campsite, which is located beneath acacia trees, is the openness and quiet of the Namib Desert. Enjoy the star-studded night sky and ancient
4. Aubures Camp In Namib Naukluft National Park
About 50 kilometers north-west of Helmeringhausen on the C27, Aubures Camp is situated on a working farm at the foot of the mountains Rooirand.
Six campsites have been built, each one surrounded by a circle of red sandstone and shaded by camel thorn trees. A sturdy camel thorn tree serves as the foundation for the rustic ablution block, which has an open roof. It has hot showers, flush toilets, and an outdoor scullery.
A short, picturesque walking track behind the campsite provides lovely views of the camp and the farm. The hills above the campsite have been developed with a variety of mountain bike/walking routes, and visitors can ask for a guided tour of the adjacent San rock art.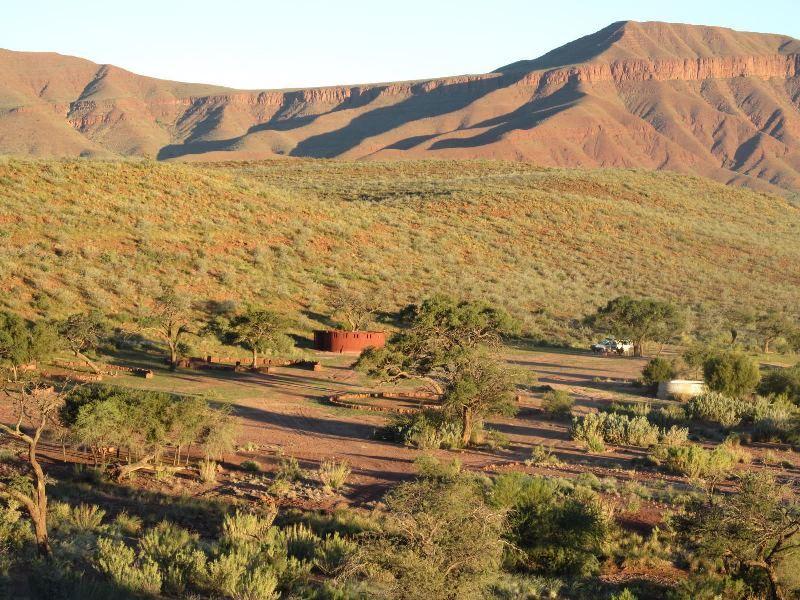 5. Wolwedans Dunes Lodge In Namib Naukluft National Park
Wolwedans serves as the ideal starting point for exploring wide areas of breathtaking nature. It is located in the center of the NamibRand Nature Reserve, nestled among the dunes, and set against an environment of unsurpassed beauty. South Western Namibia is where Wolwedans Dunes Lodge is situated, right in the middle of the NamibRand Nature Reserve and close to Sossusvlei. The camp is perched above a vegetated dune belt that provides breathtaking views and panoramas.
Fly-in, safari lodge, desert, wildlife, game drives, safari, hot air ballooning, walking/hiking, honeymoon, photography, and birdwatching The original vision for the Namib Rand Nature Reserve was to expand the boundaries of the desert by incorporating numerous old sheep farms and creating a refuge devoid of fences, allowing species to once again roam freely in their natural habitat. One of our goals has always been to welcome nature lovers from all over the world to partake in this dream, and now NamibRand is associated with some of Namibia's, if not Africa's, most stunning landscapes.
Conclusion About The Best 5 Safari Lodges In Namib Naukluft National Park
Namib Naukluft National Park is Africa's largest wildlife reserve and offers some of Namibia's most mysterious and breathtaking natural beauty. Kubwa five safaris has got more information about the namibia safari lodges.
Hits: 19