Best 10 Reasons To Visit Nyungwe Forest In Rwanda
The best 10 reasons to visit Nyungwe Forest National Park are; Wildlife, Chimpanzees, Canopy walks, Bird watching, Monkey trekking, Hiking and Game drives. It is perfectly normal to have wild imaginations about nature and wildlife. Most of us only get to hear about them from other people and never get a chance to experience them on our own in real life. Nyungwe National Park is here to make your imaginations a reality.
Located in the South Western parts of Rwanda in Cyangungu town, the park covers 970 square kilometers of forested land which is interchangeably flat, hilly and mountainous in nature. At First (In 1903) the park was a forest reserve called Nyungwe Forest but after so many years, in 2004 it was officially recognized as a national park.
It happens to be among the very few places in the world and undeniably the very best in East Africa that will give you a real and memorable tree canopy walking experience. Yes, you heard that right…I mean where else in the world are you going to have a long forest canopy walk with trees under your feet yet you are actually walking over them?! That sounds like a clip from a fairy tale to be honest but it is Nyungwe forest facts.
The Nyungwe National Park is famous for being the only place where chimpanzees are habituated and found in all of Rwanda and It is home to over 75 different Mammal species 13 of which are primates like Monkeys. More than 300 recorded bird species are a common sight at the park hence making it a one-stop center for all kinds of tourist with a variety of interests. Here are 10 amazing top reasons why you should visit Nyungwe National Park;
These are the best 10 reasons to visit Nyungwe Forest National Park;
1. Wildlife | Nyungwe Forest National Park Animals
Nyungwe Forest National Park offers hundreds and hundreds of wildlife species, some of these include; 13 species of primates like Chimpanzees, Monkeys among others. There are over 75 species of Mammals such as Elephants, Buffaloes, Giant Forest hogs, bush pigs, mongoose, golden cats, otters and so many more.
As if that is not fascinating enough, there are over 300 bird species that reside in this awesome park, these include; Rwenzori Turaco, Regal sunbird, Rwenzori nightjar, Kivu ground thrush amidst several other types. The park is a goldmine for all your touring desires. 
2. Chimpanzee

Sightings at Nyungwe Forest National Park
The park is the only place in Rwanda that has chimpanzees. It has over 500 of them in total and a large number of these (over 60) are habituated which simply means they are trained by experts to accommodate, interact and get familiar with being in close contact with human beings without feeling frightened or the need to become aggressive.
You will be able to spot these furry giants as they go about their hyper and jolly lifestyles in the forest. They love hanging and clinging on trees while at the same time making different sounds. Come with your camera and capture beautiful pictures while hanging around the chimpanzees.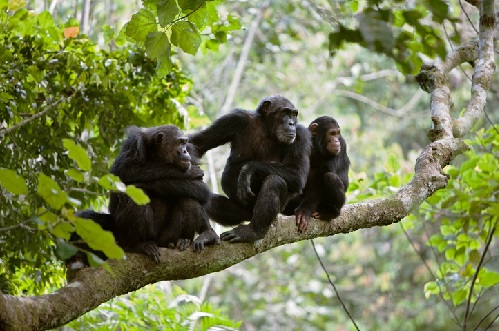 3. The Canopy Walking Experience In Nyungwe Forest National Park 
The park happens to be the best and only place in East Africa to avail and conduct canopy walks, this happens to be the number one reason as to why tourists from different corners of the world fancy visiting the park. The canopy walking experience will give you a fascinating and breath-taking bird view of the entire park as you walk over the tree tops.
The trail is suspended at a height of 50 meters from the forest floor and stretches for over 200 meters in length. This 2-hour long walk comes with spectacular sightings of very many bird species like; the strange weavers, the Albertine Rift endemics, Rwenzori Batis among others and you will have a close-up view of several monkey species like the Vervet monkeys, Red-tailed monkeys, blue monkeys and so many other types.
It is like going on a roller coaster ride in the wild, on foot and at your own pace, how cool is that!
4. Chimpanzee trekking at Nyungwe Forest National Park
This unique activity is as wild and hands on as a true wild safari should be like. Since many people love to participate in it, the earlier you make your booking for the trek, the better. On the day of trekking, you will have to wake up pretty earlier than usual (this is because chimpanzees are most active around this time of the day), have some already prepared breakfast, then you form groups comprising of 8 people per group.
With ample protection and under the guidance of trained security personnel and tour guides respectively, you will walk on foot and find habituated chimpanzees from which you can get first hand information about their way of life, what they eat, how they conduct themselves amongst other things for either pleasure or study purposes.
5. Bird Watching/Birding at Nyungwe Forest National Park
You cannot run out of reasons to fall in love with this awesome park. It is home to more than 300 recorded bird species like the Grey-chested, Regal sunbird, Kivu ground thrush, the Rwenzori Kakamega, Strange weavers, Handsome Francolin and the Rwenzori Turaco alongside several others.
Did you know that 27 of the 300 bird species are specifically only found in the local Albertine Rift? Well, now you do! Bird watching can be experienced best while on the canopy walk, this will give you the opportunity to view other interesting things like the tea plantations and hills that surround the park. The bird sounds and chirping will have you in a trance.
Bird Watching Trails at Nyungwe Forest National Park
The park has clearly demarcated trails for bird watching, this makes the experience easier and more fun. Some of the examples include;
The Karamba Trail; It is on the western part of the park and is the flattest compared to all others. This trail is open and is well known for mostly Turaco and Yellow ramped tinkerbird sightings
Bigugu Trail; This trail is the peak of the park and it stands at 2950m above sea level. It is7km long and takes about 6 hours to complete. Although steep,
Bigugu trail is so beautiful and ideal for bird watching. You will be able to see Lake Kivu and hills in the DRC.

Other trails include; Isumo waterfall which is very tricky and difficult but worthwhile especially when you see the Isumo waterfall and Kamiranzovu trail etc.
6. Colobus Monkey Trekking at Nyungwe Forest National Park
The park harbors 13 different species of primates including the unique Colobus monkeys which birthed activities like Colobus monkey trekking. This involves tourists waking up early in the morning and while having freshly prepared breakfast they are briefed about where to go and what to expect.
Shortly after, well trained forest and park rangers lead the way into Nyungwe forest following known trails. Colobus monkeys can be spotted up on trees, swinging, hooting and chasing each other. Their wild nature and livelihood will put a big smile on your face.
As a bonus, there are several other primates which you will be able to see alongside the Colobus monkeys. These include; Chimpanzees, Olive baboons, vervet monkeys, Golden monkeys, blue monkeys, silver monkeys and so many others.
7. Hiking Experiences at Nyungwe Forest National Park
Are you a walking enthusiast? Do you love to climb terrains of all kinds? This endowed park is the perfect place for you too. It has 13 well known hiking trails such as; Bigugu and Igishigishigi among others to give you a chance to walk deep into the forest and get your jaw dropping from the beautiful sightings you will encounter.
Hiking through the forest requires forest guides and security and it may take between 1 to 8 hours depending on the time you start walking, how fast you are walking and how far you are willing to go. Either way, you will see several plant and tree species, primates like monkeys, wild animals like the giant bush hog, several birds and many butterfly species.
Walking through all the 13 trails may take you several days, plan for it and have a blast while at it.
8. Nyungwe Forest
Nyungwe forest being a tropical afro-montane rain forest, is the largest of its kind in both the central and Eastern parts of Africa. It is also Rwanda's largest water catchment area hence the more reasons to preserve it. This forest supplies water to 2 rivers namely; River Nile and river Congo while at the same time contributing up to 75% of Rwanda's water. For this and several other reasons, the park is worthy of your visit.
9. Game Drives at Nyungwe Forest National Park
 The park is vast but not dense. Stretching on 950 square kilometers, the park has enough space on which game drives are conducted (especially on the flat areas). So, there are both day time game drives during which you will see elephants, giant bush hogs, buffaloes and other animal. And night time game drives which will enable you to see nocturnal animals like; the bush baby, sloths and others.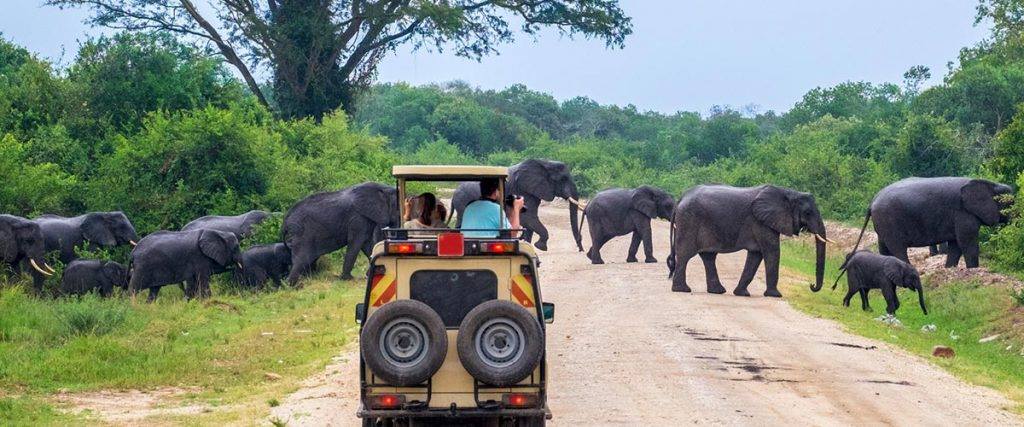 Guided Night Nature Walks at Nyungwe Forest National Park
As night time starts to settle in, it is like a rush of energy possesses some if not most park dwellers (the wild animals). They are loud, active and some even start playing. This brought about guided night nature walking as an activity so that tourists do not miss out on witnessing such. This is the latest activity to be added on the long list of fun to-do things at the park.
10. The Landscape at Nyungwe Forest National Park
The general appearance of the landscape at Nyungwe ranges from flat land, hills and mountainous terrains (like Mount Bigugu) with a diversity of more than 1,060 plant and tree species. There are also water falls like Isumo which makes the scenery breath-taking. You can capture beautiful pictures that you will be able to show your friends and family back home.
There are so many reasons other than these Top 10 as to why you should visit Nyungwe Forest National Park, just book a trip and discover all of them. It is always fun to do activities outside your usual schedule.
When To Visit Nyungwe Forest National Park
The park fully functions throughout the year, however, December to February and June to August are the dry months in which you ought to book your visit. Movements during the wet or rainy season can be tricky because some trails can be too slippery to walk on and mud can make traveling by road and on foot harder.
How To Get To Nyungwe Forest National Park
This can either be by air or road transport means.
By Air
This is the fastest and quickest way. You can book a flight at Kigali International Airport that will take you to the park in just 40 minutes.
By Road
You can also decide to use either private or public means like a vehicle or tour bus from Kigali (Rwanda's capital city) and in just 2 hours you will also get to the park.  This is slightly longer but is more affordable.
Accommodation at Nyungwe Forest National Park
You do not have to worry about where you are going to sleep when you book a tour at the park. This is because there are several hotels, lodges and camping sites in areas near the park that are just one call away for you to make sleeping arrangements
i) Luxury Accommodation
This is the very best and most lavish accommodation offered to visitors who have no issue with spending on total luxurious services. Examples include;
-One & Only Nyungwe House; It was formerly called Nyungwe Forest Lodge and is the only place that offers top tier luxury or 5-star treatment in the whole area. You can capture beautiful views of the forest and tea plantations.
ii) Mid-Range Accommodation
This offers not so costly but good enough services. Examples include;
-Nyungwe Top View Hill Hotel; It was started in 2011 and is located near the park's headquarters.
– Kitabi Eco-Center; This lodge concentrates on international dishes and has great view of Mount Kitabi.
iii) Budget Accommodation
This is the cheapest and most affordable accommodation. It targets guests who have a tight budget. Examples include;
-Uwinka Campsite; This is strictly for guests who love camping. It is located at reception center of the park.
-Gisakura Family Hostel; It is found near the major road in Gisakura and has welcoming staff members. The rooms can be shared and their food is affordable.
There are so many more accommodation stations at the park, I have just listed a few. To get exactly what you want, please book for your stay at least a month or two before your trip.
Frequent Asked Questions
Nyungwe National Park Entrance Fee
What will the weather in Nyungwe Forest National Park be like during my trip?
My Conclusion about Nyungwe Forest National Park
Other than the best 10 reasons to visit Nyungwe Forest National Park, There are so many other lovely things to enjoy when you visit. I could honestly go on and on about this park because everything it has to offer is top tier quality. That is why I really encourage you to enjoy your wild safari tour at Nyungwe Forest National Park in Rwanda.
Hits: 72